Donald Trump, Peter Thiel's (Other) Choice for President
The billionaire gave more money to Carly Fiorina's failed presidential bid, but his donation to Trump is far more controversial.
By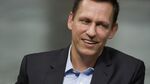 Peter Thiel, co-founder of PayPal and Palantir Technologies Inc., is a well-known Donald Trump supporter. He signed on as a delegate and endorsed the presidential candidate in a speech at the Republican National Convention. He's also planning to donate $1.25 million to Trump's campaign, according to a person familiar with the matter.