Deutsche Bank Says It's Exactly the Wrong Time for Fiscal Stimulus
Fiscal stimulus risks doing more harm than good, says Deutsche Bank
By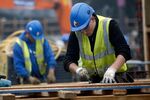 Everyone from the IMF to the CEO of Citigroup Inc. has been caught praising the benefits of fiscal stimulus. Just don't expect Deutsche Bank AG to jump in line.

The growing chorus of calls to kick-start growth through government-controlled levers are "deeply misplaced," the bank's chief strategist Binky Chadha said yesterday in a research note. "This is exactly the wrong time in the cycle for fiscal stimulus."

It's more than possible to see the risks Deutsche Bank warns of as a feature, not a bug, of policies designed to revitalize the economy through tax cuts and directed government spending. Chadha writes that fiscal policies would stimulate inflation, which is something monetary policy makers have been aiming at for some time. Similarly, the "disorderly adjustment" awaiting the withdrawal of monetary stimulus is to many analysts a consequence of the unnatural rates environment wrought by the measures that fiscal measures would seek to replace.

Still, at a time when consumer prices seem to be recovering faster than expected in a range of global economies, the warning that prices may spike unintentionally higher seems even more relevant since Deutsche Bank published its report. 

And Chadha's arguments against adjustments to taxation and government spending may win round more measured critics of monetary policy (the strategist himself is among their number), in that he says misapplied fiscal stimulus introduced at the end of the financial crisis is what drove central banks into adopting extraordinary easing policies in the first place: "the post-stimulus drag on headline GDP growth deeply colored perceptions of the economic recovery, prompting the protracted easing of monetary policy which in turn slowed growth," he writes.

"With unemployment at the natural rate, growth set to recover as the dollar shock recedes, the dollar's drag on inflation beginning to fade, and underlying core inflation already at 2%, a potential fiscal stimulus risks creating a sharp increase in inflation as it has done in past such episodes when unemployment was low."