Christie Ally Defends Not Returning Frantic Mayor's Calls
By
Prosecutor assails Baroni over explanations at GW Bridge trial

Baroni insists he was duped by underling who pleaded guilty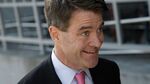 A former ally of New Jersey Governor Chris Christie repeatedly defended his failure to call back a frantic mayor who complained about an "urgent matter of public of safety" caused by traffic gridlock during the George Washington Bridge lane closings in September 2013.
Bill Baroni, a former deputy executive director of the Port Authority of New York & New Jersey, underwent harsh questioning Tuesday over his shifting explanations about why he ignored calls from the mayor of Fort Lee. He denied he was in Christie's inner circle but said he reluctantly served as his "attack dog."
Baroni, 44, is charged with creating gridlock near the bridge to punish Mayor Mark Sokolich for not backing Christie's re-election. Baroni testified Monday that an underling who pleaded guilty, David Wildstein, duped him by saying closing lanes to the bridge was a legitimate traffic study. If he was a "wimp" and called Sokolich, it would only undermine the study, Baroni said he was told by Wildstein.
Baroni also defended his testimony in November 2013 to the state Assembly Transportation Committee, where he told lawmakers that his failure to call Sokolich resulted from "multiple levels of communications failure."
"You never told the committee that it was intentional?" Assistant U.S. Attorney Lee Cortes asked in federal court in Newark. Baroni replied: "On multiple occasions, I admitted it was a communications breakdown."
Inner Circle
Baroni is in the fifth week of trial with Bridget Anne Kelly, a former deputy chief of staff to Christie. They are accused of conspiring with Wildstein, who admitted orchestrating the plot and testified for eight days as a prosecution witness.
Baroni insisted that Wildstein fooled him, and Cortes sought to show that wasn't possible given their close relationship. Cortes pointed out that they shared inside jokes and communicated constantly, including 2,757 calls in 2013. Cortes also said Baroni knew about many of Wildstein's political dirty tricks but never stopped talking to him.
"I would not have had that option," Baroni said. "I would not have been able to stop talking to Governor Christie's voice at the Port Authority."
Cortes sought to show that Baroni was part of Christie's inner circle, in part to suggest to jurors that it was unlikely he would follow orders from Wildstein. While working for the Port Authority, Baroni was paid nearly $300,000 a year and had access to a driver, Cortes said. Then, when Baroni left the agency, he was offered a "soft landing"-- a $250,000-a-year job at a consulting firm run by Christie's political adviser, Cortes said.
The prosecutor also asserted that Baroni served on several occasions as Christie's "attack dog," including when he appeared in Washington in 2012 before a committee led by U.S. Senator Frank Lautenberg, a Democrat who has since died. Cortes asked about how Christie responded to his attack on Lautenberg that day.
Christie "spoke to me, and he was not unhappy with my performance," Baroni said. "I felt badly about the situation. Sadly, I don't like being the attack dog. That's why I find myself constantly getting in trouble."
For more information on the bridge scandal, click here
The gridlock resulted from the reduction of three local access lanes to one during the first week of school, causing ambulances, school buses and cars to sit in traffic. Three of the 12 lanes at the bridge's upper level are for local drivers.
In his testimony to state lawmakers, Baroni explained the need for a traffic study by saying that Fort Lee unfairly got the benefit of a quarter of the bridge lanes, far more than a borough its size deserved. Cortes cited earlier trial testimony that the lanes served many towns, and a quarter of the traffic passed through them.
"Mr. Baroni, a truthful answer is that about 25 percent of traffic goes through those local lanes," Cortes asked.
"My answer was truthful," Baroni said.
Baroni returns to the witness stand on Wednesday. Kelly is expected to testify later this week or early next week.
The case is U.S. v. Baroni, 15-cr-00193, U.S. District Court, District of New Jersey (Newark).
Before it's here, it's on the Bloomberg Terminal.
LEARN MORE