Photographer: Johannes Eisele/AFP via Getty Images
markets
China's Top Stock Loses Shine as Expansion Concerns Surface
Bloomberg News
Stock tumbles after 1,000% surge that made it Shanghai's best

Nanjing Doron expansion prospects limited in China market
China's best-performing initial public offering of the year is looking tattered.
Nanjing Doron Technology Co., which provides computerized systems to grade driving tests, has tumbled 29 percent since reaching a record on June 29, making it among the worst performers on a Shanghai Composite Index that rose 3.9 percent. The stock had rallied more than 1,000 percent after its April debut, in which the company priced its shares at 6.41 times its 2015 earnings, compared with a multiple of 54.2 for makers of computers and other electronic equipment.
The decline comes amid concern about the company's expansion prospects, with Haitong Securities Co. saying that Nanjing Doron already has a high penetration rate in China and that the opportunities for growth in parts of its main business could be limited. The dramatic rise and fall of the stock underscores the wild swings of China's IPO market.
"This is what happens to newly listed shares -- an excessive rally leads to unreasonable valuations and is usually followed by a tumble," Huang Jingjing, a Shanghai-based analyst at Haitong Securities, China's second-biggest brokerage, said on Monday. "But Nanjing Doron's shares are still relatively cheap. In fact, the whole computer sector's valuation isn't so expensive."
Nanjing Doron jumped 900 percent in the second quarter, the best performance in a Shanghai stock market that fell 2.5 percent. The key to the advance was the IPO pricing -- the lowest among all Chinese offerings this year -- which Huang described as quite unusual.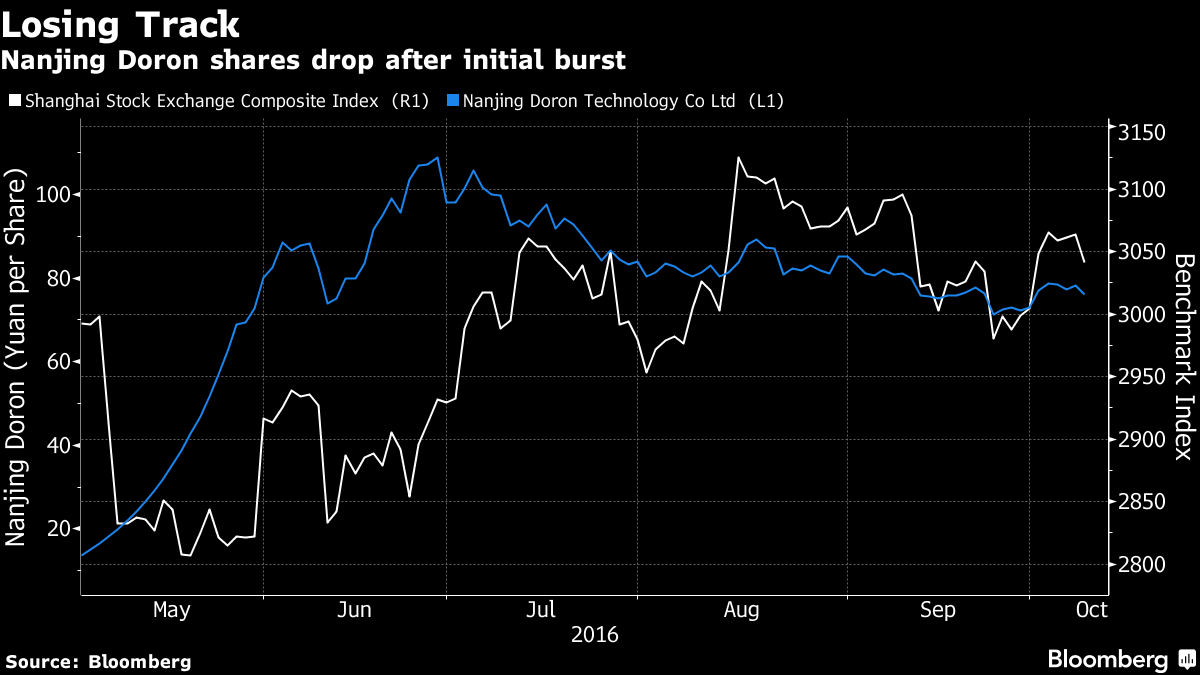 Founded in 1995 with a $20 million investment by Zhang Anqiang, Nanjing Doron benefited from a government move in the mid-2000s to automate the process of grading driving license tests. One of the first in China to develop an integrated software and hardware system for the purpose, Nanjing Doron says it controls 70 percent of the market. The company's IPO has pushed Zhang's net worth to around $1.5 billion, according to the Bloomberg Billionaires Index. He owns 66 percent of the company through three firms.
A Doron spokeswoman declined to comment on the company's performance, or its likenesses with a U.S. firm that is in the same line of business, and canceled an agreed interview with Chairman Zhang. The Chinese company's website now shows its English name as Duolun Technology, rather than the Nanjing Doron Technology Co. Ltd. that was shown in its prospectus. Visits to the Hong Kong office of Doron Technology HK Co. -- also owned by Zhang -- were met with representatives who said they couldn't immediately comment.
'Instant Profits'
Chinese IPOs tend to offer "instant profits" because prices are usually kept under 23 times earnings per share due to regulatory rules. All the companies that went public in China this year have posted gains, chalking up an average surge of more than 400 percent. New shares tend to initially surge by the 10 percent daily amid low volume as holders expecting stellar gains are reluctant to sell. The 22 stocks that started trading in September have on average had more than 10 limit-up days, according to data compiled by Bloomberg.
"Mainland investors tend to treat IPOs as lotteries with low odds and big prizes," said Daniel So, a strategist at CMB International Securities Ltd. in Hong Kong. "Nearly every new stock skyrocketed recently, reinforcing the belief that IPOs are no-lose bets. It's hard to predict how long the game will last. The music will stop if new shares go up less or even drop when they start trading."
Limited Supply
One of the reasons for the unrestrained gains is limited supply. The China Securities Regulatory Commission, as part of efforts to stabilize the nation's $6.1 trillion equity market, asked arrangers and companies to limit deal sizes in the first half of this year to avoid an oversupply of shares, according to people with knowledge of the matter.
Bank of China International and China Merchants Securities say Nanjing Doron's shares could move higher. They cite the growth in the number of Chinese drivers, which has surged an annual 9 percent for the past five years. The state-backed China Association of Automobile Manufacturers projects the number will reach 1 billion by 2030, from 320 million last year. Some people in China's tier-one and two cities currently have to wait about six months to get into driving school.
Doron says its software has been sold to more than 1,000 driving schools in 30 provinces, giving the company revenue of $115 million in 2015. It reported a net profit of $13.7 million in the first quarter of this year, while the median estimate of five analysts is for net income of 359 million yuan ($53 million) for the full year. The company's stock price rose 1.8 percent on Tuesday.
"The company will maintain a 15 to 20 percent increase in revenue in 2016 and 2017," said Li Shi, a Shenzhen-based analyst at China Investment Securities. "If the government introduces new policies on stricter training and testing, Doron will have more room for growth."
— With assistance by Yiqin Fu, Hannah Yuan, Fox Hu, Helen Sun, Tian Chen, Jill Mao, and Robert Olsen
(
Updates prices, adds stock movement in second-last paragraph.
)
Before it's here, it's on the Bloomberg Terminal.
LEARN MORE