Brexit Bulletin: Inflation Starts to Pick Up Speed
The Treasury loses clout in government, and Hammond finds sympathy at the Bank of England
by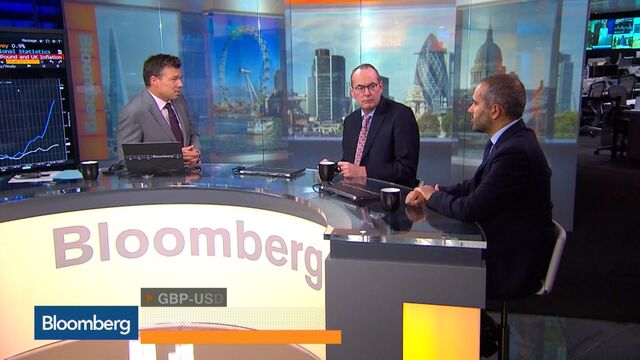 Sign up to receive the Brexit Bulletin in your inbox, and follow @Brexit on Twitter.
U.K. inflation accelerated at the quickest pace in almost two years in September, part of a trend that's set to continue as the weaker pound pushes up the cost of foreign-made products. 
Import costs jumped 9 percent and input prices 7.2 percent, data released on Tuesday showed.

Such forces explain the recent selloff in U.K. government bonds: the prospect of faster inflation gives investors another reason to flee a market hit by Brexit.
Still, 70 percent of economists surveyed by Bloomberg say the pickup in prices won't stop the Bank of England from cutting its key interest rate to a record low of 0.1 percent next month. 
In the Courts
A U.K. government lawyer said on Tuesday it's "very likely" that any final agreement between the EU and Britain over Brexit would need to be ratified by Parliament. 

James Eadie told a court that while not impossible for Prime Minister Theresa May to proceed without a sign-off from lawmakers, the government's view is that they will get a vote on the new treaty.
The comments didn't address the central question facing the court, of whether May can trigger Article 50 of the Lisbon Treaty by April next year without calling a vote. The government's main lawyer, Attorney General Jeremy Wright, said on Monday that a lawsuit seeking that is little more than an attempt to overturn the referendum result.
The court hasn't scheduled a date for its ruling, but any opinion would have to be handed down in time for the parties to prepare for an appeal to the Supreme Court in December. 
Our latest Brexit Q&A explains just how complicated May's bid to regain sovereignty by repatriating laws from the EU is likely to be.
Provisions for the government to repeal or amend primary law using subordinate legislation are known as Henry VIII clauses for the Statute of Proclamations of 1539, which gave King Henry VIII power to legislate by proclamation. Using such clauses to amend converted EU law could become a thorny issue. 
If you missed yesterday's "Hard Brexit" edition, you can catch through a series of highly informative tweets:
Confidence Games
The joke among British football managers is that when your team's chairman expresses full confidence in your skills then your days in the job are numbered.
If the same applied to policy makers, Chancellor of the Exchequer Philip Hammond and Bank of England Governor Mark Carney might be feeling nervous today after May endorsed both.
Hammond has been the subject of a slew of newspaper reports suggesting he has angered pro-Brexit lawmakers by wanting to ensure access to Europe's single market, delay immigration curbs and help banks. As a result, Hammond has been excluded from some meetings and questions are being asked about just how powerful the Treasury is these days. 
As Bloomberg's Svenja O'Donnell reports today, Hammond has found sympathy at the Bank of England, where the lack of common ground among ministers over Brexit has caused concern. Carney is fighting his own battles, saying last week he won't "take instruction" from politicians after May recently highlighted the costs of ultra-loose monetary policy.
The prime minister has "full confidence" in Hammond and is "clear in her support" of Carney, May's spokeswoman Helen Bower said on Monday. The Guardian said today that Hammond's worries about a "Hard Brexit" are shared by Business Secretary Greg Clark and Pensions Secretary Damian Green. 
Still, the sense that the two leaders of the British economy are under fire may continue to make financial markets nervous about what May plans for Brexit.
Mark Gilbert of Bloomberg View analyses the "confidence games" here.
Brexit Bullets
And Finally?
Opposing Brexit should be made an act of "treason" and those guilty of it should be sent to prison for life. That's the bold suggestion of a local Conservative councilor in a petition to Parliament reported by the Daily Telegraph.
As of this morning it had more than 4,200 backers, well short of the 10,000 signatories needed to prompt a debate in Parliament. More importantly, perhaps, the instigator is now understood to have been suspended by his local party.
Meanwhile, the Press Association reports that the government is to ignore the 20,000 people who signed a position to make June 23 an independence day holiday. Minister Robin Walker said it would cost businesses more than £1 billion to add another bank holiday to the calendar, PA said.
For more on Brexit follow Bloomberg on Twitter, Facebook and Instagram, and see our full coverage at Bloomberg.com
Before it's here, it's on the Bloomberg Terminal.
LEARN MORE