BlackRock Profit Jumps 3.8% to $875 Million on Expense Cuts
By
Asset manager sees inflows into both active and passive funds

Firm's $5.14 earnings-per-share beat analysts estimate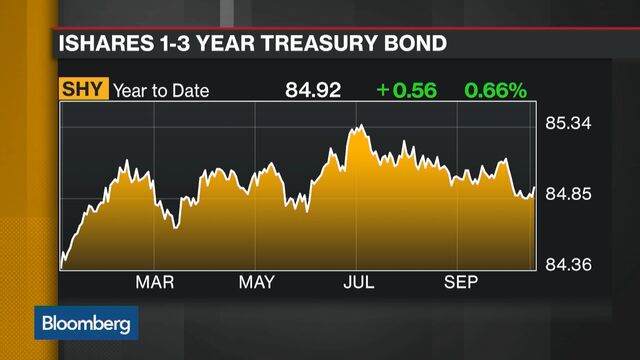 BlackRock Inc., the world's largest money manager, said third-quarter profit rose 3.8 percent as the firm cut costs and attracted money into its exchange-traded funds.
Net income increased to $875 million, or $5.26 a share, from $843 million, or $5, a year earlier, according to a statement Tuesday. Adjusted earnings of $5.14 a share beat the $4.98 average estimate by 16 analysts surveyed by Bloomberg.
BlackRock, led by Chief Executive Officer Laurence D. Fink, has weathered turmoil in the industry as investors flock to cheaper passive products and asset managers merge. With BlackRock's assets rising to $5.1 trillion, the firm's scale has enabled it to reduce fees on its iShares ETFs in a battle with Vanguard Group and Charles Schwab Corp. to lure customers leaving active funds.
"The biggest positive is the rebound in iShares," Kyle Sanders, an analyst at Edward Jones & Co., said following the earnings release. "A combination of a broad product lineup at a good cost are two reasons why iShares is doing so well."
Assets under management increased 13.6 percent as the firm brought in money to both its active and passive funds. It benefited from $55 billion in long-term net inflows in the quarter, including $51 billion of net flows into ETFs. Retail saw $2.2 billion in net outflows, while institutional active had $7.5 billion in net inflows. 
BlackRock has seen a shift out of equities and large inflows into cash and bonds, said Fink in an interview with Bloomberg. "We have benefited from those trend lines because of the business model we built," he said.
Cost Cuts
The firm also cut total expenses by 3.6 percent, reflecting a decline in employee compensation and benefits. BlackRock reduced its workforce by 3 percent earlier this year.
As the industry faces upheaval from the shift to passive funds, Fink said in May that he expects consolidation among asset managers. He said a new Labor Department rule, which requires advisers to put their clients' interests ahead of their own, will drive investors to passive strategies. Client
"Regulatory change continues to have a material impact on our industry," Fink said in the statement. "In retail, the DOL fiduciary rule will increasingly influence the choices that financial intermediaries make for their clients."
Janus Capital Group Inc. and Henderson Group Plc agreed to merge earlier this month to create a $320 billion firm, signaling that more such deals among active managers may come as they look for ways to increase revenue and reduce costs.
Shares Outperform
Base fees increased 3.7 percent while performance fees decreased $150 million from the year prior due to strong returns from a hedge fund in the third quarter of 2015. Revenue fell 2.5 percent to $2.8 billion during the quarter from the year prior.
BlackRock, which is based in New York, has joined other industry giants in a race to the bottom on fees to compete for ETF flows. Charles Schwab cut prices this month on five of its ETFs, two days after BlackRock reduced expenses on 15 of its funds.
Shares of BlackRock rose less than 1 percent to $356.75 at 10:26 a.m. in New York. They have jumped 4.7 percent this year compared with an 3.9 percent decline for S&P's 19-company index of asset managers and custody banks.
The firm is the first big U.S. money manager to report third-quarter earnings, giving an indication of how firms navigated financial markets.
"The asset management industry is facing some really large headwinds," Fink said in the interview.
Before it's here, it's on the Bloomberg Terminal.
LEARN MORE