Odd Lots: What Slavoj Žižek Can Teach You About Playing Poker and Trading the Peso
Prepare to think about markets as you've never considered them before.
by and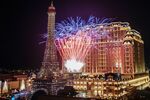 Subscribe to the Bloomberg Odd Lots podcast (Pocket Casts) 
Subscribe to the Bloomberg Odd Lots podcast (iTunes)
Every week, hosts Joe Weisenthal and Tracy Alloway take you on a not-so-random walk through hot topics in markets, finance, and economics.
This week, we go weird. Our guest is Ole Bjerg, a business professor in Denmark, who is a student of the work of Slovenian psychoanalytic philosopher Slavoj Žižek. Bjerg takes Žižek's ideas about the "real," "the symbolic," and the "imaginary," and applies them to such things as poker and financial markets.
In the episode, we discuss Bjerg's book titled Poker: The Parody of Capitalism to help us understand why the popular card game is a great window into the true workings of markets and financial capitalism.
Before it's here, it's on the Bloomberg Terminal.
LEARN MORE