Visa CEO Scharf Resigns, Replaced by Ex-AmEx President Kelly
by
In phone interview, Kelly predicts 'very seamless transition'

JPMorgan's Gordon Smith: 'He's got very good business acumen'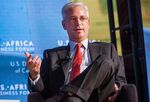 Visa Inc. Chief Executive Officer Charlie Scharf said he's resigning from the San Francisco-based firm to be closer to family on the East Coast, passing control to board member Alfred F. Kelly and ending a tenure in which the stock doubled.

Kelly, a former American Express Co. president and a White House official under Ronald Reagan, becomes CEO on Dec. 1, Visa said Monday in a statement. Scharf will serve as his adviser for several months, it said. The company's shares slipped in extended trading after the surprise announcement.
"We're in a very unique position where we have someone who has over two decades of experience in payments and is also very very knowledgeable about Visa," Scharf, 51, said of Kelly in a joint phone interview. Kelly, in turn, predicted a "very seamless transition" with Scharf around to provide insight.
Visa, the world's biggest payments network, has soared 137 percent -- the second-best performance in the Dow Jones Industrial Average -- since Scharf took over, a period in which the industry's profits snowballed as consumers abandoned cash and checks in favor of electronic payments. During his time at the helm, Scharf was based in San Francisco but kept a New York home, traveling between the cities.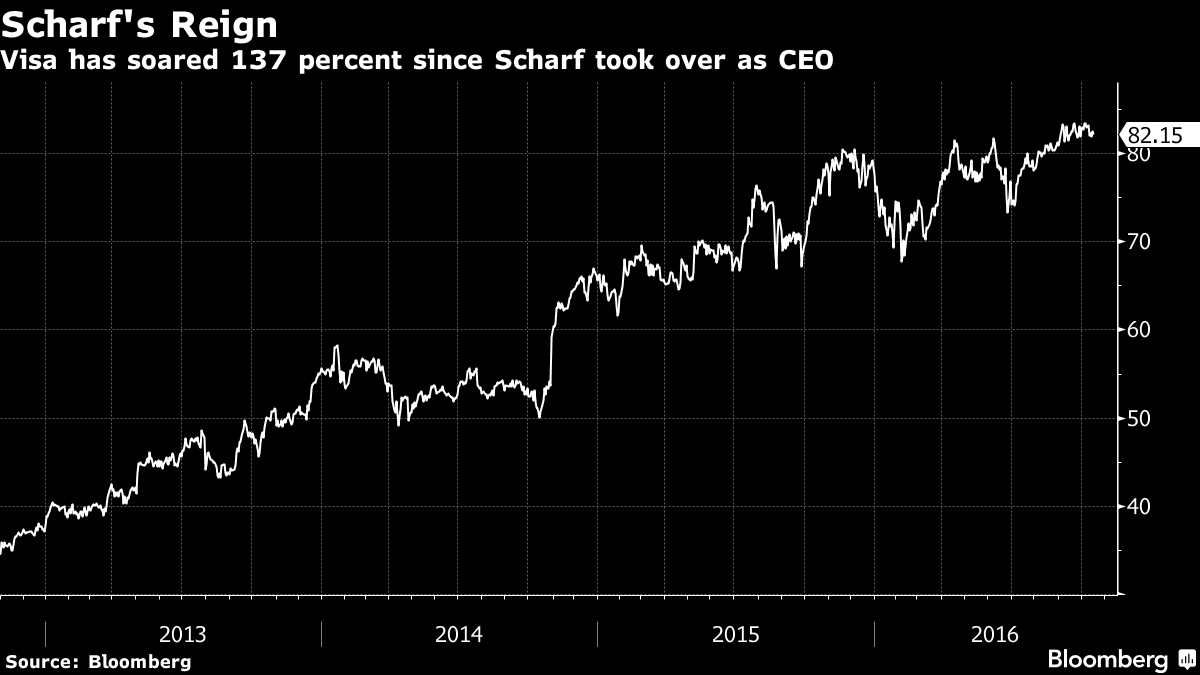 "It would be a colossal mistake for me to come in and think there's a number of things that I ought to go change," Kelly said during a conference call with analysts. "This company is doing extremely well, and Charlie has built a world-class leadership team."
Visa shares fell 0.4 percent to close at $82.15 and slid an additional 1.4 percent in extended trading at 5:46 p.m. in New York, after the change was announced.
September Search
Kelly, 58, worked at New York-based American Express for 23 years and ran the committee organizing the New York-area Super Bowl for the National Football League in 2014. He joined Visa's board in 2014 and also is a director at MetLife Inc., the largest U.S. life insurer.
Visa began reviewing CEO candidates in mid-September after Scharf told the board he was considering leaving his post. Kelly will be based in New York but told analysts Monday that he would be "anywhere I'm needed," noting he expects to spend a lot of time in China to help the company grow there. He said he plans to work closely with Visa President Ryan McInerney, 41, whom Scharf had brought over from JPMorgan Chase & Co.
Kelly started working at American Express in 1987 in its strategic planning department. A father of five, he rose through the New York-based firm's consumer issuance business, an experience that he said would help him navigate Visa's partnerships with banks. Kelly became president of AmEx's consumer unit in June 2007. He left the firm in October 2009.
"He's got very good business acumen, he's decisive and really builds a terrific team of people around him," said Gordon Smith, head of JPMorgan's consumer and community banking division, and a friend of Kelly for almost 30 years. Kelly's experience at a card-issuing lender means he understands "the complexity of the business," Smith said.
Kelly was head of information systems at the White House from 1985 to 1987 and previously worked for PepsiCo Inc.
'Complete Dedication'
Known as a quiet, methodical former protege of JPMorgan CEO Jamie Dimon, Scharf used to unwind by building furniture in a woodshed in the backyard of his Scarsdale, New York, home before moving to an apartment, where he relaxes by practicing acoustic and electric guitar. In a memo to staff, he said his daughters, parents and extended family all still live on the East Coast and that he needs to be there now more than he is able.
"Anything short of complete dedication, both mental and physical, would not be fair to Visa," he wrote.
To Read Scharf's Memo to Staff About His Departure, Click Here
Scharf could be eligible for some payments upon his exit if Visa considers the location and travel problems to be a "good reason" for stepping down. Under that scenario he'd be eligible for about $20 million in compensation, according to the company's most recent proxy statement. The payments would include a $10.3 million cash severance and about $10 million in stock awards that would vest early. The figure could change as shares have vested and he's been granted new awards.
Scharf left JPMorgan to join Visa as CEO in November of 2012, succeeding Joe Saunders, who took the company public in 2008. During a decade at JPMorgan Scharf oversaw retail banking before taking over an investment arm.
Tech Focus
At Visa -- which traces its roots to a fledgling Bank of America credit card offered in 1958 -- he has faced mounting legal challenges and regulations aimed at curbing the fees that the firm reaps on transactions. In June, he completed the roughly $20 billion purchase of Visa Europe, bringing the two firms together after eight years as separate companies.
He also has focused on reshaping the payments firm into a broader "technology-driven digital commerce company," Chairman Robert W. Matschullat said in the statement.
Scharf oversaw the opening of a new outpost in San Francisco -- part executive office, part design laboratory -- where engineers dream up new ways to interact with consumers, tinkering with robots and virtual-reality headsets. The idea is to stay ahead of alternative online-payments systems like PayPal and virtual currencies that can bypass credit cards.
"I've always looked at Visa as a very formidable competitor who I respected," Kelly said in the interview. "I have the advantage of having the last couple of years to get to know this senior team here and the issues here and the opportunities here."
Before it's here, it's on the Bloomberg Terminal.
LEARN MORE