U.S. ELECTION WRAP: Clinton Widens Polling Lead, Expanding Map
Hillary Clinton widens her national lead over Donald Trump in a new poll as her campaign looks to make a play for the Republican stronghold of Arizona.
By and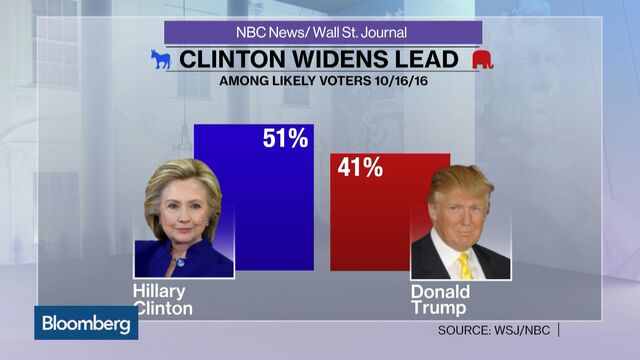 Hillary Clinton opened a 12-point lead in a new national poll as 6 out of 10 voters said claims of unwanted sexual advances by Donald Trump are probably true.
Fifty percent of likely voters back Clinton vs. 38% for Trump, 5% for Libertarian Gary Johnson, 2% for Green Party's Jill Stein, Monmouth University Poll found; Clinton led Trump 46%-42% just three weeks ago in same survey
A new NBC/WSJ poll showed Clinton ahead of Trump by an average of 7 points in battlegrounds states of Arizona, Florida, Georgia, Iowa, Michigan, North Carolina, New Hampshire, Nevada, Ohio, Pennsylvania and Wisconsin
As Trump drops in some key polls, the GOP presidential nominee is doubling down on his "rigged" election claims, drawing rebuke from both Democrats and Republicans who called such talk troublesome; see Bloomberg story on why experts say fear that voter fraud could tip a national election is unfounded
Clinton's gains come amid Republican concern that a sizable win by the former first lady in some swing states could affect House and Senate races

"If Trump comes within five percent in a state, the Republican has a very good chance to win," GOP consultant Frank Donatelli, who served as White House political director under Ronald Reagan, said in an interview. "It would be difficult beyond, say, seven percent"

Not all new poll results are tilting in Clinton's favor; a CNN/ORC survey found Trump leading his Democratic rival 48%-44% in Ohio

The poll also showed Clinton ahead of Trump 48%-47% in North Carolina, and 46%-44% in Nevada, with both results within the margin of error

Meanwhile, with 22 more days until Nov. 8, it's getting "harder and harder to see how Donald Trump gets anywhere near the 270 electoral votes he needs to win the White House," Washington Post's Chris Cillizza and Aaron Blake wrote

States that should be easy for a Republican to win this year -- like Missouri, Alaska and Utah -- are within the margin of error in credible polls, while battlegrounds Trump needs to win -- Florida, Pennsylvania, North Carolina -- appear to be slipping out of his reach, the newspaper said

GOP 'CIVIL WAR' LOOMS
No matter what happens on Election Day, the Republican Party will be left to contend with its internal discord long after the ballots are counted, said Donatelli, former deputy chairman of the Republican National Committee

"The Civil War begins in earnest November 9," he said. "Leaving the multiple personalities aside, the question the party must answer is whether it wants to return to Reagan conservatism that focuses on inclusion and embraces the future, or the angry, inward looking politics we now have"

CLINTON MOVES ON ARIZONA
Clinton campaign is making a play to win voters in traditional Republican territory, most notably Arizona, where Michelle Obama and Sen. Bernie Sanders will stump for the Democratic presidential nominee this week

Trump's "hateful rhetoric and deeply disrespectful remarks" about Sen. John McCain, R-Ariz., have made the Grand Canyon State more competitive, Clinton campaign manager Robby Mook told reporters Monday
NOTE: Bill Clinton's re-election bid 20 years ago marks the only time Arizona has backed a Democrat for president since 1948

Hillary Clinton's camp also is bolstering support for Democratic congressional and gubernatorial candidates; click here for story by Bloomberg's Jennifer Epstein
Trump's campaign meanwhile announced plans to win Virginia by kicking off a more than $2 million statewide TV ad buy starting Tuesday and running until Election day
Clinton leads Trump by 10.8 points in Virginia in a two-way race, according to RealClearPolitics poll average 

MORE POLLS/PREDICTIONS
Billionaire investor Carl Icahn, a Trump supporter, told CNBC that claims Trump made unwanted sexual advances on various women are ridiculous

Icahn also said he believes Trump still "has a chance" to win, but "obviously not" as much as he had previously

In a new Quinnipiac University Poll of swing states, Clinton leads Trump  in four-way race 45%-37% in Colorado; 48%-44% in Florida; 47%-41% in Pennsylvnia; and the two are tied 45%-45% in Ohio
The latest Washington Post-ABC News poll found that voters with daughters are much more likely to support Clinton for president
The Monmouth poll found that Clinton's personal rating has held stable since last month while Trump's has slipped

38% of voters have a favorable opinion of Clinton vs. 52% who have an unfavorable view; that compares with a 36% to 54% rating last month
26% of voters have a favorable view of Trump while 61% see him unfavorably, down from a 32% to 57% rating last month
The main difference between this month and last month is that Clinton supporters "have become more enthusiastic, and thus more likely to turn out while Trump backers have become less likely to vote," Patrick Murray, director of the independent Monmouth University Polling Institute, said in a news release
The allegations of sexual misconduct seem to have played some role in the decline in Trump's support: Monmouth survey

Wall Street Journal/NBC News poll out Sunday showed Clinton's national lead over Trump widening 11 points from a 6-point edge in mid-Sept.
RealClearPolitics average of polls has Clinton leading against Trump in a head-to-head contest by 6.4 points; in a four-way race including minor party candidates, Clinton is ahead by 6.9 points

ON THE TRAIL/TUBE/STAGE
CNN will air Anderson Cooper's sit-down interview with Melania Trump Monday night at 8pm ET; the GOP nominee's wife also will appear in an interview on Fox News' "Fox & Friends" on Tuesday
Clinton has no public campaign events scheduled Monday; Bill Clinton is stumping in N.H. and Bernie Sanders in Colorado

Actors including Julia Roberts, Helen Mirren, Neil Patrick Harris and Sarah Jessica Parker will take part in a fundraiser for Clinton on Monday night
The Broadway event hosted by Billy Crystal will feature duets and collaborations to raise money for the Hillary Victory Fund

Trump is set to speak at a rally tonight in Green Bay, Wis.

ENDORSEMENTS
Berkshire Hathaway's Omaha World-Herald endorsed Clinton for president, marking the first time the Nebraska newspaper has backed a Democrat for president since 1932

Clinton is a "prudent pick" for the White House, the publication's editors wrote
Omaha World-Herald Publisher and Berkshire Hathaway Media Group CEO Terry Kroeger stressed that all of the newspaper's endorsements are made independently and don't reflect the views of Berkshire Chairman Warren Buffett
Billionaire Buffett's opinion is "never sought -- or offered," Kroeger wrote
Buffett has "been very candid in his public support for Hillary Clinton": Kroeger

The Hill's tally of endorsements shows none for Trump among the country's top 100 newspapers

ETC
Trump Foundation says it has complied with edict from New York Attorney General Eric Schneiderman ordering organization to cease soliciting donations
A State Department team responsible for determining which records should be kept secret felt "immense pressure" not to label any of about 300 e-mails found on Clinton's private e-mail server as classified, according to interview summaries released by the FBI; see full Bloomberg story here
Trump and Clinton will attempt the improbable, if not the impossible Thursday night: to act civilly and good-naturedly rib each other at New York's annual Al Smith charity dinner, Bloomberg's Henry Goldman and Amanda Gordon wrote

The dinner, named after the state's 42nd governor and the first Catholic U.S. presidential candidate, includes the Democratic and Republican White House nominees almost every four years; read full story here

Trump's son-in-law Jared Kushner has informally approached one of the media industry's top dealmakers about the prospect of setting up a Trump TV network after the presidential election, Financial Times reported
Kushner contacted Aryeh Bourkoff, founder of LionTree, a boutique investment bank, within the past couple of months, according to three people with knowledge of the matter; their discussion was brief and has not progressed since, the people said; Bourkoff and Kushner both declined to comment: FT
White House Press Secretary Josh Earnest tried to poke some fun at Trump when asked about the GOP nominee's declaration that Clinton needs to take a drug test before the third presidential debate; see video here 
Ohio's Republican secretary of state, Jon Husted, said Trump's claims about a rigged election are "irresponsible," Politico reported
Former President Bill Clinton has kept the focus on the economy while campaigning for his wife, in spite of provocations by Trump, Bloomberg's Jennifer Epstein wrote

CONGRESSIONAL ELECTIONS
SENATE RACES (Republicans hold 54-46 majority)
AZ: Republican Sen. McCain said Republicans "will be united against any Supreme Court nominee that Hillary Clinton, if she were president, would put up," CNN reported

McCain, who spoke on a Philadelphia radio station, opposed by Democratic Rep. Ann Kirkpatrick in his bid for re-election
FL: Democratic Rep. Patrick Murphy's campaign released TV ad of a woman whose son was killed in Orlando nightclub shooting in June; woman says she can't believe Republican Sen. Marco Rubio would "do nothing" and Murphy isn't afraid to "take on the toughest problems, including gun violence"

Rubio in June voted against Democratic bills and for Republican alternatives to expand gun-background checks and prevent suspected terrorists from acquiring firearms; none advanced in the Senate
Rubio last month introduced legislation to provide automatic student loan deferments to survivors of terrorist attacks
Rubio and Murphy will debate tonight at 7 p.m. eastern time at the University of Central Florida in Orlando
IN: Evan Bayh could return to the Senate "with little or no seniority for previous service" as liberal groups "express fear" the centrist Democrat could lead the Senate Banking, Housing and Urban Affairs Committee, Bloomberg's James Rowley and Kathleen Hunter reported

Bayh, who left the Senate in 2011 after 12 years and became senior adviser to New York private equity firm Apollo Global Management, is in a tossup race with Republican Rep. Todd Young; winner to succeed retiring Republican Dan Coats
LA: ESAFund, a conservative super-PAC aiding Republican state Treasurer John Kennedy, received $2m from Kennedy's state campaign committee fund on Aug. 2, according to FEC filing

ESAFund, which is led by TD Ameritrade founder Joe Ricketts and backs other Republican candidates for House and Senate, received $3m from his wife Marlene Ricketts and $950k from billionaire Paul Singer
NC: Republican Sen. Richard Burr's campaign released TV ad of a Fayetteville woman, a widow of a veteran of the war in Afghanistan, who says Democrat Deborah Ross supports "burning our American flag" and "Obama's weak policies against Islamic terrorists" and the Iran nuclear deal

Ad cites August McClatchy story in which Ross, who formerly led ACLU's N.C. branch, says "flag burning is plain wrong, and I'll stand up for free speech - even speech I don't like"
Note: Senate in 2006 failed to advance constitutional amendment banning flag desecration, falling short by one vote of two-thirds majority needed; current Majority Leader Mitch McConnell among three Republicans who voted no
NH: Republican Sen. Kelly Ayotte's decision to repudiate Trump "has angered many of the Republicans who must turn out to vote" if Ayotte is to defeat Democratic Gov. Maggie Hassan, Wall Street Journal reported
NV: Obama, in radio ad for Democrat Catherine Cortez Masto's campaign, said he's backing her for Senate "because she'll fight for you every day" and will work to "raise the minimum wage, reduce the cost of college and invest in our schools"

Obama carried Nevada 52%-46% in 2012 and 55%-43% in 2008; Cortez Masto, a former Nev. Atty. Gen., and Republican Rep. Joe Heck vying to succeed retiring Democratic Sen. Harry Reid
OH: Republican Sen. Rob Portman and Democratic ex-Gov. Ted Strickland will hold their second debate tonight at 7 p.m. eastern time in Columbus, according to WBNS-TV, a sponsor of the debate along with the Columbus Dispatch
PA: Republican Sen. Pat Toomey said he'll highlight in a debate today how he and Democratic challenger Katie McGinty "differ on issues from national security to taxes," Associated Press reported

Toomey-McGinty taped their debate at 1 p.m. eastern time at KDKA-TV in Pittsburgh; debate will air at 7 p.m. and will also be carried by C-Span
Democratic Senatorial Campaign Cmte TV ad says Trump and Republican Sen. Pat Toomey are "just wrong for the women of Pennsylvania"

Ad shows footage of Trump saying in March there "has to be some form of punishment" for women who get abortions, though Trump's campaign immediately rescinded those remarks; Toomey is shown in 2009 saying he'd support banning abortion and "would suggest that we have penalties for doctors who perform them"
WI: Reform America Fund, a Wisconsin-based super-PAC opposed to Clinton and ex-Sen. Russ Feingold, released TV ad attacking Feingold for "30 years of being radical" and "30 years of being wrong" in reference to his long public service career

Super-PAC's donors include billionaire Diane Hendricks
Feingold and Republican Sen. Ron Johnson debated Oct. 14 in Green Bay
HOUSE RACES (Republicans hold 246-186 majority)
CA-24: Democrat Salud Carbajal and Republican Justin Fareed debated last night on KEYT-TV in Santa Barbara

Carbajal, a Santa Barbara County supervisor, and Fareed, a businessman, are seeking to replace retiring Democratic Rep. Lois Capps in a district that leans Democratic
KS-03: Democratic Congressional Campaign Cmte TV ad links Republican Rep. Kevin Yoder to Republican Gov. Sam Brownback's education funding cuts and says they are "the wrong formula for Kansas"

Yoder in TV ad denounced government perks and privilege and said his "only responsibility is to the people of Kansas, not big donors, lobbyists, or even my party"
Democrat Jay Sidie, an investment businessman, opposing Yoder in district that includes Overland Park, Kansas City, Olathe
MI-01: House Majority PAC, a Democratic super-PAC, released TV ad showing Republican Jack Bergman saying "we need to privatize" Social Security

Ad uses footage from July candidate forum in Alpena; Bergman in fuller answer said "I believe that over the long term we need to privatize" Social Security and Medicare but you "don't do it 100% tomorrow"
House Majority PAC supports Democrat Lon Johnson, a former state party chairman, in race to succeed retiring Republican Rep. Dan Benishek in district that includes Upper Peninsula
MN-03: Republican Rep. Erik Paulsen leads Democratic state Sen. Terri Bonoff 49%-38% in KSTP/SurveyUSA poll of 579 likely voters conducted Oct. 10-13

Survey indicates Paulsen winning crossover support in bid for fifth term; Clinton leads Trump 48%-35% in suburban Twin Cities district that backed Obama by <1 ppt in 2012
NE-02: Republican Don Bacon's campaign in TV ad faulted Democratic Rep. Brad Ashford for not knowing Bellevue, home to Offutt Air Force Base, was on an ISIS "hit list"

Ad cites March 2015 KMTV story and uses footage from their debate last week
NJ-05: Democrat Josh Gottheimer began Oct. with $2.6m campaign cash-on-hand, the most of any challenger seeking to unseat a House incumbent, according to FEC data

Gottheimer trying to unseat Republican Rep. Scott Garrett, who had $2.1m in campaign cash-on-hand as he seeks re-election in mildly Republican-district where most residents live in Bergen County near NYC
NY-21: Republican Rep. Elise Stefanik's campaign released TV ad referring to liberal Green Party nominee Matt Funiciello as "the real progressive" in the race

Ad meant to siphon votes from Democrat Mike Derrick, whom the ad says backs Obama's "terrible" Iran nuclear deal; it also promotes Stefanik's work for the district's Fort Drum and military veterans
Stefanik elected in 2014 with 55% to 34% for Democrat Aaron Woolf and 11% for Funiciello in vast district that borders Vt.
Stefanik, Derrick, and Funiciello will debate tonight at 7 p.m. eastern time at SUNY Adirondack, Post-Star reported
NY-22: Investor Martin Babinec, a third-party candidate, in TV ad defended his campaign platform focusing on jobs and said the "American Dream" is "at risk upstate, and we can't watch it slip away"

Babinec running against Republican Claudia Tenney and Democratic businesswoman Kim Myers in competitive district where Republican Rep. Richard Hanna isn't seeking re-election
NY-24: American Hospital Assn TV ad says Republican Rep. John Katko is "independent and effective," praising his support for medical research, physician training, local hospitals, and overhauling mental health-care policy

Katko seeking second term against Democrat Colleen Deacon, a former aide to Sen. Kirsten Gillibrand, in Syracuse-based district
TX-23: House Majority PAC aired TV ad with footage of Trump vowing to "build a great, great wall on our southern border," then shows Republican Rep. Will Hurd saying in 2015 TV interview that "a wall absolutely makes sense"

Ad excludes Hurd's comments in same interview that building a wall makes sense "in heavily populated places" but generally is "the most expensive way to do border security and it's the least effective," according to Politifact
Ad also says Hurd "voted to underfund veterans' programs" by more than $1 billion; it cites April 2015 vote for a military construction and Veterans Affairs spending bill that the House passed 255-163 on a mostly party-line vote
TX-23 includes most of the state's border with Mexico as it connects San Antonio to El Paso; it's more than two-thirds Hispanic and voted 51%-48% for Republican Mitt Romney in 2012
WI-08: Democrat Tom Nelson and Republican Mike Gallagher will debate at 10 p.m. Eastern time and 9 p.m. local time on WRFV-TV in Green Bay; event will stream online here

Nelson, a county executive, and Gallagher, a former adviser to Gov. Scott Walker's presidential campaign, seeking to succeed retiring Republican Rep. Reid Ribble
Before it's here, it's on the Bloomberg Terminal.
LEARN MORE