U.K. Gilts Trail Peers With Yields Climbing to Post-Brexit High
by
Pain of Brexit is moving from pound to bonds: SocGen's Juckes

Weaker currency seen already pushing up prices for consumers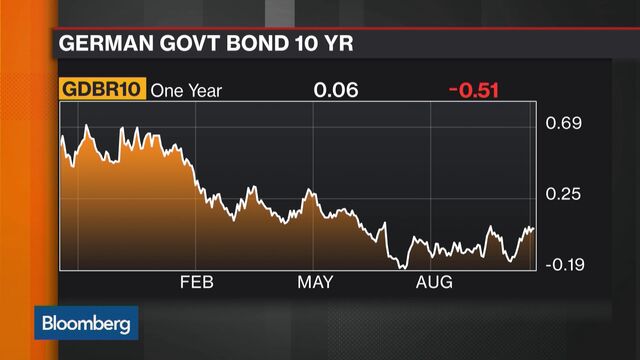 U.K. government bonds fell, pushing 10-year yields to the highest since the Brexit vote, as the prospect of faster inflation gave investors another reason to pull back from a market hurt by the economic and political cost of quitting the European Union.
Ten-year gilt yields climbed to the highest since the June 23 referendum as traders awaited a report which, according to a Bloomberg survey, will show annual inflation quickened last month to the fastest pace in almost two years. Yields have been climbing for the past three weeks amid speculation the pound's 18 percent post-Brexit slide is already pushing up prices in stores.

That would likely curtail spending and growth, adding to the economic pain caused by the lack of political clarity over what quitting the European Union actually looks like. On top of that, faster inflation erodes the fixed payments on bonds, while making it less likely the Bank of England will be able to cut interest rates and extend the asset purchases that supported gilts for much of the year.
"We're marching resolutely higher on yields," said Marc Ostwald, a strategist at ADM Investor Services International Ltd. in London. "With the pound doing what it's been doing," investors are starting to revise up their inflation expectations, he said. "It's going to be a choppy ride."
Faster Inflation
The annual inflation rate rose to 0.9 percent in September, the highest since November 2014, economists surveyed by Bloomberg predicted before official data due tomorrow. A market gauge of price-growth expectations known as the 10-year break-even rate touched a 2 1/2-year high of 3.07 percent last week, and was at 2.92 percent today.
The yield on the benchmark 10-year gilt climbed to as high as 1.22 percent, and was up two basis points, or 0.02 percentage point, at 1.12 percent as of 4:30 p.m. London time. The 1.5 percent security due July 2026 fell 0.21, or 2.10 pounds per 1,000-pound ($1,217) face amount, to 103.515.
The bonds pared their decline after a jump in U.S. Treasuries influenced other markets. Gilts still trailed their counterparts in America and the euro zone, though. The extra yield, or spread, that investors receive for holding U.K. bonds instead of German bunds widened to 106 basis points, the most based on closing prices since June. Treasuries yielded 65 basis points more than U.K. debt, down from 70 at the end of last week.
On Wednesday, Britain will sell 2.5 billion pounds of bonds due in 2026, which may also put pressure on debt prices.
Sterling's Woes
Until late last month, sterling was the asset through which investors showed their dismay at the U.K.'s decision to leave the EU, but now the pressures of Brexit are starting to infect bonds. The sudden increase in funding costs comes just as the government might consider fiscal easing to limit the fallout of quitting the bloc, and may prove to be a bigger challenge than the destabilizing effects of a tumbling currency.
"We've got so much uncertainty," Kit Juckes, a London-based strategist at Societe Generale SA, said in an interview with Jonathan Ferro on Bloomberg Radio. "We've moved the volatility, or the pain or whatever you want to call it, from the foreign-exchange market to the bond market. I think there's more to come, I'm afraid."
Before it's here, it's on the Bloomberg Terminal.
LEARN MORE