Rogers CEO Unexpectedly Resigns; Natale Named to Replace Him
by and
Natale may not be able to join company until February 2017

Former Telus chief served in many roles at Rogers' rival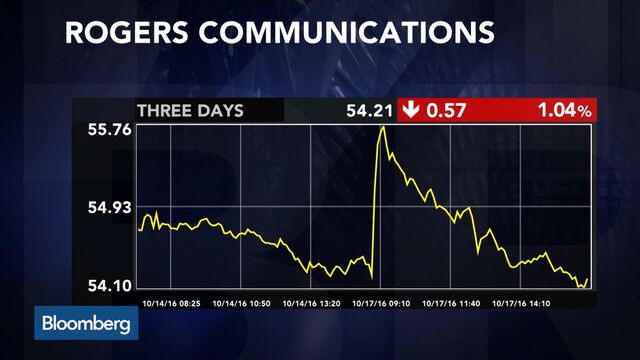 Rogers Communications Inc. named former Telus chief Joseph Natale to succeed Guy Laurence as CEO, a surprise move that raises questions about whether Canada's second-largest telecommunications company will stay the course of using sports and TV content to win customers or start shedding some of its media properties.
Laurence is stepping down after a short-lived but mostly successful tenure at Rogers, during which he improved services, margins, cash flow and customer care. His departure makes way for a seasoned telecommunications-industry veteran with more than a decade of experience at one of Rogers' biggest rivals. 
Natale, 52, served in many roles at Telus, including running the business and consumer segments and serving as chief commercial officer. He left the top job at Telus in August 2015, two and a half years after Laurence joined Rogers. Since that time, Rogers directors may have been looking for a way to bring him aboard, said Greg MacDonald, an analyst with Macquarie Group Ltd.
Natale "was the number one pick all along and they're viewing this as an opportunity to secure the guy they viewed as top on the list and wasn't available when they wanted him," MacDonald said.
Rogers Chairman Alan Horn, who will lead the company until Natale's non-compete clause with Telus expires in 2017, said there wouldn't be any changes in strategic direction.
Among Natale's jobs will be to build on the improvements Laurence made in customer retention and start growing the bottom line, Bloomberg Intelligence analysts John Butler and Matthew Kanterman wrote in a research note Monday.
Natale also may decide to spin off some of the company's media assets, similar to Telus' long-running strategy of not owning TV and sports content. Spinoffs could incrementally increase Rogers' value, Aravinda Galappatthige, an analyst with Canaccord Genuity Corp. said in a note to clients. Rogers owns television stations, magazines, the Blue Jays Major League Baseball team and has half ownership with BCE Inc. of the Maple Leafs hockey team and Raptors basketball franchise.
"Rogers has too many businesses," said David Baskin, president and founder at Baskin Wealth Management in Toronto. His firm manages about C$930 million, including shares of Rogers as well as competitors BCE and Telus. "They need to clean up their balance sheet and their operations, maybe get rid of the magazines altogether."
Though more turnaround work remains at Rogers, Laurence leaves on the back of record-high subscriber growth. During his tenure, he hammered home the need to improve customer service and simplify mobile-phone and cable plans for consumers. New products like C$5-a-day U.S. roaming helped differentiate Rogers' wireless services from those offered by rivals Telus and BCE Inc. In some ways, his work has paid off. Over the last two quarters, Rogers posted major wireless subscriber growth and stemmed churn -- the percentage of customers who leave the service.
Laurence's term hasn't been without missteps, though. Last month, Rogers shut down its Shomi video-streaming service, booking a C$100 million to C$140 million loss, amid Netflix Inc.'s runaway growth in Canada. And in January, Laurence decided to freeze the company's dividend to save costs, a move that jilted investors who promptly sent the stock down the most in more than two years.
Laurence also inherited a 12-year, C$5.2 billion ($4.9 billion) deal with the National Hockey League for rights to air games, an accord announced shortly before he joined the company. Sports has been a cornerstone of Rogers' media and branding strategy, but its hockey programming has been dogged by consumer complaints for being onerous to access when multiple games are being played on multiple channels.
"They paid too much for the NHL deal," Baskin said. "I don't think it was a clearly thought out or articulated strategy."
'Blowout Quarter'
The news came along with Rogers' third-quarter earnings, which missed analysts' profit estimates but beat on revenue. Rogers scored a huge number of new wireless subscribers, pulling in 114,000 wireless contract customers, almost double the 65,000 the company added last quarter.
"It's a blowout quarter," Macquarie's MacDonald said. Shares of Rogers rose as much as 2.9 percent to C$55.92 in Toronto Monday, their biggest intraday gain since July, and were trading at C$54.35 at 1:39 p.m. The stock had gained 14 percent this year through Friday, compared with a 12 percent increase in the S&P/TSX Composite Index.
Earnings excluding some items were C$0.83 cents a share, trailing analysts' estimates of C$0.87,  according to a separate statement released Monday. Sales of C$3.49 billion beat estimates of C$3.45 billion, helped by growth in the company's wireless and media units.
Rogers attributed a 6 percent growth in wireless to a larger subscriber base and consumers' adoption of its higher-value "share everything" plans. On the media side, a 13 percent increase in sales were buoyed by Rogers' sports-related assets, including Sportsnet, the World Cup of Hockey and the Toronto Blue Jays.
Laurence was never viewed as a visionary or "central part of the operation," Baskin said. "I don't think anyone is going to miss him," he said. "Unfortunately his legacy will be the NHL deal."
Before it's here, it's on the Bloomberg Terminal.
LEARN MORE