Rare Virginia Rocket Launch to Light Up East Coast Monday
It's not every day that people in both South Carolina and Massachusetts can see a rocket launch.
By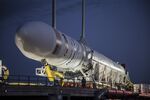 Millions of people from South Carolina to Massachusetts should be able to view an Orbital ATK Inc. rocket blasting from a Virginia launch pad toward orbit on Monday—weather permitting, of course.
Investors will be on the edge of their seats as well. The mission marks the first flight of Orbital's upgraded Antares rocket, which has been grounded since an earlier model was destroyed in a fireball in October 2014.
The rocket, laden with small satellites, supplies, and science experiments, should be launched at 7:40 p.m. local time. It is the company's sixth mission under a contract with NASA to deliver about 28,700 kilograms of cargo to the International Space Station.

The festivities will be live-streamed here. Fans of rockets and loud explosions can also view the takeoff from bleachers set up at the Wallops Island visitor center, four miles from the launch site. Others across the eastern seaboard can follow the spacecraft's progress by using this chart to calculate how soon after takeoff it will appear on the horizon.
Orbital and Elon Musk's SpaceX share the first commercial contracts to ferry cargo to the ISS, part of a NASA program simultaneously to foster private space flight and to resupply the orbiting lab after the retirement of the space shuttle in 2011. Results so far have been mixed. Both Orbital and SpaceX cargo capsules have been destroyed in accidents while en route to the station.
Orbital upgraded the Antares with new engines after an earlier model exploded 15 seconds into a commercial resupply mission to the space station on Oct. 28, 2014. The Dulles, Va.-based company had launched capsules atop United Launch Alliance's Atlas V rocket while its own rocket was grounded.
The explosion wasn't the only recent mishap for Orbital. The aerospace manufacturer has also been working to rebuild investor confidence after disclosing in August that it would have to restate operating results for 2015 because of an accounting error. Flight systems make up the company's second-largest business, accounting for about one-third of its revenue.
The company's stock may follow a similar trajectory to the rocket. Deutsche Bank analyst Myles Walton rated Orbital a "buy'' last month, anticipating shares would rise following a successful supply run to the space station. The morning after the 2014 crash, the stock sank 14 percent.
That's incentive enough to turn investors into space geeks, if only for an evening.
Before it's here, it's on the Bloomberg Terminal.
LEARN MORE