Provoked by Trump, Bill Clinton Keeps Focus on Economy
In rural areas where his wife is struggling, the former president has proven an effective weapon.
By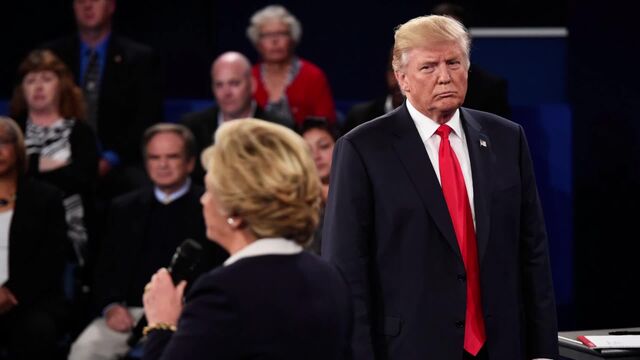 Donald Trump's presidential campaign was down in the mud and all Bill Clinton could do while campaigning for his wife was talk about soil.
Nearly everywhere he stopped last week during a two-day bus trip across Iowa, the former president ended up discussing the state's preponderance of deep topsoil. "This is the only place in America that has this much 20-foot topsoil," he'd say. "You just remember this, all of you who are young: 20 years from now it'll be worth more than oil ever was."
From Indianola to Davenport, it was an applause line. Clinton, 70, was doing something that's usually core to presidential races but has been lost in what he described as the "venom and poison and acid" of this one: offering a nuts-and-bolts discussion of the economy, from local issues to national ones.
When he isn't fundraising in big cities, Clinton is often campaigning to reach out to those who have been "left out and left behind." That means spending the weeks running up to Election Day visiting steel country and farm towns in key states with the goal of appealing to working-class whites, the voters his wife is least likely to win.
Last Wednesday and Thursday it was Iowa, Hillary Clinton's most demographically challenging battleground state. The former president tried to keep his message positive and policy-focused as he stopped at coffee shops and Democratic field offices. Nine out of 10 Iowa adults are white and three-quarters of them don't have a college degree, making them prime targets for Trump. In an NBC News/Wall Street Journal national poll released Sunday, Trump led 56 percent to 36 percent among whites without college degrees, while he and Clinton were tied among whites with college degrees.
So, in Iowa, Bill Clinton tried to offer empathy for the cultural and economic angst that likely Trump voters face ("I grew up in the culture that is now Hillary's opponent's base") while trying to steer clear of the allegations of sexual aggression swirling around the Republican nominee, which offer more than a passing resemblance to some of his own political challenges.
Clinton summed up his approach during a stop on Wednesday at the Meskwaki Bingo Casino Hotel in Tama County, an early voting site for the Native American tribe, telling a senior citizen-heavy crowd of a few dozen that he wants to finish out the race campaigning "according to our values."
"We should reject the choice of dividing, distracting, and demonizing people in favor of cooperation, concentrating on the matters at hand, and being creative about some issues that will bring us all into the future together," Clinton said, shorthanding his views of the two candidates. For him, that means resisting the pull of engaging in direct combat with Trump and instead making a positive case for his wife.
Still the Economy, Stupid
Clinton believes his record from his eight years in the White House—real GDP growth averaging 3.8 percent and an unemployment rate that averaged 4.2 percent in his final year in office—makes him the right messenger for the campaign and beyond.
"I have spent half my life now doing this economic work. The results for you were pretty good when I was president," he said at the Meskwaki settlement. "Every fiber of my being tells me that we are very close to being able to rise together again."
Clinton has said he'll do "whatever I'm asked to do" by his wife and her top aides if she becomes president. They both have spoken publicly about a role that looks like what he's been doing on the campaign trail since the primaries, reaching out to places that are "left out and left behind" as a domestic economic ambassador to coal country, Native American reservations, struggling cities, or Puerto Rico.
In Iowa, Clinton talked about boosting wages, helping people who earn slightly too much to qualify for Affordable Care Act subsidies, and providing internet access to kids who don't have it. He boasted that investments during his administration in nanotechnology and mapping the human genome had paid off "big time" in the 16 years since, and that, of the candidates still in the running for the White House, only his wife would continue down the same path.
"Hillary should be president because she's got the best ideas," he said at Simpson College in Indianola, a half-hour drive south of the state capital, Des Moines.
In their final weeks, presidential races often become more about personality or how a candidate responds to a crisis—the famed "October surprise." Still, the near total absence of a debate between the candidates about the state of the economy is unusual. 
"It makes for an odd contest. We're used to presidential campaigns where throughout and including this stage of a campaign, they're dueling over policy. They're dueling over other things instead," Alan Krueger, an informal economic adviser to the Clinton campaign and former chair of President Barack Obama's Council of Economic Advisers, said before the latest sexual assault allegations against Trump emerged.
Traveling across Iowa, Clinton often lamented the tone that "Hillary's opponent" has taken and how it's drowned out discussion of policy.
More than once, he complained that much of the second presidential debate had been devoted to a back-and-forth about Trump's treatment of women, arguing that it did a disservice to voters. "I still felt bad for the citizens who came to participate. You know, they were selected, they were generally undecided, and it was 29 minutes before one of those real people got to ask a real question about the real future of their communities and this country," he told volunteers at an Iowa Democratic Party office in Marshalltown. "That's not what this election should be about."
Voters, at least the ones who showed up at Clinton's rallies, seemed to agree. "It's really nice to hear somebody talk about the issues, the economy, and not about Trump," said Cari Rieder, 45, of Davenport, who brought her 17-year-old daughter Kennedy to a dinnertime event in the North High School gym.
Facing Trump
Trump has faced rounds of unfavorable stories about his behavior toward women, amplified by the release 10 days ago of a 2005 behind-the-scenes video from Access Hollywood on which Trump made lewd comments, and subsequent accusations of inappropriate sexual behavior from several women.
His response, in addition to disparaging his accusers, has been to point to the former president as a more dangerous force. "If you look at Bill Clinton, far worse. Mine are words, and his was action. His was what he's done to women. There's never been anybody in the history of politics in this nation that's been so abusive to women," Trump said during the second presidential debate, just after holding a press conference with three women who have accused the former president of sexual assault.
Trump's allies have also been piling on. Infowars, a media outlet associated with the alt-right movement, has said it will pay $5,000 to anyone who can get on television calling Clinton a rapist, while Republican strategist Roger Stone is selling a "Clinton rape whistle" for $6. Some Trump supporters—or Clinton haters—are listening.
As Clinton's motorcade pulled up to Davenport North High School at dusk on Thursday for the final stop of the trip, a middle-aged man stood near the curb holding a handwritten sign that read "no sexual predators in schools." Inside, as soon as he started to speak, he was interrupted by shouts of "Bill Clinton is a rapist!" The crowd shifted uneasily, looking for the interlopers, eventually launching into a "Hillary! Hillary!" chant to drown them out.
Two young men started walking toward the exit, then another, his hands near his face spoiling for a fight that a crowd holding "Stronger Together" and "Love Trumps Hate" signs wasn't interested in having.
"If you serve poison for breakfast, lunch, and dinner for a year and a half, somebody is going to drink it and give it back," Clinton said. "And, so don't boo them. Try and get them to stop screaming and talk to you because this country needs to be brought together. We've had enough of this divisive, poisonous, us and them stuff."
When faced not with shouts of "rapist!" but with more polite questions, though, Clinton shrugged off any real discussion, aiming to do what he's often done during this campaign: avoid becoming the subject of the story.
At Old Town Family Restaurant in Clinton, a woman asked him why he was the target of Trump's attacks even though he's not on the ticket. "I think you can send him that message," the former president said, pulling himself toward another table as he answered.
"I think my job is to tell people why Hillary should be president," he'd said earlier when a reporter asked him about the latest allegations against Trump.
Then, Clinton stepped outside and stood next to a motorcycle mounted sideways on a metal pole. He posed like he was holding it up, hammed for his campaign photographer, and said, to no on in particular, "I'm having a great day!"