Orbital Rocket Soars to ISS on First Flight Since 2014 Blast
by
Cargo capsule headed for Oct. 23 rendezvous with orbiting lab

Redesigned rocket competing with SpaceX Falcon 9, Atlas V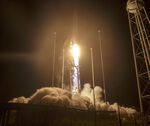 An Orbital ATK Inc. Antares rocket rumbled to life and then soared toward orbit, returning to space for the first time since an earlier model blew up in a fireball almost two years ago.
Orbital's shares climbed the most in two months.
The spacecraft blasted off from a Wallops Island, Virginia, launch pad at about 6:45 p.m. Monday laden with small satellites, supplies and science experiments for the International Space Station. It is Orbital ATK's sixth mission under a contract with NASA to deliver about 28,700 kilograms (63,000 pounds) of cargo to the lab.
After several delays, Orbital's Cygnus capsule is finally headed for an Oct. 23 rendezvous with the space station, where astronauts will grapple it with a mechanical arm. During the spacecraft's return to Earth, scientists plan to ignite nine different materials commonly used on the station to study how flames spread in a micro-gravity environment. The craft will transmit video and data from the experiments before breaking up and incinerating while re-entering the Earth's atmosphere.
Payload Competition
The successful flight provides a boost for Orbit's upgraded medium-lift rocket, which is competing to hoist payloads to space with SpaceX's Falcon 9 and United Launch Alliance's Atlas family of rockets.
Orbital shares rose 2.5 percent to $76.27 at 9:51 a.m. in New York Tuesday after jumping as much as 3.4 percent, the most intraday since Aug. 11. The stock had declined 17 percent this year through Monday.
The mission is the first for Orbital's revamped Antares 230 rocket, which is powered by Russian-made RD-181 engines. A previous version of the rocket relied on AJ26 engines, which were developed by the Soviet Union in the 1960s and refurbished by Aerojet Rocketdyne decades later.
Orbital upgraded the Antares with new engines after an earlier model exploded 15 seconds into a commercial resupply mission to the space station on Oct. 28, 2014. The Dulles, Virginia-based company had hitched rides on United Launch Alliance's Atlas V rocket while its own rocket was grounded.
Along with Elon Musk's SpaceX, Orbital holds the first commercial contracts to ferry cargo to the International Space Station. The National Aeronautics & Space Administration created the program to resupply the orbiting lab and foster commercial space activity after the space shuttle was retired in 2011.
(An earlier version of this story corrected the timing of the launch in the first paragraph.)
Before it's here, it's on the Bloomberg Terminal.
LEARN MORE