Kuwait Bond Sale Plan Still on Track After Parliament Dissolved
By
Government to push ahead with reforms using 'executive powers'

Kuwait's plan to issue bonds, cut spending to plug deficit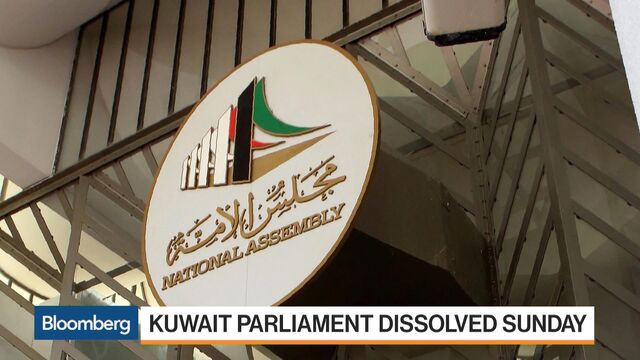 Kuwait's government will use "executive powers" to press ahead with economic reform measures, including plans to raise as much as 3 billion dinars ($9.9 billion) from global bond markets, after the country's ruler dissolved parliament, Deputy Prime Minister Anas Al Saleh said.
Parliament was dissolved on Sunday, paving the way for elections on Nov. 26 at a time the OPEC member is trying to tackle a widening budget deficit following the plunge in oil prices. Part of the government's plan includes reducing subsidies, an unpopular measure among oil-rich Gulf Arabs.
"The government will continue exercising its executive powers to take decisions on matters which do not require parliamentary approval, including the execution of the fiscal and economic reform program," Al Saleh, who is also finance minister, told Bloomberg in an e-mailed response to questions. Authorities "will also continue to work in order to establish Kuwait's presence in the international sovereign debt market and build Kuwait's capabilities for the future," he said.
The decline in oil prices is forcing major producers to slash spending to repair damaged public finances. Kuwait is set to post a budget deficit of 13.5 percent of economic output this year after a 1.1 percent surplus in 2015, according to International Monetary Fund estimates.
With elections set next month, Al Saleh said the transition period before a new parliament is in place will be "very short."
Before it's here, it's on the Bloomberg Terminal.
LEARN MORE