politics
Florida Ordered to Do More to Count Absentee Ballots
By
Ruling in lawsuit is a victory for local democratic party

Registration deadline extended last week following hurricane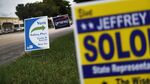 Florida election officials must do more to ensure absentee ballots are counted, a federal judge said in a ruling that called the state's current practice of invalidating ballots where signatures don't appear to match those on file an "obscene" disenfranchisement.
The Florida Democratic Party filed the case this month, pointing out that the state invalidates ballots with mismatched signatures, while absentee voters who forget to sign their ballots are contacted to fix the error. Some counties contact voters when they have questions about the handwriting so that they can resubmit their votes. Others don't.
U.S. District Judge Mark E. Walker called that disparity "irrational and patently bizarre" and ordered officials to contact anyone whose signature is unclear. "In our democracy, those who vote decide everything; those who count the vote decide nothing."
The Florida Secretary of State argued he doesn't have the authority to order county canvassing boards to change their procedures. Walker rejected that claim.
Last week in a separate case, Walker ordered Florida officials to extend the voter registration deadline because of Hurricane Matthew, which closed government offices around the state.
(
Corrects to clarify the FL secretary of state's arguments in fourth paragraph.
)
Before it's here, it's on the Bloomberg Terminal.
LEARN MORE