Fed's Rosengren Says Economy Already Headed for Hot Labor Market
By and
Jobless rate on track to overshoot goal of full employment

Boston Fed chief broke with Yellen consensus at Sept FOMC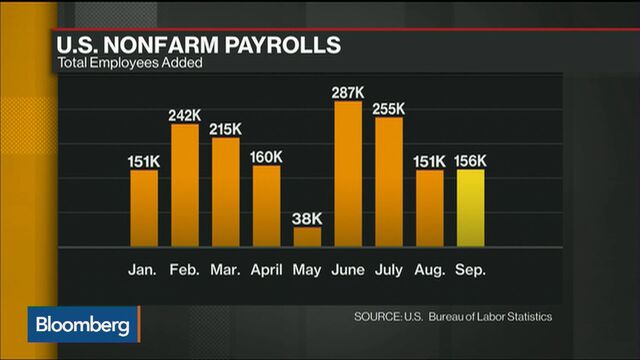 Federal Reserve Bank of Boston President Eric Rosengren said the U.S. central bank is already running the economy hot enough to overshoot his estimate for the lowest sustainable level of unemployment and to reach its goal for 2 percent inflation.
"Our own forecast would say there is a reasonable probability that we would go beyond my estimate of full employment," which is 4.7 percent, Rosengren said in an interview Saturday following a conference he hosted at the Boston Fed. "I think that actually is consistent with running it a little bit hotter."

Rosengren said this strategy has helped bring more people into the labor force, but if pushed for too long risked triggering higher inflation or asset price bubbles that would force a more severe reaction from the Fed.
"The risks have changed in terms of overshooting what I think is full employment with implications for potential imbalances," he said. "Those imbalances might result in a reaction by the Fed that we end up having to tighten more quickly than I would like."
Rosengren, long a proponent of ultra-low interest rates to stimulate job creation, has emerged in recent months as a leading voice among policy makers eager to resume raising rates. That's put him at odds with Fed Chair Janet Yellen, who is keen to continue expanding the workforce and sees less risk of triggering much higher inflation.

The dove-turned-hawk was one of three members of the Federal Open Market Committee to dissent in September when the panel opted to leave rates unchanged, joined by Cleveland President Loretta Mester and Esther George of Kansas City.
Rosengren, 59, argued Saturday that tightening sooner would help hold the labor market closer to full employment for a longer period than if the Fed allows it to overshoot. "My preference would be that we stabilize around what we think is full employment and we basically stay there," he said.
The Fed has left rates steady for six consecutive policy meetings this year as it tried to buffer the U.S. economy from slowing Asian growth and fallout from the U.K.'s vote to withdraw from the European Union.
Yellen has also pursued a strategy of attempting to squeeze more gains out of the recovery to benefit Americans on the sidelines of the labor force, which has so far paid off. The proportion of the working-age population employed or actively seeking jobs rose to 62.9 percent in September from 62.4 percent a year ago.
"Fortunately, we have brought some of those people in, but we shouldn't be overly confident that that will continue to happen," Rosengren said.
He said he expected economic growth, on an annualized basis, to reach 2.5 percent in the fourth quarter.
"I'm expecting fast enough growth that we'll continue to have tightening of labor markets and we'll be presumably very close to our 2 percent, if not at our 2 percent, inflation target" by the end of 2017, he said.
The Fed's preferred measure of inflation, after removing volatile food and energy components, edged up to 1.7 percent in the 12 months through August.
The two-day Boston Fed conference focused on why the current economic recovery has under-performed relative to previous cycles, with economists digging into the decline in long-term labor-force participation and trends in consumer spending and inflation. Yellen gave a speech on challenges for macroeconomics, and said there are "plausible ways" that a "high-pressure economy" could raise productive capacity.
Those comments caused U.S. Treasury 30-year yields to surge on Friday, extending the bonds' biggest two-week decline since May 2015.
Central bankers around the world have asked fiscal policy makers for help in moving their economies out of slow-growth patterns and away from the zero boundary on interest rates. Without predicting how November's U.S. presidential election will play out, Rosengren said if the next administration and the Congress can agree on fiscal stimulus, the Fed may not be required to keep rates ultra low to support growth.
"If we have more expansionary fiscal policy, we don't need as expansionary a monetary policy," he said.
The Sept. 21 FOMC meeting was notable for a "close call" over the decision to leave rates unchanged, minutes released Oct. 12 showed. Rosengren said one reason the committee is strong is its diversity of views.
"I make the best argument I can at every meeting, and I always hope that I win the argument," Rosengren said. "This time I didn't win."