Fed's Fischer Warns of Risk to Running Too High-Pressure Economy
By and
Overshooting employment goal proved dangerous in past

Fed vice chair sketches limits to strategy outlined by Yellen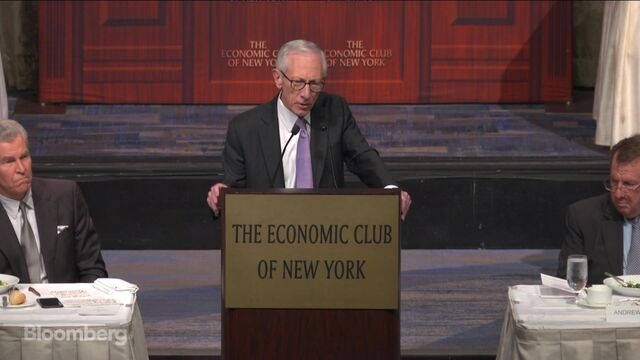 Federal Reserve Vice Chairman Stanley Fischer sees limits to how far the U.S. central bank can pursue a strategy to push unemployment ever lower, an approach characterized as seeking a high-pressure economy by his boss, Janet Yellen, in a speech last week.
"If you go below the full employment rate, or peoples' estimates of full employment, by a couple of tenths of percentage points, I don't think there's any danger in that," Fischer said Monday in response to questions at an Economic Club of New York lunch. "But saying we should keep going until the inflation rate shows us we're wrong, then you're going to change too late."
Past examples, where central bankers have tried to reduce unemployment below its lowest sustainable level, had not ended well. "Those attempts at overshooting have not been that successful, and frequently resulted in subsequent inflation," he said.
Yellen said Oct. 14 there were "plausible ways" that holding interest rates low could help fix damage caused by the Great Recession by boosting demand and drawing more Americans into the labor force.
While she suggested there were risks in pursuing such a "high-pressure" strategy for too long, her remarks caused U.S. Treasury 30-year yields to surge, extending the bonds' biggest two-week decline since May 2015.
Michael Gapen, chief U.S. economist at Barclays Plc in New York, said Fischer's comments "reflect an ongoing divergence of opinion" at the central bank. Fischer "doesn't see much room for running the economy hot" while Yellen's views "seem to provide a wide-open door to do that. You have a chair and a vice chair who see policy differently right now," he said.
Most Fed officials, including Fischer, sided with Yellen in September when the policy-setting Federal Open Market Committee kept the target range for their benchmark policy rate unchanged at 0.25 percent to 0.5 percent, although several officials said the decision was a close call. Three FOMC voters dissented, arguing for a rate hike.
December Hike
Prices of federal funds futures contracts indicate investors see a probability of roughly two-thirds that the Fed will hike when officials meet Dec. 13-14. They see a 15 percent chance of a move next month, when the FOMC gathers the week before the U.S. presidential election.
Fischer didn't comment directly on when he thought the Fed should next raise rates, though he said the central bank was "very close" to meeting its statutory goals of creating full employment with stable prices.
Unemployment has been at or below 5 percent all year -- close to most economists' estimates of full employment, while the Fed's preferred gauge of inflation, minus volatile food and energy components, ticked up to 1.7 percent in the 12 months through August. The Fed has a 2 percent inflation target, which Fischer said he opposed raising.
"Changing that target when you're so close strikes me as undermining the whole framework," he said.
'Growth, Growth, Growth'
Once the Fed reaches its goals, he said, "The big issue will be growth, growth, growth" with the onus on fiscal authorities.
Fischer devoted his prepared remarks to a detailed explanation of why interest rates were remaining so low. He said stimulative fiscal policies could help counteract the impact of lower productivity and an aging population that are holding back the U.S. economy and weighing on interest rates.
"Some combination of more encouragement for private investment, improved public infrastructure, better education, and more effective regulation is likely to promote faster growth of productivity and living standards," Fischer said. Such policies could also "reduce the probability that the economy and, particularly, the central bank will in the future have to contend with the effective lower bound" for interest rates.
The Fed "doesn't have to be the only game in town," he said.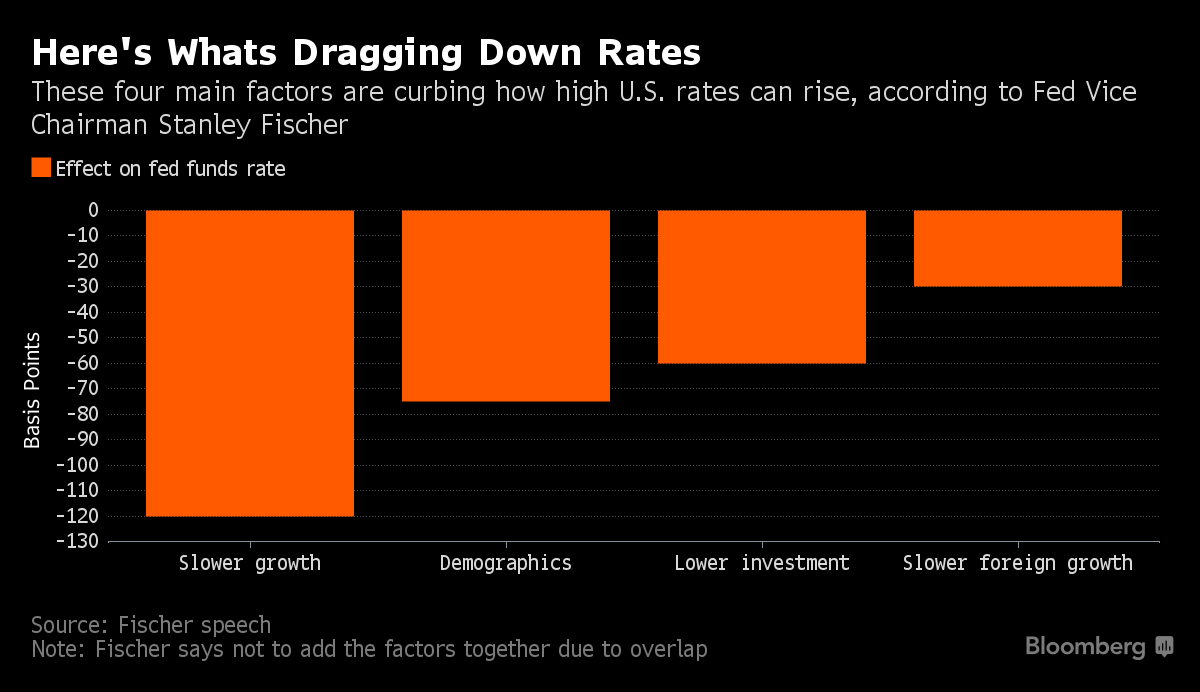 Central banks in advanced economies are grappling with sluggish growth, low inflation and the difficulty of responding to those challenges when interest rates are already at or near zero.
Fischer, 73, pointed to a number of broad factors holding down growth and interest rates in the U.S. He singled out slow trend growth caused by low productivity and slower labor force growth connected to demographic changes; higher savings, also connected to the aging of the U.S. population; weak investment; and lower global growth dragging on U.S. exports.
Watch Next: Is the Fed Keeping the Lid on U.S. Economy Pressures?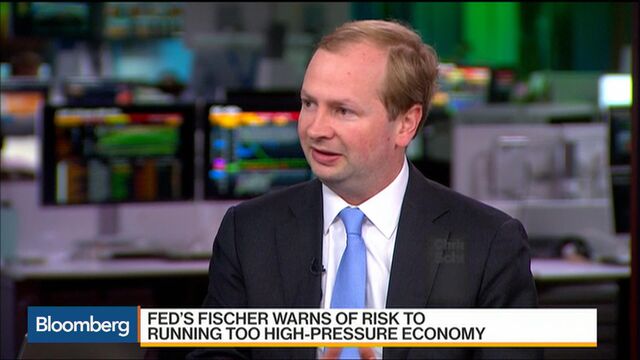 — With assistance by Jeanna Smialek, and Craig Torres
Before it's here, it's on the Bloomberg Terminal.
LEARN MORE