markets
European Stocks Resume Declines as Yield Advantage Fades Away
By
Swiss Market Index, Britain's FTSE 100 are biggest decliners

Cyclicals trading at two-year high versus defensives at risk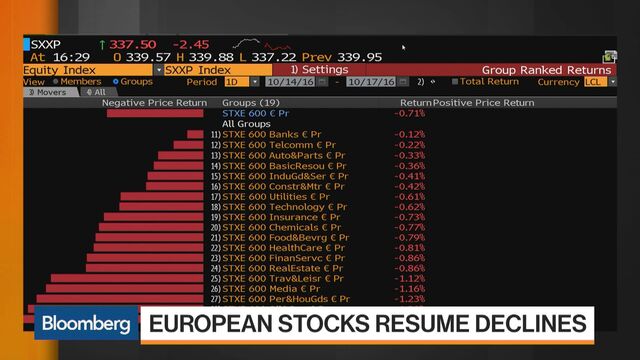 European stocks fell for the fourth time in five days as rising bond yields amid comments by the Federal Reserve and inflation data quelled demand for equities.
All industry groups in the Stoxx Europe 600 Index slid, pushing the benchmark gauge down 0.7 percent. Bonds in Europe fell earlier, with the yield on 10-year German bunds reaching its highest since June, after data showed a pickup in euro-area inflation, while Fed Chair Janet Yellen signaled on Friday that running the economy hot could help growth. The equity gauge's earnings yield is now back to June levels relative to rates offered by the region's government debt, after the premium hit a two-year high in August.
"We've got flatlining growth, commodity prices probably at their peaks for this year, and rising inflation expectations as a result of the Federal Reserve stepping back from its easy monetary policy," said Michael Hewson, an analyst at CMC Markets in London. "Ultimately, one of the key drivers of equity markets has been that it's the only game in town with respect to yields. The fact that bond yields have started to rise suggests that inflation is making a comeback, and that's potentially weighing on equity markets."

Concern about whether the global recovery can withstand tightening in monetary policies has dragged the Stoxx 600 down 3.8 percent from its September high. The measure has lost 1.6 percent in October, heading for its first back-to-back monthly declines since the beginning of the year.
Since European Central Bank President Mario Draghi downplayed the need for additional stimulus last month, bond proxies such as real estate, telecommunication and utility shares have posted some of the biggest slides among Stoxx 600 industry groups. The ECB will give a policy update on Thursday, and most economists surveyed by Bloomberg see it extending its bond-buying program beyond March 2017.
The earnings yield, an expression of per-share profit as a proportion of stock price, slipped to 3.7 percent for Stoxx 600 members, from as much as 4 percent in July. That compares with an average rate of 0.34 percent for the region's debt, which reached a low of 0.19 percent in August, according to the Bloomberg Eurozone Sovereign Bond Index.
At the same time, cyclical companies such as commodity producers and banks, which led the rebound from the June low, are now trading near their highest valuations in two years relative to defensive stocks. JPMorgan Chase & Co. and Morgan Stanley are saying the rally is unwarranted given the risks to global growth. Analysts see profit at Stoxx 600 miners, energy companies and lenders falling more than 17 percent this year.
Among major European markets moving:
The Swiss Market Index lost 1.1 percent, falling the most among western-European markets, with all of its 20 shares down. Swatch Group AG dropped 3.4 percent, and Cie. Financiere Richemont SA declined 3.5 percent after surging more than 10 percent last week. 
The U.K.'s FTSE 100 Index declined 0.9 percent, with Pearson Plc tumbling 8.4 percent as the world's largest education company reported a sales drop.

Italy's FTSE MIB Index rose 0.2 percent. Financial companies such as Assicurazioni Generali SpA and UniCredit SpA climbed after shareholders approved a merger between Banca Popolare di Milano Scarl and Banco Popolare SC, fueling speculation for more deals in the industry. Banca Popolare di Milano lost 3 percent.


Before it's here, it's on the Bloomberg Terminal.
LEARN MORE