markets
Carney to Ignore Inflation Jump as November Rate Cut Seen
By and
Pound drop no barrier to BOE November rate cut, economists say

Benchmark will be cut to 0.1% according to 26 of 36 surveyed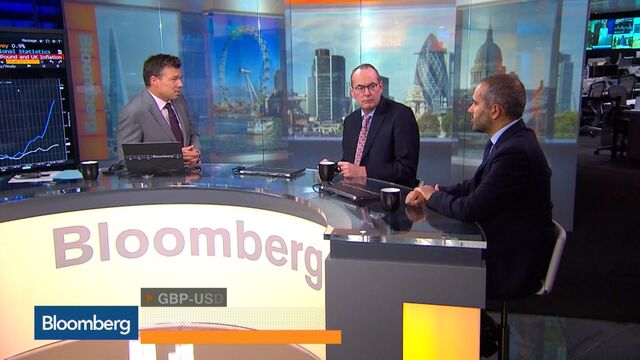 Economists are taking Mark Carney at his word.
Days after the Bank of England governor said he'll tolerate faster price gains in his efforts to support the economy, more than 70 percent of economists in Bloomberg's monthly survey said the Monetary Policy Committee will cut the benchmark rate to a record-low 0.1 percent on Nov. 3. The panel, which will keep its quantitative-easing program running as planned, will present new economic projections the same day.
The pound's 18 percent drop since the Brexit vote is creating a dilemma for policy makers because it's fueling faster inflation. As BOE staff crunch numbers and prepare the crucial new quarterly forecasts, they'll have to take into account the impact of the currency move and leave Carney to decide on the right time for more easing.
"It's going to be a pretty close call," said Victoria Clarke, an economist at Investec in London who currently predicts a cut but plans to review the forecast in the coming weeks. "It's an incredibly difficult one this time around, particularly with sterling having moved that much further."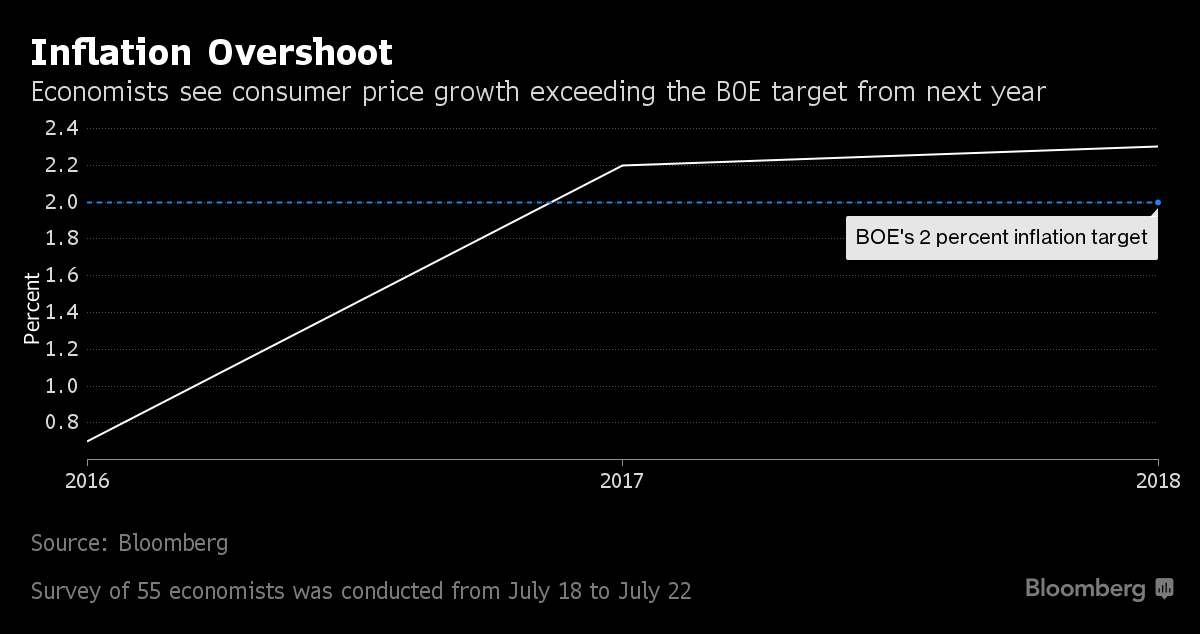 The economists' forecasts are increasingly at odds with the money markets, which show traders see just a 5 percent probability of a reduction next month, down from 17 percent after the BOE's September policy meeting. 
The pound's depreciation took it to a three-decade low earlier this month, pushing up consumer prices. The inflation rate rose to an annual 1 percent in September, the fastest pace since 2014, data today showed. U.K. government bonds are also falling, pushing the 10-year yield to its highest level since the Brexit referendum result.
Adding to the complexity is a better-than-expected economic backdrop since June, which could prompt officials to raise their growth forecasts. Staff have already lifted their third-quarter GDP estimate, and policy makers Michael Saunders and Kristin Forbes have said that the outlook may not be as weak as the central bank predicted in August.
"Presentationally, it's difficult to revise growth and inflation forecasts higher and ease policy," said Jason Simpson, a London-based fixed-income strategist at Societe Generale SA. "There is also the added complication that cutting rates while the market does not expect it risks further weakness in the currency."
Deputy Governor Jon Cunliffe said this month that the November Inflation Report will be a "very important forecast round."
Higher Prices
Shoppers are already seeing tangible effects of price gains, with Apple raising the cost its iPhone 7 by 11 percent in the U.K. and Unilever and Tesco having a public dispute over pricing.
Economists in the monthly survey see inflation at an average 1.2 percent this quarter, unchanged from last the previous survey. Forecasts for 2017 and 2018 are at 2.2 percent and 2.3 percent, the latter slightly raised from September. 
Such a small overshoot of the BOE's 2 percent target would make life easier for policy makers, who've had to defend the August stimulus package that included a rate cut and asset purchases because of the economy's signs of strength.
"If we had wanted to ensure that we set policy -- the level of interest rates -- in such a way as to ensure there was no chance of it rising above target, then we would have had to have set tighter policy," Broadbent said in a BBC interview on Monday. "That would have meant lower economic growth and that would have increased the chances of unemployment going up."
(
Adds inflation data in sixth paragraph.
)
Before it's here, it's on the Bloomberg Terminal.
LEARN MORE