Brexit Bulletin: Does May Have a Secret Plan?
And if she does, what exactly is it?
By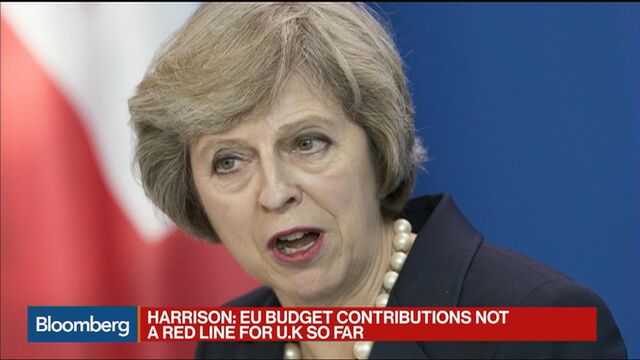 Sign up to receive the Brexit Bulletin in your inbox, and follow @Brexit on Twitter.
What exactly is Theresa May's plan for taking Britain out of the European Union?
Everyone from British politicians to bankers and foreign governments wants to know the answer. Officials in her office tell Bloomberg's Rob Hutton it's the wrong question to ask.
The idea that she has a specific destination in mind for Britain's future, or a secret plan for getting there, is a misunderstanding of how she works, according to two people closely involved with her strategy.
Instead of deciding where she wants to get to, May's method is to understand where she is and then work forward, they said. She has identified two early constraints: controlling migration and ending the jurisdiction of the European Court of Justice.
Is there a piece of paper somewhere inside 10 Downing Street with a Brexit plan on it? According to one of the advisers involved there are lots of different pieces of paper.
Traders have sent the pound to a three-decade low on concern May is marching out of the single market, while Europe's leaders say they won't negotiate until she has formally triggered talks.
Until people know what's on those pieces of paper, the pressure for more answers will continue to build.
In the interim you'll have to make do with us. Each day this week we'll seek to explain a key aspect of the evolving Brexit landscape. Kicking us off: Nine things you really need to know about "hard Brexit."
New York, New York?
The ultimate winner if Brexit forces banks to flee London may lie 3,500 miles away, far beyond the borders of Europe. 

New York is emerging as a top candidate to lure banking talent if London's finance industry is damaged by Brexit, according to executives and politicians, including Morgan Stanley Chief Executive Officer James Gorman.
New York rivals London's depth of markets, breadth of expertise and regulatory appeal, Bloomberg's Gavin Finch reports today. While Europe will win some bank operations to satisfy regional rules and maintain a presence in nearby time zones, banks may look to shrink their operations further and that would likely benefit New York.
A report today from Open Europe makes the same point. "There is contingency planning by banks who don't want to be in a cliff-edge situation," said the think tank's Stephen Booth. "If this drags on, the banks most affected will push on.''
Weekend Wrap
The Times and Telegraph both report today that Chancellor Philip Hammond angered pro-Brexit ministers by seeking a delay to migration curbs. The Mail on Sunday reported that Hammond is being excluded from key meetings, but the Treasury dismissed speculation he might resign.
Asked about Hammond on Monday, the prime minister's spokeswoman said May has "full confidence in the chancellor and the work he is doing."  
"The prime minister wants to prepare fully for these negotiations" and that "includes hearing the different views," she said.

The Sunday Telegraph reported ministers are preparing for an "extreme" Brexit in which the U.K. is landed with World Trade Organization tariffs (as much as 59 percent on beer and 38 percent on chocolate, according to former Deputy Prime Minister Nick Clegg.)
The Sunday Times had the draft of a pro-Remain article now-Foreign Secretary Boris Johnson wrote before he joined the campaign to leave. It also reported that the U.K. may draft rules for testing driverless cars as an effort to keep Nissan investing in the country.
A ComRes poll said 49 percent of Britons think the government should prioritize sealing a trade deal, while 39 percent put immigration first. A smaller survey for Open Britain found 59 percent want to stay in the single market.
And Scottish First Minister Nicola Sturgeon told the BBC she will soon publish a proposal to keep Scotland in the single market even if the rest of the U.K. leaves.  
Brexit Bullets
On the Markets
The pound is occupying minds at the Bank of England amid concern its weakness could drive up inflation. Governor Mark Carney said on Friday he's not "indifferent to the level of sterling," although Deputy Governor Ben Broadbent told the BBC today that sterling will cushion the economy. Meanwhile, Nordea Bank's Stable Return fund is betting the pound is heading higher.
As for gilt yields, they are climbing on the back of rising inflation expectations and the soft pound.

And Finally...
How's that Swiss model shaping up? 
More than two years after voting to restrict EU immigration, the (non-EU) Swiss have all but thrown in the towel. Lawmakers have sidestepped the issue and implemented a "light" proposal in its place. 
"It's a complete fig leaf, as it won't make any difference to the flow of EU citizens into the Swiss economy," said Jacob Funk Kirkegaard of the Peterson Institute for International Economics. 
"It does what it's supposed to do, which is not to have any changes."
For more on Brexit follow Bloomberg on Twitter, Facebook and Instagram, and see our full coverage at Bloomberg.com
Before it's here, it's on the Bloomberg Terminal.
LEARN MORE