BofA Bond-Trading Surge Mirrors Gains at JPMorgan, Citigroup
by
All four major business lines at BofA post earnings increases

Fixed-income trading revenue jumps 39%, equities declines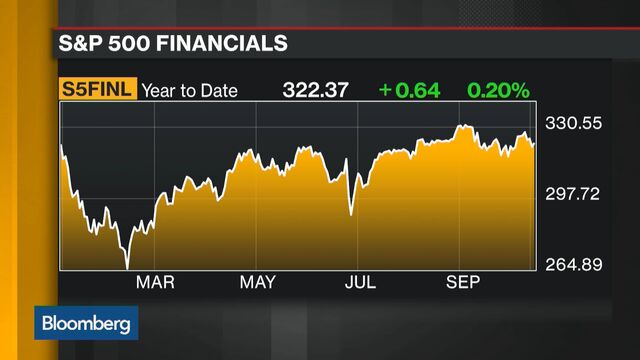 Bank of America Corp. reported its best third quarter for fixed-income trading in five years, becoming the third major U.S. bank to blow past analysts' estimates for the business.
Bond-trading revenue surged 39 percent in the period, driven by rates trading and benefits from the firm's debt-underwriting strength, Charlotte, North Carolina-based Bank of America said Monday. The gains helped fuel a 7.3 percent jump in profit.

"The revenue beat came mostly on the trading side, which was nearly $1 billion better than expected," Chris Kotowski, an analyst at Oppenheimer & Co., said in a note to clients.
Bank of America's report adds to early signs on Wall Street that a multiyear slump in fixed income might have touched bottom. Citigroup Inc. said last week that its bond-trading revenue surged 35 percent, and JPMorgan Chase & Co. posted $4.33 billion from the business, $1 billion more than estimates. The banks attributed some of the improvement to pulling share from Deutsche Bank AG, which has said it's losing out on business as it battles to retain confidence amid mounting legal charges. JPMorgan singled out products linked to rates.
The fixed-income business -- typically bonds, currencies and commodities -- only brought in $70 billion last year at the world's biggest investment banks, about half the 2009 level, according to data compiled by financial-research firm Coalition Ltd.
Bank of America shares rose 0.3 percent to $16.05 at 4 p.m. in New York. The stock has lost 4.6 percent this year, trailing the 2.9 percent decline for the KBW Bank Index of 24 U.S. lenders.
Cash Equities
At Bank of America, fixed-income trading revenue rose to $2.77 billion in the third quarter, exceeding the average analyst estimate of $2.2 billion. Equity trading fell 17 percent to $960 million, missing the estimate of $1.2 billion. Clients made fewer trades in cash equities and derivatives, according to Jerry Dubrowski, a company spokesman.
Some of the drop in equities trading occurred because clients are shifting from active investing strategies to other ones, Chief Financial Officer Paul Donofrio said in a conference call with journalists. A portion of that benefited the fixed income side, he said.
Bank of America's net income climbed to $4.96 billion, or 41 cents a share, from $4.62 billion, or 38 cents, a year earlier, the bank said in a statement. Earnings per share excluding accounting adjustments were 42 cents, beating the 33-cent average estimate of analysts surveyed by Bloomberg.
Chief Executive Officer Brian Moynihan has been cutting costs for years while contending with persistently low interest rates. That's now paying off as the company moves beyond epic legal claims over mortgages that soured in the financial crisis. Earnings increased in all four of the bank's major business lines.
Bank of America employed 209,009 people at the end of the third quarter, down 2.9 percent from a year earlier.



"We delivered strong results this quarter by staying true to our strategy of responsible growth and focusing on the quality of the relationships with our customers and clients," Moynihan, 57, said in the statement.
Revenue rose 3.1 percent to $21.6 billion. Expenses fell 3.3 percent to $13.5 billion, in line with analysts' estimates.
Investment-banking revenue, which includes dealmaking and underwriting securities, climbed 13 percent to $1.46 billion as debt and equity issuance increased, the bank said. That surpassed the average $1.3 billion estimate from seven analysts surveyed by Bloomberg. Christian Meissner, global head of corporate and investment banking, said last month the third quarter was turning into a better period for deals after a summer lull, and underwriting activity in high-yield debt and leveraged finance was improving.
Consumer Banking
Consumer-banking profit rose 3.2 percent to $1.81 billion, as mortgage-banking income surged 45 percent to $589 million, topping the $500 million estimate of Kotowski at Oppenheimer.
The business line the company calls "all other" posted a loss of $182 million compared with profit of $152 million a year earlier. Bank of America took a tax charge of about $350 million for revaluing the company's deferred tax assets in the U.K.
The company revised earnings for recent years on Oct. 4 to reflect a change in the way it accounts for the value of certain securities held in its investment portfolio. Chief Financial Officer Paul Donofrio indicated in July that the new method, bringing the firm in line with Wall Street peers, may reduce swings within the bank's earnings. That month the company also made another change, dissolving a business segment created in 2011 to house delinquent mortgages.
Before it's here, it's on the Bloomberg Terminal.
LEARN MORE