Asian Stocks Fall as Casino Shares Tumble With Crown Resorts
by
Futures on the S&P 500 Index decline; Japan's Topix rises

Australia's Crown Resorts plunges as China detains employees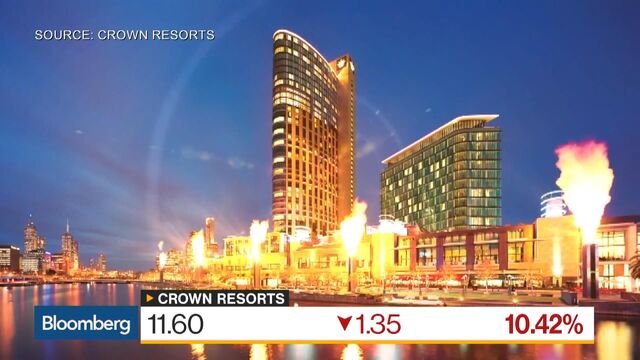 Asian stocks outside Japan declined toward the lowest level in a month as casino operators tumbled after China detained employees of Australia's Crown Resorts Ltd. Japanese shares advanced as the yen weakened.
The MSCI Asia Pacific Excluding Japan Index fell 0.7 percent to 443.29 as of 4:15 p.m. in Hong Kong. Shares of Crown Resorts, the Australian casino company controlled by billionaire James Packer, plunged in Sydney by the most since December 2007. Japan's Topix index rose 0.4 percent as the yen traded at 104.12 against the U.S. dollar, following three weeks of losses.
Investors are putting off taking risks as they watch for key economic data including those on industrial production and inflation to weigh the outlook for when the Federal Reserve will raise U.S. borrowing costs. Fed Chair Janet Yellen signaled Friday the central bank will remain deliberate in raising interest rates as the odds for monetary tightening in December hovered at 66 percent.
"Several major global events could keep investors on the edge," said Vasu Menon, vice president for wealth management research at Oversea-Chinese Banking Corp. in Singapore. "U.S. economic data like inflation for September and home construction, home sales and industrial output figures will be eagerly anticipated for clues about the Fed's interest rate policy."
High Rollers
Among casino operators, Sands China Ltd. sank 3.3 percent and Wynn Macau Ltd. declined 2.7 percent in Hong Kong. Chinese authorities detained 18 employees, including the head of the international high-roller operations, of Crown Resorts.
"This is a clearer signal to all casino operators and junkets in the region, that the Chinese government doesn't like gambling and will continue the crackdown on the industry and capital outflow," said Tony Tong, founder of Hong Kong-based risk management consulting firm Pacific Financial Services Ltd.
Cnooc Ltd. retreated 1.9 percent in Hong Kong as crude futures fell for a second day after U.S. producers increased drilling. Tokyo Electric Power Co. slumped 7.9 percent after a candidate opposed to the restart of Tepco's Kashiwazaki Kariwa nuclear plant won the gubernatorial race for Niigata prefecture, where the reactor is located, blurring the outlook for Japan's largest power utility.
Investors are also bracing for the final U.S. presidential debate set for Oct. 19, as well as closely watching earnings out of the world's biggest economy.
"The final debate between Hillary Clinton and Donald Trump could lead to heightened concerns about political risk," Menon at OCBC said. "Earnings are especially critical at this juncture as US stocks are trading at near-record highs and susceptible to earnings disappointments as valuations look stretched."
China Shares
China's foreign currency shares plunged in late trading, with the Shanghai B-share index tumbling 6.2 percent, sending traders scrambling for reasons to explain the sudden volatility in a largely moribund market. The sudden slump weighed on yuan-denominated Shanghai A shares, which lost 0.7 percent. The Shanghai Composite Index, comprising both yuan-denominated A and foreign-currency B shares, slid 0.7 percent.
The Hang Seng China Enterprises Index of mainland stocks traded in Hong Kong fell 0.6 percent, while the city's benchmark Hang Seng Index declined 0.8 percent. Investors are anticipating Chinese economic data on industrial production, retail sales and gross domestic product that are all due on Wednesday after a report last week showed the nation's exports unexpectedly dropped in September.
"If China's economic growth comes in below 6.7 percent, which was the growth rate in the first two quarters of this year, this could lead to fears that the Chinese economy is weakening once again despite stimulus," OCBC's Menon said.
Thai Volatility
Thailand's SET Index slipped 0.2 percent after surging 4.6 percent on Friday, the most since October 2011. The 30-day volatility on the benchmark index climbed to the highest in two years last week following the death of King Bhumibol Adulyadej, data compiled by Bloomberg showed. Investors should brace for more volatility as significant changes are likely as the nation prepares for the 2017 elections, said Mark Mobius, executive chairman of Templeton Emerging Markets Group.
Australia's S&P/ASX 200 Index and New Zealand's S&P/NZX 50 Index dropped at least 0.8 percent. Singapore's Straits Times Index lost 0.2 percent. Stock gauges in the Philippines and India declined 0.4 percent, while Indonesian and South Korean equities added at least 0.2 percent.
Futures on the Standard & Poor's index slipped 0.3 percent. The underlying U.S. equity benchmark index closed little changed on Friday as data on retail sales and wholesale prices added to signs the world's biggest economy is strengthening, bolstering the case for the Fed to raise interest rates.
Yellen said Friday at a Boston Fed conference there are "plausible ways" that running the economy hot for a while could repair some damage caused to growth during the recession, indicating a willingness to slowly tighten policy even as inflation reaches or surpasses the central banks' target.
Before it's here, it's on the Bloomberg Terminal.
LEARN MORE