As Nation Mourns, Thai Junta Says King's Death Won't Delay Vote
Bloomberg News
Government says acting regent can approve new constitution

Premier says there is no rush for crown prince to become king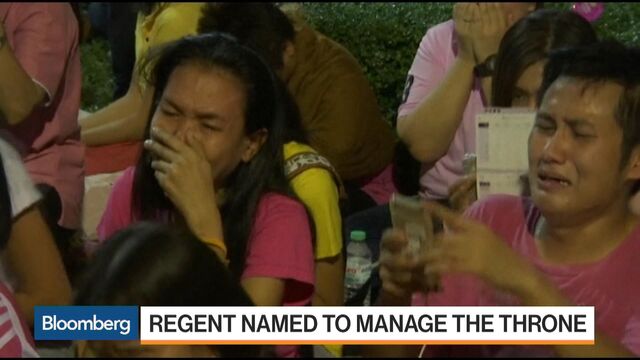 Thailand's military government said the death of King Bhumibol Adulyadej and a delay in his son taking the throne will not derail plans for a return to elections, as Thais continue to mourn the fallen monarch.
Junta leader Prayuth Chan-Ocha said there should be no concern over the news that Crown Prince Maha Vajiralongkorn wants more time to mourn before becoming king. He said the crown prince doesn't want people to be confused by government matters or succession and the process is all governed by the constitution, palace rules and tradition.

"We should all pass this period first," Prayuth said in a televised speech late Saturday night. "When ceremonies for making merit and the funeral pass for a while, then it should be time to continue. This is unlikely to create any impact on other plans or processes."
Bhumibol, who was 88, passed away Oct. 13 after years of illness, marking the end of a 70-year reign that saw Thailand transition from an agrarian backwater to Southeast Asia's second-biggest economy. Vajiralongkorn, 64, doesn't have the same public adulation as Bhumibol, who was a symbol of unity in a country rocked by 10 coups during his time on the throne, the last in May 2014.
Military Power
Prayuth, who led that coup and now serves as prime minister, has said elections could happen from late 2017, once a new constitution is in place and laws governing the vote are written. A junta-backed charter was approved at an August referendum in which opposition voices were silenced by a ban on campaigning. The new charter, which critics say will cement the power of the military and non-elected bodies over future governments, still needs royal approval.
QuickTake Thailand's Troubled Democracy
Deputy Prime Minister Wissanu Krea-Ngam said the king's death should not delay the constitution's approval, because acting Regent Prem Tinsulanonda can sign it and other laws. Prem, 96, has served for decades as head of the royal Privy Council and is a former appointed prime minister and army chief who has retained broad influence over the military. Under the constitution he becomes acting regent when there is no king.
Nation Mourns
Wissanu said the crown prince had asked Prayuth to maintain everything as it was when the king was alive. The government had no new details on when the crown prince might become king, though the formal coronation ceremony won't take place until after the one-year mourning period for Bhumibol.

"There will be ceremonies to make merit for the king for at least one year," Wissanu said. "We can discuss other issues later, including the exact timing of the cremation ceremony and coronation ceremony."
Making merit is a Buddhist concept that involves a series of good deeds that cross a person's life and afterlife. Well-wishers gave alms to Buddhist monks at the hospital where the king was being treated before he died to make merit for him.
Prayuth has called on Thais to avoid "joyful events" for 30 days and dress in mourning for a year. Tens of thousands gathered in Bangkok's historic district Sunday despite heavy rain to pay their respects to Bhumibol.
Thailand's broadcasting regulator banned entertainment programs for 30 days and warned television and radio to follow palace protocol in airing news about the king. The government also warned that people found profiteering on black clothing faced up to seven years in prison.
Economic Impact
While companies and promoters have chosen to cancel many events, a major weekend book fair went ahead in central Bangkok, and the government has indicated the economy will gradually return to normal. Still, signs of mourning abound with newspapers, television channels, websites, mobile-phone apps and even automatic-teller machines displaying content in black and white.
The garish neon signs above the go-go bars of the Soi Cowboy red-light district in Bangkok were dark on Saturday, though bars were operating in the tourist district of Silom, where vendors hawked black-and-white T-shirts to tourists at the Patpong night market.
"I'm surprised you're allowed to sit here and have a beer outside," Robert, an Australian who has visited Thailand more than 15 times and whose family has a home in the country's far north, said in an Irish bar on Saturday night. "It hasn't closed down as much as what I thought."

Media Warned
Still, the government issued a statement Saturday criticizing some foreign media for publishing what it said was "erroneous or false information and accusations that are of a manipulative and provocative nature."
"This is highly inappropriate, especially during this period of national mourning," it said. "Such practices are not only unethical but also unprofessional, insensitive to the feelings of the Thai people and offensive towards Thai cultural traditions."
Public discussion of senior members of the royal family and the king's political role is curbed under lese majeste laws that can be invoked for defaming, insulting or threatening the king, queen, heir apparent or regent. Offenders face up to 15 years in prison.
— With assistance by Tony Jordan
Before it's here, it's on the Bloomberg Terminal.
LEARN MORE