Albourne Takes Aim at Hedge Fund Fees as 'Elephant in the Room'
By , , and
Firm announces new initiative to help clients negotiate fees

Albourne favors performance fee adjusted for market return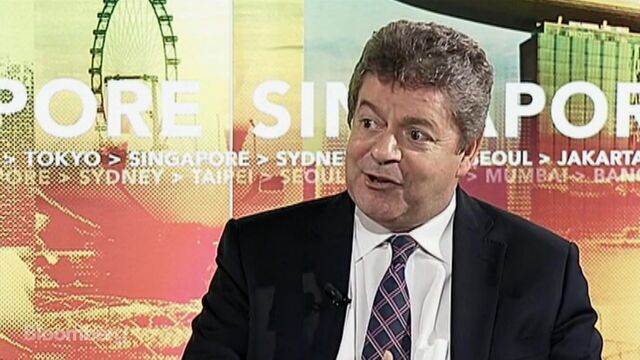 One of the biggest hedge fund advisers is calling for an overhaul of the industry's exorbitant and opaque fees.
Albourne Partners, which advises investors that collectively hold more than $400 billion in alternative investments such as hedge funds, will announce a plan Tuesday that will help investors determine appropriate fees, said Simon Ruddick, the London-based chairman of the adviser. Albourne Partners will collect fee information and set up a mechanism to help investors negotiate the best rates, he said.
"At the moment, fees are the elephant in the room," Ruddick said in an interview with Bloomberg Television's Haslinda Amin in Singapore. "With modest returns and for the complexity of investing in hedge funds, I think the industry really needs to take not just a step forward, but a leap forward to being more transparent on the issue of price."
The "2-and-20" fee model that was a fixture in the $2.9 trillion global hedge fund industry has come under pressure recently as investors have balked at the prospect of paying hefty rates for lackluster returns. Pension funds, endowments and foundations are reducing allocations, citing high fees that have cut into performance. Tudor Investment Corp., Och-Ziff Capital Management Group and Third Point are among those that have lowered fees.
Preqin Survey
About 49 percent of investors in a survey released by data provider Preqin in September cited fees as a key issue facing the global hedge-fund industry in the second half of this year. Around 58 percent of investors said their interests were not aligned with managers', a number that climbed from 49 percent in June 2015.
They voiced the concern even as only 35 percent of hedge funds tracked by Preqin are still charging the once-standard 2 percent management fee on assets and 20 percent performance fee on profits, according to the report. On average, management fees have declined to 1.6 percent and performance fees to 19.3 percent, the report showed.
Albourne Partners provides hedge fund research to 253 clients, including pensions, endowments, foundations and family offices, according to its website. Current fee negotiations often take place between an investor and a fund behind closed doors, making the system opaque, according to Ruddick. Investors are also frustrated that fees don't align their interests with those of the managers, he said.
Ruddick said the firm is in favor of a plan in which hedge funds charge incentive fees when their returns have exceeded hurdle rates that are tied to pre-determined market benchmarks.
Industry Outflows
The industry, which has not seen annual net outflows since the end of 2009, lost $23.3 billion of assets in the first six months this year, according to Hedge Fund Research Inc. Hedge funds are facing redemption pressure from investors as they struggle to meet annual return targets amid ultra-low interest rates and bloated stock-market valuations.
Describing industry assets as "strangely consistent" so far, Ruddick warned that assets will dip unless hedge funds can regain investors' interest.
"What we're responding to is unless investors, in quick order, can have confidence in what is the new price equilibrium that is emerging, there's a risk that they will just lose interest in the market."
Falling Short
The HFRI Fund Weighted Composite Index returned 4.2 percent this year through September, compared with the 7.5 percent expectation of investors in a Deutsche Bank AG survey released in February. Actual hedge-fund returns fell short of investor targets by nearly 2.9 percentage points in 2014 and nearly 4.5 percentage points in 2015, according to the survey.
Rhode Island's $7.7 billion pension fund is halving its allocation to hedge funds over two years, in part because high fees have eroded returns. The New Jersey Investment Council voted in August to cut its target allocation to hedge funds by more than half, targeting to pay only a 1 percent management fee and 10 percent incentive fee. New York City's pension for civil employees voted in April to exit its $1.5 billion hedge-fund holdings, and the California Public Employees' Retirement System decided to divest its $4 billion portfolio in 2014 because it couldn't expand the investments enough to justify the costs.
Newer and smaller hedge funds are under pressure to come up with more attractive fee breaks to attract investors. Many of Albourne's clients invest with established managers, many of whom haven't been as receptive to changing their fees, Ruddick said.
"Many of those names have been the least open to setting new terms or to lowering their prices," Ruddick said, referring to established managers. "There are some new managers that are shaking up the fee structure. I would be a little surprised if that alone leads to a big rotation from old names or new names" because of the perceived reputational risks of investing with smaller and younger managers, he said.
— With assistance by Anand Menon, and Haslinda Amin
Before it's here, it's on the Bloomberg Terminal.
LEARN MORE