Vodafone Egypt, Etisalat Misr Sign 4G License Deals
By and
All three local mobile operators have now signed 4G deals

Companies earlier rejected terms, citing lack of spectrum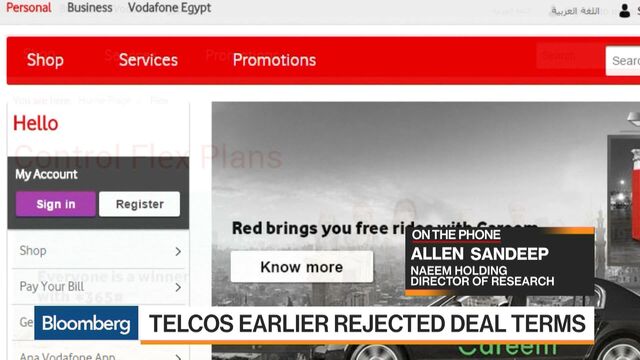 Vodafone Egypt and Etisalat signed deals with the country's telecom regulator to acquire 4G licenses, joining Orange Egypt and Telecom Egypt.
Vodafone Egypt Telecommunications Co. and Etisalat Misr, the local arm of Abu Dhabi-based Emirates Telecommunications Group, paid $335 million and $535.5 million respectively, the National Telecom Regulatory Authority said Sunday in an e-mailed statement. Both also paid $11.3 million each to operate a virtual fixed-line service as part of the agreement signed on Saturday, the NTRA said. 
Vodafone secured 5 megahertz of 4G spectrum while Etisalat got 10 megahertz, NTRA Executive President Mostafa Abdul Wahid told reporters. Additional frequencies would be offered in less than a year, he said.
Vodafone, Orange and Etisalat had initially refused NTRA's earlier license terms, citing insufficient spectrum. The regulator said it would launch an international auction for the licenses and set new terms, including calculating the value of 4G and fixed-line licenses in dollars. It offered companies that paid the full amount in dollars priority in securing additional frequencies in the future.
"It is no surprise to us; they can't afford to stay in the market without 4G and they were negotiating the terms," said Omar Maher, an EFG-Hermes telecom analyst. "Pricing the license in dollars with an expected devaluation pushed them to get the license sooner."
Currency Crunch
The signings come as the government is struggling to attract investments to the Arab world's most populous nation and ease a foreign-currency crunch that has battered business. Orange had signed the deal last week, agreeing to pay $484 million for the 4G license and $11.3 million for a virtual fixed-line license.
"We thank the efforts of NTRA to provide a new service to Egyptian customers which is in line with Etisalat Misr's strategy and which wouldn't have taken place without enough spectrum to operate 4G," Etisalat said in an e-mailed statement.
Vodafone Egypt obtained the type of frequencies band it wanted and at a lower price, Stefano Gastaut, the company's chief executive officer, said at a news conference in Cairo. "The terms under which we have signed an agreement last night are different from the terms three weeks ago, and we consider the new terms completely satisfactory to be able to launch top quality 4G services," he said.
Government Stake

Gastaut expressed confidence that a potential conflict of interest over government-owned Telecom Egypt's 45 percent stake in Vodafone Egypt would be resolved in the future. Analysts had said a resolution was needed as the two companies would become rivals if both secured 4G licenses.
Telecom Egypt, which is 80 percent owned by the government, has been evaluating options related to its Vodafone stake since it got its mobile license in August. Options include selling the stake to another government entity or to an international operator, listing its shares on the stock exchange or selling it to Vodafone Group Plc.
The "outlook for Telecom Egypt is a question mark since they now have no advantages to help them build a customer base as they face strong competition with well-established rivals," said Ahmed Adel, lead telecom analyst at Beltone Financial.
The 4G deals include renewing the mobile operators' 2G and 3G licenses till 2031, the NTRA's Abdul Wahid said. He added that the companies will source dollars for their deals from their respective parent companies.
Before it's here, it's on the Bloomberg Terminal.
LEARN MORE