U.K. Out of Top Five Investment Sites Post Brexit, EY Says
By
British investments rank behind U.S., China, Germany

More than half of firms surveyed plan deals in next 12 months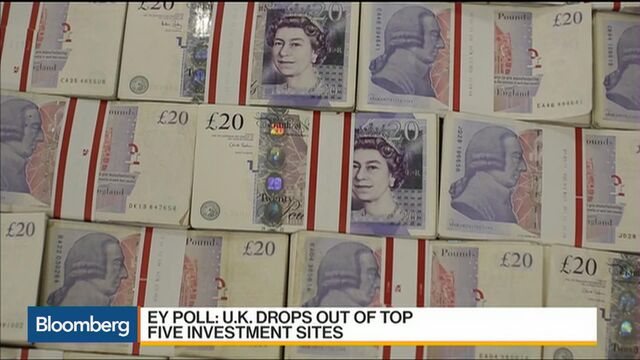 The U.K. dropped out of businesses' top five locations for investments for the first time in seven years as fears about the country's plans to exit the European Union added complexity to international deals, consultants Ernst & Young LLP said in a survey of executives.
British businesses rank behind investments in the U.S., China, Germany, Canada and France, which make up the top destinations for deals activity, EY said Monday in its Global Capital Confidence Barometer report, which is based on a survey of more than 1,700 executives in 45 countries in August and September.
Business leaders are concerned about geopolitical issues, such as the rise of nationalist governments worldwide and currency fluctuations, that make cross-border mergers and acquisitions more difficult, EY said. On top of the U.K.'s Brexit vote in June, uncertainty around the U.S. interest rate and upcoming elections in a number of countries added to perceived risks to deals.
"Brexit is a prominent example of the rise of geopolitical changes that are adding complexity to cross-border investments," according to Steve Krouskos, EY's global vice chair of transaction advisory services. "In the longer term, we would expect the U.K. to bounce back as a top M&A destination of choice, but the short-term uncertainty is giving investors pause for thought."
There's been about $208 billion in M&A involving U.K. companies announced this year, according to data compiled by Bloomberg. That's down 55 percent from the same period a year ago. Worldwide, M&A spending has reached $2.2 trillion, down about 20 percent from last year's record, according to the data.
Dollar Shave Club
Still, 57 percent of the companies expect to pursue deals in the next 12 months, pointing to an uptick in volume next year, EY said. A fragile economic environment may push companies to turn to M&A to produce growth, the survey said.
Unilever's agreement to buy Dollar Shave Club LLC in July is the type of acquisition companies will target in this environment, Krouskos said in an interview on Bloomberg TV. The acquisition -- valued at about $1 billion, people familiar with the matter said at the time -- presented Unilever with a new way to market razors and a direct-to-consumer model that's a step in a different direction for a traditional shaving business, he said.
"It signifies the technological change and the cross-sector blurring that we're seeing with a number of deals," he said. "We're seeing a very high percentage of companies looking at $250 million to $1 billion in deal values."
Brexit Uncertainty
More than 90 percent of executives surveyed expect the M&A market to improve or remain stable in the next year, with a focus on smaller deals in consumer and retail, industrial products, life sciences, technology, automotive and oil and gas industries, according to the report. Two of the U.K.'s three largest deals of 2016 were announced in the second half of the year.
In July, Japan's SoftBank Group Corp. agreed to buy Cambridge, England-based chip designer ARM Holdings Plc for 24.3 billion pounds ($30 billion) in cash. Newbury, England-based Micro Focus International Plc agreed to merge with some assets spun off from Hewlett Packard Enterprise Co. in September in a deal valued at about $8.8 billion.
"The uncertainty created by Brexit has undoubtedly affected investment into the U.K.," said Charles Rix, a partner and London head of M&A at law firm Hogan Lovells. "Looking ahead, the question is how investors will weigh up Brexit uncertainty, which is going to be with us for some time, against factors such as sterling's weakness and M&A opportunities in the U.K."