Don't Go Looking for Theresa May's Secret Brexit Plan
By
U.K. premier to attend first EU summit in Brussels Oct. 20-21

Prime minister's modus operandi scrutinized for clues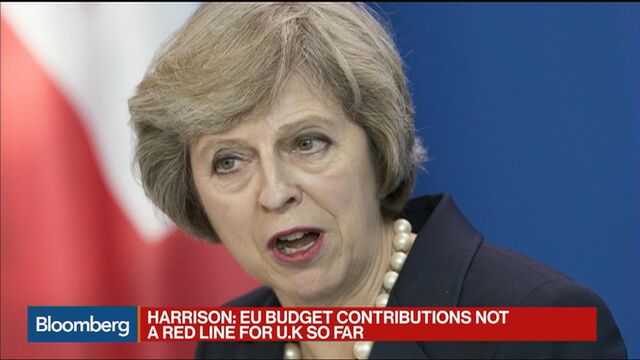 It's the single biggest question in British politics: What is Theresa May's plan for taking Britain out of the European Union? People in her office say it's the wrong question to ask.
As she prepares for her first EU leaders' summit, May is coming under growing pressure to reveal her road map. Yet the idea that she has a specific destination in mind for post-Brexit Britain, or a secret plan for getting there, is a misunderstanding of how she works, according to two people closely involved with her strategy who asked not to be named because the discussions are private. Instead of deciding where she wants to get to, May's method is to understand where she is and then work forwards, they said.
Follow @Brexit for the latest news, and sign up to our Brexit Bulletin for a daily roundup.
In the absence of what she calls a "running commentary," May's modus operandi is under scrutiny from businesses, financial markets and fellow European governments for any insight on where she wants to position post-Brexit Britain. The signals from Downing Street prompted EU President Donald Tusk -- who will host May in Brussels along with the other 27 EU leaders on Oct. 20 -- to warn the U.K. faces a choice of "hard Brexit" or "no Brexit."
For another possible indication of May's potential direction, click here
Concerns that May is intent on gaining control over immigration at the risk of losing tariff-free access to the single market helped drive the pound to a three-decade low. Yet according to Jill Rutter, a former Downing Street official who now works as program director at the Institute for Government, the May approach can work well in negotiations.
"You need to go through every issue that there is, work out what really matters, and where you have some give," said Rutter. "You have to work out where your position is actually taking you."
'Maximum Benefit'
The exit negotiations will be controlled by a select group of ministers that includes all of the most Euroskeptic members of May's cabinet. The committee's composition underlines the risks she faces if banks decide her lack of an endgame means so much uncertainty that they carry out their threat to move jobs elsewhere in the EU before she's formed a plan. 
Asked if there was a piece of paper somewhere inside 10 Downing Street with a Brexit plan on it, one of the people replied that there were lots of different pieces of paper. Still, the prime minister summarized her stance in Parliament last week during her weekly questions session.
"The U.K. will be leaving the European Union," May said. "We are not asking ourselves what bits of membership we want to retain. We are saying: what is the right relationship for the U.K. to have for the maximum benefit of our economy and of the citizens of this country?"
May has identified two early constraints: controlling migration and ending the jurisdiction of the European Court of Justice over the U.K. The focus on ending unrestricted immigration from the EU partly flows from her background as Home Secretary, but also from her analysis that any deal without this will be unacceptable to British voters. Both of these goals would tend to push her toward a complete departure from the single market.
Mood in Parliament
But two more pressures have emerged: the continued fall in sterling and the mood in Parliament. When May gave way last week to an opposition motion calling for more scrutiny of her Brexit terms, she was acknowledging that she doesn't have the majority in the House of Commons to do anything she likes. While there is a noisy group in her Conservative Party pushing for a clean break from the single market and its rules, some Tory lawmakers are pushing the other way and have found common cause with opposition parties.
Since she took office in July, May has made much of her emphasis on proper government process as the basis for decisions, with ministers required to submit papers in advance of discussions, and then to answer questions on them. She argues that it means a cool-headed approach where evidence is weighed before decisions are taken.
This isn't always the case: her announcement that more state schools will be allowed to select on the basis of academic ability was taken so quickly that the top official in the Department for Education didn't know about it four days earlier. And the prime minister's office has been reluctant to describe the evidence base for the policy.
But when it comes to Brexit, running everything through a structure of committees has a series of advantages: Different parts of government can see how decisions are being made and can feel their contributions have been taken into account. There may be a political advantage, too.
"She needs to bind her colleagues in," said Rutter of the Institute for Government. "Particularly when she has colleagues as far apart as some of them appear to be."