Saudi Bank Stress Builds as Kingdom's Cash Injection Falls Short
by
Interbank lending rates extend advance as liquidity tightens

Central bank pledge of $5.3 billion failed to ease crunch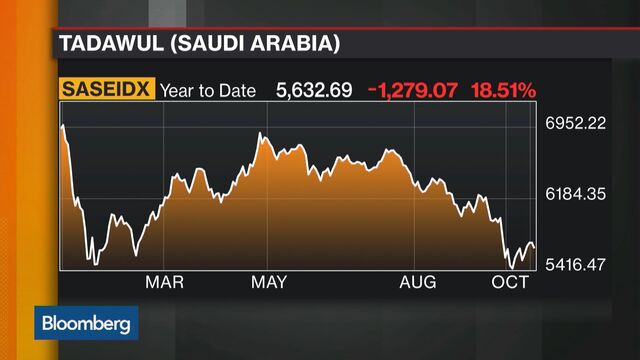 Saudi Arabia has work to do to ease pressure in the kingdom's banking system.
The interest rate banks charge one another for loans rose by the most since August on Sunday, extending a trend that's slowing earnings and corporate borrowing in the world's biggest oil exporter. The increase is defying the central bank, which has sought to ease the cash crunch by relaxing lending limits, offering new borrowing facilities and injecting funds into the financial system, including 20 billion riyals ($5.3 billion) pledged Sept. 25.

"Rates won't easily come down with one $5 billion injection," said John Sfakianakis, director of economic research at the Gulf Research Center Foundation in Riyadh. "Bringing them down would require a significant liquidity injection effort. The $5 billion is a good step forward, but given the asset size of Saudi banks it would require several additional injections."
Financial institutions in the Arab world's largest economy are bearing the brunt of a halving of oil prices since 2014. Economic growth in the kingdom is slowing, curtailing bank deposits just as the government increases borrowing to help plug a budget deficit that last year was the widest since 1991.
Stress
The three-month Saudi Interbank Offered Rate, or Saibor, used as a benchmark to price loans, has climbed 15 successive months to the highest in seven years, according to data compiled by Bloomberg. It gained 84 basis points this year to 2.386 percent on Monday, compared with a 27 basis-point advance in the London Interbank Offered Rate for dollars. Meanwhile, the loans-to-deposit ratio among Saudi banks, a key measure of liquidity, rose to 90.8 percent in August, the worst since 2008.
QuickTake Saudi Arabia's Strains
The Saudi Arabian Monetary Agency, as the central bank is known, is said to have offered lenders about 15 billion riyals in short-term loans in late June after the drop in oil curbed bank cash holdings. In February, it allowed institutions to lend as much as 90 percent of their deposits, up from 85 percent.
The regulator said last month that the latest cash injection will be in the form of time deposits by government entities. It also introduced seven-day and 28-day repurchase agreements, or repos, to give lenders greater access to cash.
The $5.3 billion "is less than 1 percent of system assets, so it isn't that significant," said Jaap Meijer, the Dubai-based head of research at investment bank Arqaam Capital Ltd. "More is needed by possibly allowing banks to lend a higher amount against their deposits and potentially reducing the amount of cash they are required to hold to mitigate the rise in interest rates."
Bond Sale
The kingdom is tapping new funding sources in a bid to alleviate the squeeze. The nation will this week conclude investor meetings for a planned debut sovereign bond sale that investors expect to raise about $10 billion, the largest ever from the Middle East.
Saudi banks also have a "lot of room to increase bond issuance," said Meijer, who highlighted that lenders' liabilities in the country comprise almost no foreign-currency bonds, compared with between 5 percent and 20 percent for those in the United Arab Emirates. "Bonds are long-term funding and are a lot more stable than deposits," he said.
The pace of deposit growth in 2015 moderated to the slowest in more than 20 years, according to central bank data. There's only one foreign currency bond outstanding from a Saudi bank compared to more than 2,500 from banks in the U.A.E., according to data compiled by Bloomberg.
Local Debt
Saudi Arabia will post a budget deficit of 13.5 percent of economic output this year, the highest since 1992, declining to 9.6 percent in 2017, according to forecasts from the International Monetary Fund. Amid the shortfall, direct local government debt climbed to $63 billion at the end of August from almost $38 billion at the end of 2015, according to information in the Saudi bond prospectus obtained by Bloomberg.

Rising Saibor rates reflect the "extent of the liquidity challenge in the banking system," said Raza Agha, the London-based chief economist for the Middle East and Africa at VTB Capital Plc. "The outlook for government borrowing has risen sharply and even if next year's deficit declines to perhaps 8 percent of gross domestic product, you're still looking at deficit-financing needs of $56 billion."
Before it's here, it's on the Bloomberg Terminal.
LEARN MORE