Italian Bank Merger Wins Backing as Hurdles Remain to More Deals
by and
Banco Popolare, Banca Pop. di Milano shareholders back merger

Paschi woes, referendum seen deterring more deals for now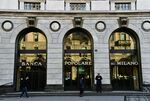 The approval of Italy's biggest banking merger in almost a decade marks a first step in a process of consolidation urged by regulators, investors and Prime Minister Matteo Renzi. But plenty of obstacles remain to further deals among the country's beleaguered lenders.
Politics, tougher capital standards and a mountain of bad debt on Italian banks' balance sheets mean the combination of cooperative lenders Banco Popolare SC and Banca Popolare di Milano Scarl, approved by shareholders on Saturday, may be a one-off for now.
Renzi has encouraged Italy's weaker banks to combine to shore up their finances and pushed through measures to abolish restrictions on ownership and voting rights, two longstanding hurdles to mergers. Yet further progress may be slow as Banca Monte dei Paschi di Siena SpA, one of Italy's largest lenders, fights for survival and Renzi's own political future hangs on the outcome of a December referendum he called to overhaul Italy's political system.
"Uncertainty linked to Monte Paschi, fragile smaller banks and the referendum will weigh on the whole industry in the next few months, slowing the consolidation process." said Jacopo Ceccatelli, chief executive officer of Marzotto SIM SpA, a Milan-based broker-dealer.
Banco Popolare shares climbed 3.8 percent to 2.65 euros by 9:21 a.m. in Milan, while Popolare di Milano declined 0.9 percent to 42 cents.
Bad Loan Burden
Italian banks are burdened with about 360 billion euros ($396 billion) of non-performing loans, sluggish economic growth and record-low interest rates. Monte Paschi, shown in European stress tests to be the region's most vulnerable lender to a severe economic shock, is seeking to tap investors for capital in a complex restructuring plan to stay afloat.
The troubled lender was bailed out twice by the government since 2009 and raised 8 billion euros of fresh capital from investors in the last two years. The bank is now studying a proposal from Corrado Passera, Italy's former economic development minister, that envisages raising 5 billion euros through a share sale and long-term backers, according to a person familiar with the plan.
Too Many Risks
Renzi and his finance minister, Pier Carlo Padoan, have struggled to shore up lenders without resorting to direct state aid under European Union rules, which would probably force losses on retail investors. In April, they persuaded Italian banks to set up a 4 billion-euro rescue fund dubbed Atlante, a program critics have deemed too small to restore confidence given that soured debt is equivalent to a fifth of Italian gross domestic product.
Should Renzi lose the Dec. 4 referendum, his possible downfall would create political turmoil in the euro region's third-largest economy and jeopardize his planned measures.
"There is too much uncertainty at the macroeconomic level and at the political level, as well as risks linked to the future of specific banks, in particular Monte Paschi," said Fabrizio Bernardi, a Milan-based analyst with Fidentiis Equities. The Saturday merger "is a positive restructuring story for the two banks, but it's not going to be an impetus to the M&A process," he said.
Banco Popolare CEO Pier Francesco Saviotti and Giuseppe Castagna, his counterpart at Popolare di Milano, agreed on a merger plan in February after months of discussions. Under the accord, Castagna will oversee the combined company, while Saviotti will become chairman of the executive committee.
Banco BPM
The combined bank will be called Banco BPM, Banco Popolare said in a statement on Saturday. Banco Popolare investors overwhelmingly backed the union with 99 percent in favor, according to the statement, while Popolare di Milano shareholders voted 72 percent in support, Ansa newswire reported.
The deal is the biggest bank merger in Italy since Monte Paschi's acquisition of Banca Antonveneta SpA in 2007. It will create a lender with a market value of about 5.7 billion euros, 171 billion euros of assets and more than 25,000 employees.
'Takeover Targets'
For decades, foreign and institutional investors have spurned Italy's popolari banks because of limits on their ability to force change. Popolare di Milano in 2008 failed to conclude a partnership with France's Credit Mutuel after months of negotiations. In 2007, it backed out of an agreement to buy Popolare dell'Emilia Romagna Scarl following opposition from labor organizations at the Milan-based bank.
Some investors expressed confidence the deal, together with Renzi's banking reforms, will pave the way for more mergers among Italy's troubled banks, in part because they have become so cheap.
 
"The reality is that these companies now are becoming takeover targets," Davide Serra, the CEO and founder of Algebris Investments, told Bloomberg Radio. "They are trading at about 0.2 to 0.3 times tangible book -- basically 20, 30 cents on the dollar."
Before it's here, it's on the Bloomberg Terminal.
LEARN MORE