Hungary Opposition Demonstrates in Budapest After Paper Is Shut
By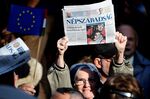 Hungarian opposition leaders called on supporters at a demonstration to protest against the government of Prime Minister Viktor Orban, whom they accuse of stifling press freedom.
"The 2018 election may be our last chance to replace the government through democratic elections," Akos Hadhazy, co-president of the pro-environment LMP party, said at the demonstration in Budapest. "After that, a revolution remains the only possibility."
LMP, the Egyutt and the Parbeszed Magyarorszag (PM) parties organized the protest on the Avenue of the Free Press, next to a bridge spanning the Danube river. It was attended by several thousand, according to the Index news website. The opposition, weakened by a changes to electoral rules to make it easier for the largest party to win a parliamentary majority, are seeking to draw public attention to what they say is increased government control over media outlets after Hungary's most widely circulated political newspaper, Nepszabadsag, was abruptly shut.
The decision to close Nepszabadsag, which is backed by the Socialist party, was a political one, according to senior editor Andras Desi and opposition leaders who say the aim is to silence criticism.
Public media is "neither public, nor media," said Egyutt party vice president Peter Juhasz at the demonstration.
The newspaper closed because it was losing money, a spokesman for Orban's Fidesz party said. "In contrast to opposition party statements, the shutdown of Nepszabadsag is a market-based financial decision" after it was mismanaged by the Socialist Party, he said.
Fidesz had 30 percent support among eligible voters followed by the Jobbik party with 14 percent, according to the latest Tarki opinion poll published on July 27. LMP had 3 percent, Egyutt 2 percent and the PM 1 percent backing. A party needs at least 5 percent support to enter parliament.
Before it's here, it's on the Bloomberg Terminal.
LEARN MORE