Yellen's Talk of Hot U.S. Economy Extends October Long-Bond Rout
By and
Treasury 30-year yield jumps by most since '15 in past 2 weeks

Fed chair pondered merits of 'high-pressure economy' in speech
Federal Reserve Chair Janet Yellen may have just shattered the complacency among investors in the longest-dated U.S. sovereign debt.
Treasury 30-year yields surged Friday, extending the bonds' biggest two-week decline since May 2015, as Yellen hinted at letting U.S. growth run hot in a speech to a Boston Fed conference. She pondered whether a "high-pressure economy" could boost areas like labor-force participation. A gauge of the yield curve steepened by the most since March as longer-dated debt underperformed.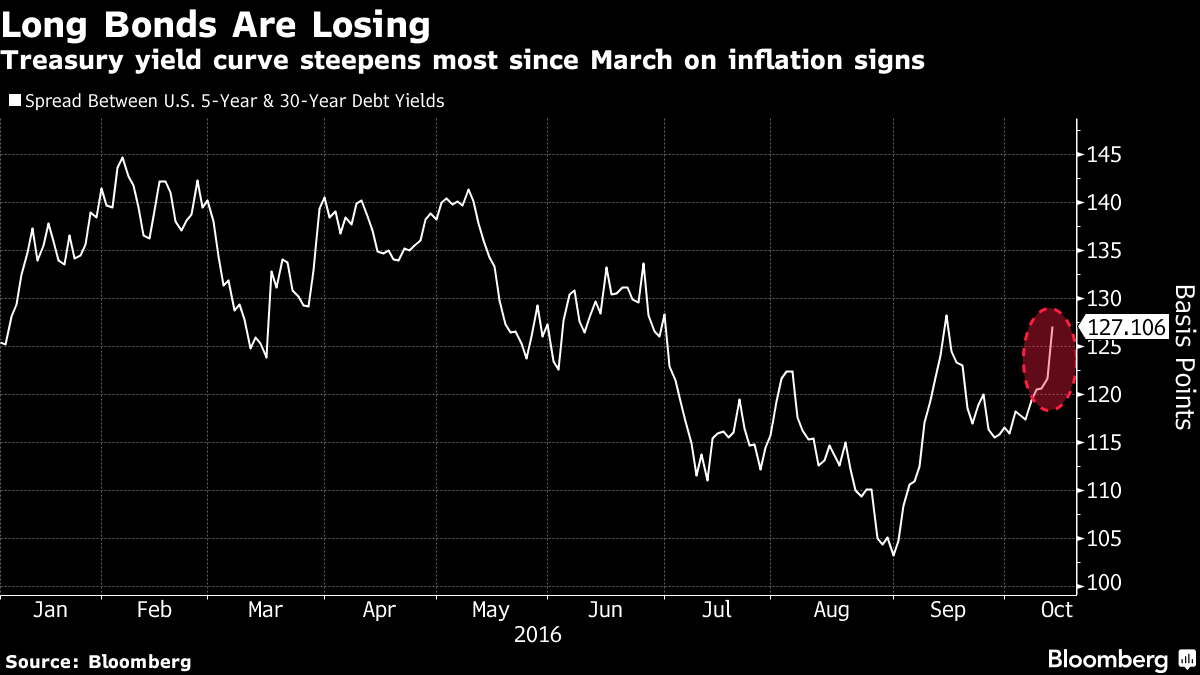 "She talks about the merit in letting the economy run hot temporarily," said Priya Misra, head of global interest-rate strategy in New York at TD Securities (USA) LLC, one of 23 primary dealers that trade with the central bank. Undershooting unemployment rates and overshooting on price growth "should argue for a steepener and higher inflation risk premiums."
Inflation has for years been dormant in the U.S. and developed nations, which is a key reason the Fed has held off on raising interest rates in 2016 and other central banks have embarked on unconventional stimulus measures. That's led investors to seek longer-dated debt, which offers higher yields but is more sensitive to inflation expectations. In one sign of investor complacency, the real U.S. 30-year yield -- which subtracts the level of inflation based on the core Consumer Price Index -- is hovering near the lowest level since 1980.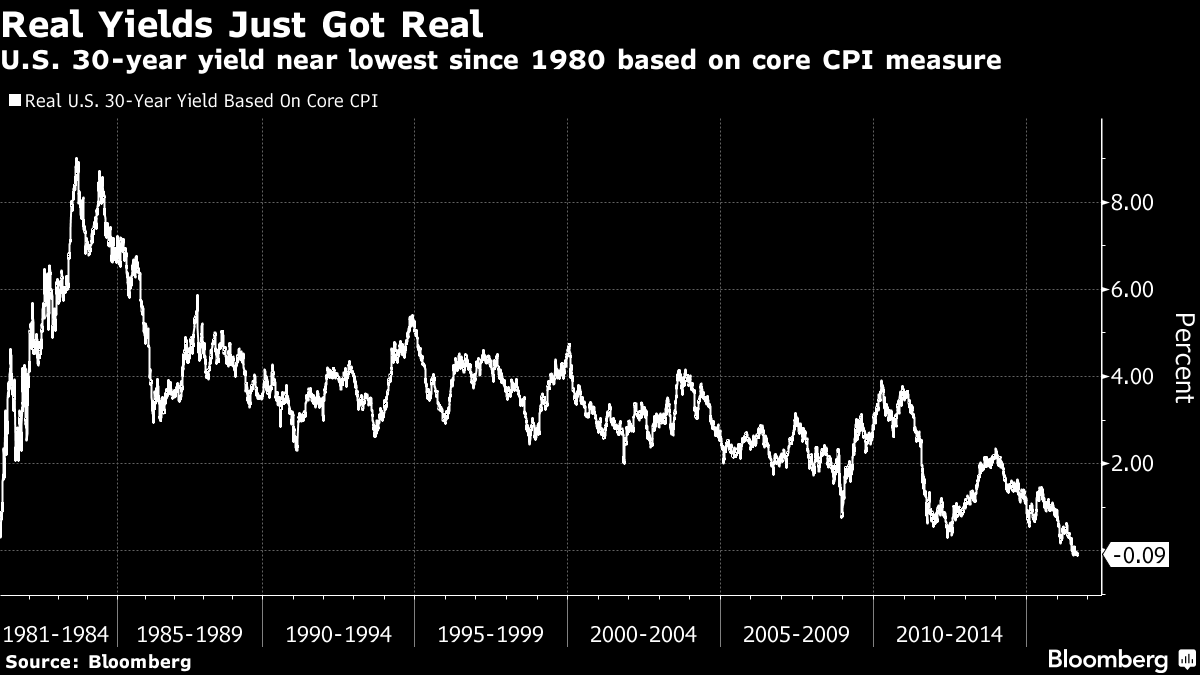 The 30-year bond yield climbed 11 basis points this week, or 0.11 percentage point, to 2.56 percent at 5 p.m. Friday in New York, according to Bloomberg Bond Trader data, the highest since June. The yield increased 24 basis points in the past two weeks, the most in 17 months.
The two-year note yield was little changed at 0.83 percent.
The difference between yields on five- and 30-year debt, a gauge of the yield curve, climbed to about 1.27 percentage points, the highest closing level since Sept. 15.
"If you look at the curve, it's clearly telling you that the market believes that it's a dovish tilt, wanting the economy to run hotter, allowing rates to stay low for longer and to produce inflation," said Charles Comiskey, head of Treasury trading in New York at Bank of Nova Scotia, a primary dealer.
Traders are scouring data for signs that the U.S. economy is strong enough to warrant a rate hike. Yellen's remarks come two days after minutes of the Fed's September policy committee meeting showed "several" of the majority who supported the decision to hold rates steady said it was a "close call."
Inflation Outlook
The 10-year break-even rate, a gauge of inflation expectations that measures the difference between yields on 10-year notes and similar-maturity Treasury Inflation Protected Securities, rose to about 1.68 percentage point, the highest since May. The U.S. will auction $5 billion of 30-year TIPS on Oct. 20.
Yellen's focus on a hot economy and letting rates remain lower for longer doesn't preclude the Fed from raising its benchmark this year, said Thomas Simons at Jefferies Group LLC.
Fed fund futures indicate the probability of a rate increase by the FOMC's December meeting is about 66 percent, up from 52 percent a month ago. The calculations assume that the effective fed funds rate will average 0.625 percent after the next increase. 
The Bloomberg Barclays U.S. Treasury Index has lost about 0.7 percent this month, on pace for the biggest decline since June 2015. Thirty-year Treasuries have declined by about four times that amount.
"The market is really appreciating the fact the Fed will attempt to let the market overheat a little bit in order to generate more jobs and more economic activity and encourage inflation to accelerate," said Christopher Sullivan, who oversees $2.3 billion as chief investment officer at United Nations Federal Credit Union in New York.
Before it's here, it's on the Bloomberg Terminal.
LEARN MORE