Clinton Goldman Speech Transcripts Show Little to Match Fuss
By and
WikiLeaks puts out Democratic nominee's comments from 2013

Authenticity of transcripts not confirmed by campaign or bank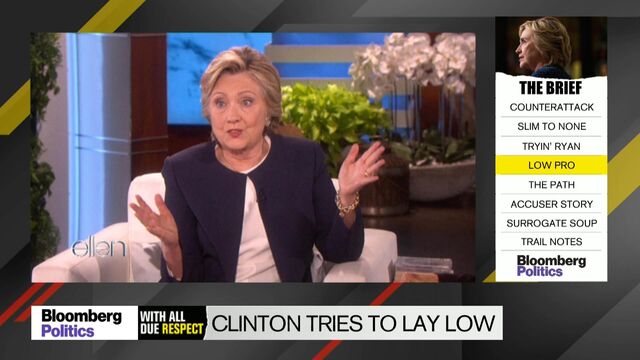 Transcripts purported by WikiLeaks to be of three speeches Democratic presidential nominee Hillary Clinton gave to Goldman Sachs Group Inc. in 2013 show less than might have been expected from all the attention the appearances have received in the presidential campaign.
Questions about the former New York senator's connections to Wall Street and the money she received from a series of paid appearances have dogged her during the campaign, both in her primary battle with Vermont Senator Bernie Sanders, and in the general election against Donald Trump, as she has declined to release contents of what she said were private events.

According to the transcripts, Clinton discussed U.S. relations with Russia, the Dodd-Frank financial reform bill, the debt limit and the media, among other topics. WikiLeaks posted what it said were the full speeches, gleaned from hacked e-mails, after putting out excerpts earlier this month.
The authenticity of the transcripts, posted Saturday, hasn't been confirmed. Clinton's campaign has declined to discuss the hacked e-mails and Jake Siewert, a spokesman at Goldman Sachs, wouldn't comment on the speeches or confirm their authenticity.
Blankfein Banter
Clinton in one appearance praised Goldman and other banks for the "really important work" they do and was said to have bantered with Goldman Sachs Chief Executive Officer Lloyd Blankfein that if he thought of running for president, he should "start running a soup kitchen somewhere."
The former secretary of state spoke at Goldman events in South Carolina, Arizona and New York between June and October of 2013. She had left the State Department and hadn't yet announced a run for the White House.
Sanders gained traction against Clinton in Democratic primaries, in part, by linking the paid speeches to Wall Street to anger among many voters about an economic system they don't think is working for them. When Clinton demanded that Sanders release his tax returns, the Sanders campaign said he would do so when Clinton issued the transcripts.
Sanders singled out Goldman Sachs for its role in the 2008 financial crisis and criticized Clinton for the $675,000 she was paid for three speeches. Trump, in a speech in Florida this week, said Clinton was conspiring with international bankers to create a "global power structure" rigging the economy against working people.
Hacked E-Mails
The speech transcripts were contained in attachments to a January 2016 e-mail sent by Tony Carrk, research director at Hillary for America, to people including John Podesta, Clinton's campaign chairman, entitled "Goldman Sachs paid speeches," in which certain "noteworthy quotes" were highlighted.
Multiple tranches of Podesta's e-mails, reflecting more than 11,000 messages to date, have been posted this month by WikiLeaks. They cover everything from Clinton's use of a private e-mail server to the correct way to cook risotto.
The five comments highlighted in Carrk's e-mail on Saturday concerned financial regulation. One was about the Dodd-Frank Wall Street Reform Act, and the need for lawmakers to be seen as being on top of the financial market meltdown that hurt many of their constituents.
'Political Reasons'
"There was a lot of complaining about Dodd-Frank, but there was also a need to do something because for political reasons, if you were an elected member of Congress and people in your constituency were losing jobs and shutting businesses and everybody in the press is saying it's all the fault of Wall Street, you can't sit idly by and do nothing," Clinton said in the New York speech.
In one speech, according to the transcript, Clinton said there's "nothing magic about regulations" and that people in the industry should be involved to get the right balance.
"How do you get to the golden key, how do we figure out what works?" she asked. "And the people that know the industry better than anybody are the people who work in the industry."
Clinton also said a lot could have been avoided in the financial crisis "in terms of both misunderstanding and really politicizing what happened" with greater transparency and openness about what happened and why.
"You guys help us figure it out and let's make sure that we do it right this time," she said.
Watergate Analogy
While not confirming the hacked e-mails are genuine, the Clinton campaign released a statement on Saturday saying Russia's involvement is "no longer in question," criticizing Trump for not condemning the hacking and comparing it to the 1972 Watergate break-in that eventually forced the resignation of President Richard Nixon.
"There is no getting around it: Donald Trump is cheering on a Russian attempt to influence our election through a crime reminiscent of Watergate but on a more massive scale," spokesman Glen Caplin said. "We're witnessing another effort to steal private campaign documents in order to influence an election."
Before it's here, it's on the Bloomberg Terminal.
LEARN MORE