politics
Trump Continued to Trail Clinton's Fundraising in September
By and
Trump raised $100 million, had $75 million cash on hand

Clinton got $154 million in September, $150 million on hand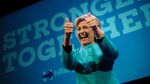 Donald Trump raised $100 million for himself and the Republican Party in September, distantly trailing Democratic competitor Hillary Clinton as the campaign enters its final stretch.
Trump and a pair of joint fundraising committees with the party began October with $75 million on hand, the Trump campaign said in a statement today.
Clinton said earlier that she raised $154 million for her campaign and the Democrats, and started October with twice Trump's cash on hand.
Barring a last-minute infusion from the billionaire candidate himself, the figures show that Clinton's massive financial advantage is all but certain to continue through Election Day. She and allied super-PACs have booked $78.3 million in ad buys for the last three weeks before the Nov. 8 vote, more than twice the amount booked by Trump and his backers.
Trump last month promised a $140 million advertising blitz for the final weeks, and continues to tout the idea in fundraising e-mails to supporters, but with television schedule filling up, it's unclear how that would happen. Since he announced the plan in late September, Trump has used or reserved about $50 million in broadcast, cable, and satellite TV through Election Day, according to Kantar Media.
Asked today about the ad blitz in an e-mail, Hope Hicks, a Trump spokeswoman, replied that "our strategy has not changed."
Kantar's Mitchell West said TV ad rates in battleground states are already rising sharply as the election nears. Eventually, he said, stations in these markets will run out of ad slots to sell. "As of now, that hasn't happened," he said in an Oct. 13 interview.

A New York real-estate developer and reality television star who says he's worth more than $10 billion, Trump abruptly lowered the pace of his own donations to his campaign after he became the presumptive Republican nominee earlier this year. He contributed another $2 million in September, the campaign said today, the same as he's given in each of the two months prior. That's less than a third of his spending in the first four months of the year.
(
Updates with chart of Trump's campaign contributions.
)
Before it's here, it's on the Bloomberg Terminal.
LEARN MORE