Trump Tries to Change It Up as Polls Show Growing Women Problem
By
Republican challenges Clinton to drug test before final debate

Poll shows Democrat's lead increasing on support from females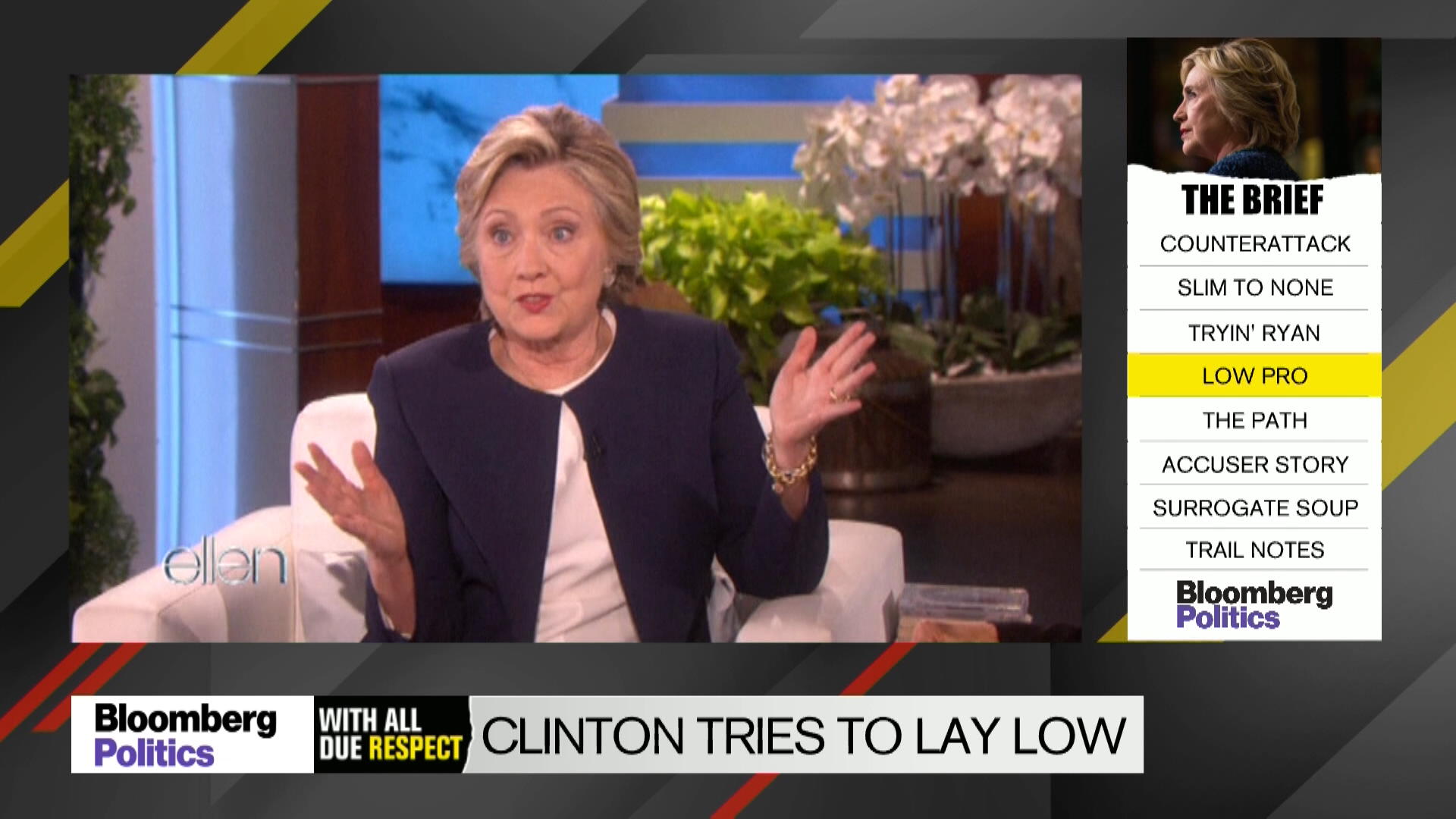 Donald Trump continued to push back on Sunday as polls show his support among women faltering after several allegations of sexual misconduct and the disclosure of a years-old videotape in which the billionaire bragged about forcing himself on women.

The Republican presidential nominee tweeted early Sunday that he's "lost large numbers of women voters based on made up events THAT NEVER HAPPENED," and repeated an assertion that the media is "rigging" the election for Democrat Hillary Clinton.
A new CBS poll of 13 "battleground" states shows women voters favor Clinton by 15 points over Trump, versus a 5-point edge held by the Democrat a month ago. That's powered Clinton to a 6-point overall lead in the states surveyed.
The swing of women voters away from Trump "even outweighs partisanship," CBS said in a release. Trump's support among Republican women has fallen to 77 percent from 84 percent a month ago. A Wall Street Journal/NBC News poll showed Clinton up by 11 points nationwide in a four-way poll, with 48 percent support to Trump's 37 percent, and 9 percent of voters favoring third-party candidates.
Policy Ideas

The noise surrounding the allegations threatens to drown out Trump's policy ideas, most recently including a plan unveiled on Saturday to combat growing opioid addiction in the U.S. While discussing the plan at a rally in New Hampshire, Trump challenged his Democratic competitor to take a drug test before their final debate this week.
Trump also couldn't completely drop the subject of sex. In Charlotte, North Carolina, on Friday night, he vowed to "stick to the issues," moments before referencing his sex life. "You would be very impressed, actually, with my life in so many regards, including that regard," he said.
On Saturday, Trump rallied in front of boisterous crowds in Portsmouth, New Hampshire, Bangor, Maine, and finally at a Bollywood-themed Hindu event in Edison, New Jersey.
The events came a day after two more women came forward with accusations of sexual harassment against Trump, which he has denied with vigor. He's linked the stream of allegations to a theory the presidential race is being tilted by the media in favor of Hillary Clinton.
'Outright Lies'
"The election is being rigged by the corrupt media pushing completely false allegations and outright lies in an effort to elect her president," Trump said in Portsmouth.
Alluding to one of the allegations, in which an accuser says he groped her for a period of about 15 minutes,
Trump sought to refute the claim on the grounds of common sense: "Fifteen minutes? With the ladies in this place, it'd be one second and then it'd be, 'Smack,'" Trump said before a crowd of about 5,000 people at a car dealership.
Trump has been on the defensive since the Washington Post on Oct. 7 reported on a recording of the real-estate developer talking in 2005 about being able to "do anything" to women because of his fame. Figures released on Saturday show he's also trailing Clinton in fund-raising by a wide margin and is spending heavily on direct-mail marketing.
Drug Test
Trump lobbied for Clinton to take a drug test before the third and final presidential debate, which is set for Oct. 19 in Las Vegas. "I don't know what's going on with her," he said. "At the beginning of the last debate, she was all pumped up. Then at the end: 'Huh.' She could barely reach her car."
Accompanied by advisers Senator Jeff Sessions, an Alabama Republican, and former New York City Mayor Rudy Giuliani, Trump appeared to be more focused on policy on Saturday than at some campaign events in recent days.
He unveiled a plan that he said would combat the growing epidemic of prescription-drug addiction. Among other things, Trump said securing the U.S.-Mexico border as well as implementing federal postal laws would make it more difficult for drug cartels to smuggle illegal substances into the country.
He also said that he would instruct officials at the Food and Drug Administration to speed up the approval process for abuse-deterring drugs.
Harassment Allegations
In Bangor, Trump mostly avoided discussing the sexual-harassment allegations. "They take these lies and they put 'em on the front pages," he said.
Trump ended the evening by speaking to several thousand people in a convention hall at the Republican Hindu Coalition in Edison. He made no mention of the allegations at that event.
He spoke in between performances of Bollywood dancers, held a candle and partook in a Hindu blessing. While the handful of organizers closed their eyes, Trump smiled and made eye-contact with several people in the crowd.
Trump's speech, read from a teleprompter, was just as well-received as the Bollywood performances. "I love Hindu and I love India," he said. He then vowed to be a partner for India, particularly its Prime Minister Narendra Modi, seeking to portray himself as America's Modi by vowing to lower taxes and regulation. Organizers distributed fliers to people in the crowd that stated Clinton was against Modi and organized raids against him when he was emerging as a political figure in India.
Former House Speaker Newt Gingrich appeared in a taped message complimenting the Coalition's president Shalabh Kumar, a multimillionaire industrialist who introduced Trump.
Before it's here, it's on the Bloomberg Terminal.
LEARN MORE