Trump Campaign Splits With Ohio's Republican Party Chairman
By
Lacking traditional organization, Trump relies on local GOP

Historically Ohio is must-win state for Republican hopefuls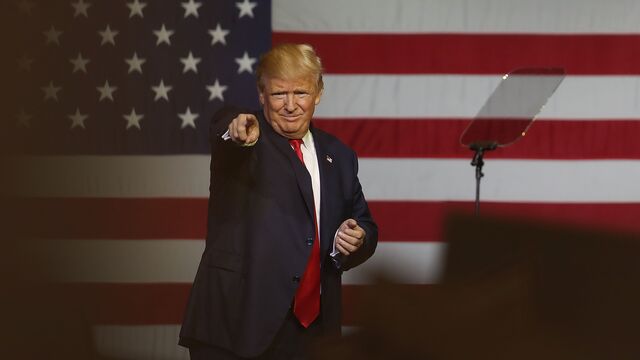 Donald Trump's Ohio campaign has severed ties with the Republican Party chairman in the battleground state, accusing him of "duplicity'' and of not fully supporting the billionaire's campaign, in the latest example of the dissension within the party over Trump.
Bob Paduchik, Trump's Ohio state director, sent a letter on Saturday to the party's state central committee members saying Chairman Matt Borges "has routinely exaggerated his relationship'' with Trump and the campaign and "does not represent or speak for the candidate and he no longer has any affiliation with the Trump-Pence campaign,'' according to a copy of the letter provided by the campaign.
Borges supported Ohio Governor John Kasich in the state's Republican presidential primary in March, and Paduchik's letter cited news stories quoting Borges saying he doesn't know whether he will vote for Trump after last week's release of a 2005 tape in which the billionaire makes lewd comments about women.
"I spoke with Mr. Trump on Thursday and he is very disappointed in Matt's duplicity,'' Paduchik wrote. "Mr. Trump told me, 'this is why people have lost faith in the establishment and party leaders.' I have to agree with him.''
Turmoil Rages
Paduchik also suggested that Borges was trying to generate publicity for a possible run for Republican National Committee chairman, and that his loyalties to Kasich "eclipse his responsibility as chairman of the Ohio Republican Party.''
Kasich has refused to endorse Trump, and other Ohio Republicans, including Senator Rob Portman, who's running for re-election, have pulled their endorsements as turmoil rages within the party over Trump's candidacy and recent controversies.
House Speaker Paul Ryan on Friday outlined the party's case against the candidacy of Democrat Hillary Clinton -- without mentioning Trump, the 2016 Republican standard-bearer, a single time. Ryan effectively abandoned Trump's candidacy earlier in the week.
It's unclear what impact the clash between the party and Trump's Ohio campaign may have on the presidential race in the Midwestern state. No Republican candidate has won the presidency without also capturing Ohio.
Ground Game Key
The billionaire real estate developer, who lacks a traditional political operation, had largely left his get-out-the-vote ground game in Ohio to the Republican National Committee and local county party groups.
The RealClearPolitics average of recent polls shows Clinton leading by 1.6 percentage points, suggesting the race is too close to call.
Trump's Ohio campaign expects the Ohio Republican Party to continue to support the payroll, human resources and other services it provides, Paduchik said in his letter.
The Ohio Republican Party released an e-mail Borges sent to committee members in response to Paduchik's letter, citing examples he and the party have done "and will continue to do" to support Trump's campaign, including consulting regularly with Paduchik and Trump's team.
"Interestingly, none of Bob's concerns were voiced until he shared them publicly today," Borges said in his e-mail. "Let me be clear, I am never going to allow the bruised ego of a staffer to get in the way of my duty as the Ohio Republican Party Chairman."
Before it's here, it's on the Bloomberg Terminal.
LEARN MORE