Banco Popolare, Popolare Milano Shareholders Approve Merger
by and
New bank will be called Banco BPM, have $6b market value

Over 70% of Popolare Milano investors voted for combination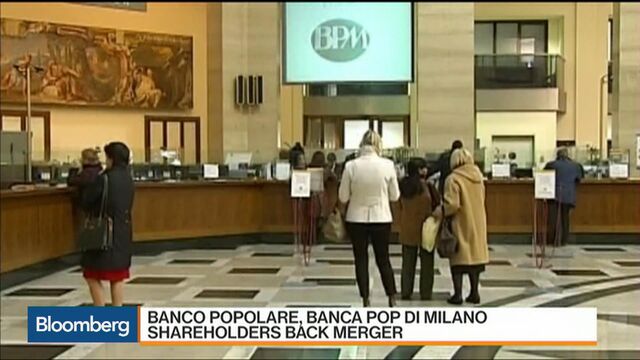 Shareholders of Banco Popolare SC and Banca Popolare di Milano Scarl approved Italy's biggest banking merger since 2007, clearing the way to form the nation's third-biggest lender.
Banco Popolare investors overwhelmingly backed the union with 99 percent in favor, according to a company statement on Saturday. Popolare Milano shareholders voted 72 percent in support, Ansa newswire reported.
Regulators, investors and the government have been pushing Italian banks to consolidate so as to become stronger and shore up their finances. Prime Minister Matteo Renzi's administration recently passed measures abolishing restrictions on ownership and voting rights which had been limiting mergers for years.
"A merger between Banco Popolare and Popolare Milano may act as a driver for banking industry consolidation," Moody's analyst Edoardo Calandro said in a phone interview.
The new combined bank will be called Banco BPM, Banco Popolare said in a statement on Saturday. The deal is the biggest since Monte dei Paschi di Siena SpA's 2007 acquisition of Banca Antonveneta SpA. It will create a lender with a market value of 5.7 billion euros ($6.3 billion), 171 billion euros of assets and more than 25,000 employees.
Milano Opposition
The vote drew opposition from a group of Popolare Milano shareholders unhappy with the deal. Under the voting system, small shareholders had the same voting power as large investors regardless of the size of their holdings.
Banco Popolare Chief Executive Officer Pier Francesco Saviotti and Popolare di Milano CEO Giuseppe Castagna agreed on the merger in February after months of discussions. According to the plan, Castagna will oversee the combined bank and Saviotti will become chairman of the executive committee.
Of Banco Popolare investors, 23,683 voted in favor, 118 were opposed and 11 abstained, the company said. Popolare Milano shareholders voted 7,314 in favor, 2,731 against and 142 abstentions, Ansa reported.
Before it's here, it's on the Bloomberg Terminal.
LEARN MORE