Wells Fargo's New Leader Leaves Analysts Unsatisfied in Debut
by
Frustrations flare on conference call amid queries on scandal

'We're not in a position to discuss those topics today'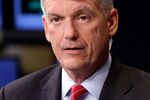 Tim Sloan had a rocky Wall Street debut as Wells Fargo & Co.'s chief executive officer, announcing a drop in profit and frustrating analysts hungry for information on the consumer banking scandal that prompted his appointment.
The scene on Friday, as the San Francisco-based bank posted third-quarter results, left the company's stock among the worst performers in the KBW Bank Index of 24 big U.S. firms. It was another sign investors may share concerns expressed in recent weeks by lawmakers, who've questioned how employees could open legions of accounts without customers' permission over half a decade and whether managers are being held accountable.
"Our board is conducting an independent investigation into our retail-banking sales practices and related matters, and we're not in a position to discuss those topics today," Sloan, 56, said just before taking questions on a conference call to discuss earnings. Several analysts unsuccessfully pressed for specifics about the scandal anyway.
Sloan took the helm at the bank Wednesday, replacing John Stumpf who resigned to help quell a five-week public furor over the bank's $185 million settlement of government allegations that employees may have opened millions of unauthorized customer accounts over half a decade. The revelations tarnished the lender's reputation and upended a successful focus on cross-selling -- the practice of pitching additional products to legions of customers.
Analysts' Frustrations
On the call, which lasted more than an hour-and-a-half, Sloan deflected questions about whether the bank's board considered appointing an outsider as CEO and how the scandal may shape his approach to the role. He deferred most queries about sales abuses, saying that he wanted "to be very respectful" of the board's continuing investigation. Sloan said he wasn't sure if the findings would be made public.
The board has always intended to disclose conclusions of the review, which may yet take months to complete, a person with knowledge of the plan said hours later, asking not to be identified because the process is confidential.
Analysts, meantime, rattled off the questions they want answered.
"We can't really ask about the internal investigation, there's no time frame, we can't ask who knew what and when," Mike Mayo, an analyst at CLSA Ltd., complained to Sloan about an hour into the call. "We can't ask why it took so long to stop the problems. This is the first time we've had to ask questions."
Mayo said it was "a little frustrating" that the bank didn't know whether affected customers are sticking with the lender.
Investor Questions
"Investors wanted to know a couple of things primarily," Brennan Hawken, a UBS Group AG analyst, said in an interview after the call. "How much is this going to cost us in expenses? And what is this going to mean for revenue? And they gave very little on either."
Still, tempers were higher when Stumpf appeared last month at two hearings on Capitol Hill, stumbling over questions about when senior management became aware of the scandal and why the practice wasn't stopped earlier. Senator Elizabeth Warren, a Massachusetts Democrat, accused him at the first session of "gutless leadership" for blaming low-wage employees and urged him to quit. A week later Representative Gregory Meeks, a New York Democrat, described the bank as a "criminal enterprise."
Wells Fargo said it's starting to see additional financial fallout from the scandal. Customers opened about 30 percent fewer consumer checking accounts in September compared with August, according to a slide presentation Friday. Credit-card applications dropped by a similar amount, while visits with branch bankers declined 14 percent, the bank said.
Earlier Friday, the lender reported that third-quarter profit fell 2.6 percent to $5.64 billion from a year earlier. Per-share profit of $1.05 beat analysts' estimates by four cents, mainly on the strength of lower loss-loan provisions and an increase in mortgage revenue and originations.
Wells Fargo's stock fell 1 percent Friday before paring losses to 0.1 percent in New York. That was the third-worst performance in the KBW Bank Index, which rose 0.5 percent. The company's 18 percent decline this year is the biggest drop in the index.
Before it's here, it's on the Bloomberg Terminal.
LEARN MORE