Wall Street's Wait for Bond-Trading Boost Starts to Pay Off
By and
Citigroup, JPMorgan beat estimates as bond-trading surges

JPMorgan says momentum is continuing into fourth quarter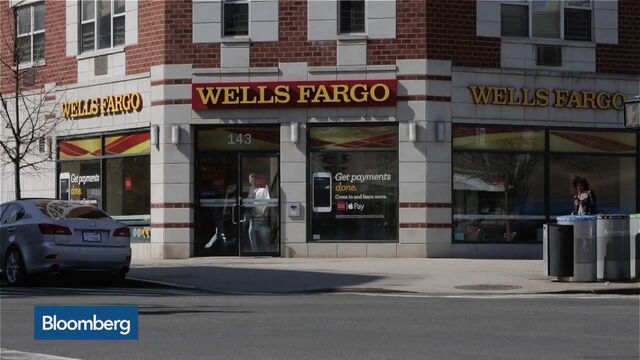 Wall Street's biggest banks have spent years waiting for the end of a slump in fixed-income trading. It's finally paying off.
Citigroup Inc.'s fixed-income revenue surged 35 percent to $3.47 billion in the third quarter, and JPMorgan Chase & Co. posted $4.33 billion from the business, $1 billion more than analysts' average estimates. Marianne Lake, JPMorgan's chief financial officer, said Friday that the momentum continued into October.

That would be a welcome change from the past seven years. Revenue from trading fixed-income products -- typically bonds, currencies and commodities -- tumbled to $70 billion in 2015 at the world's biggest investment banks, about half the 2009 level, according to data compiled by financial-research firm Coalition Ltd. U.S. banks have been counting on a rebound, as European rivals such as UBS Group AG retreated or cut deep to save money.
Friday's earnings reports may bode well for Bank of America Corp., Goldman Sachs Group Inc. and Morgan Stanley, which report third-quarter results next week.
Bank stocks initially climbed after earnings were released, with the KBW Bank Index up as much as 1.8 percent, before paring those gains in the wake of a report showing an unexpected drop in U.S. consumer sentiment. JPMorgan slipped 0.3 percent by the close of regular trading, and Citigroup gained 0.3 percent.
"American banks will continue to push for growth where they can get it," said Jeff Morris, head of U.S. equities at Standard Life Investments. "You've seen a number of the European banks scale back in their capital-market operations."
Deutsche Bank
Some of the gains may be due to Deutsche Bank AG's woes, according to John Gerspach, Citigroup's chief financial officer. The Frankfurt-based lender has said it's losing out on business as it battles to retain confidence amid mounting legal charges.
"Some of that could be related to some of what's going on at Deutsche, but more and more it's just related to the fact that a lot of the European banks are drawing back slightly from the rates and currencies business," Gerspach said Friday in a conference call.
The biggest U.S. banks have been gaining market share at the expense of European competitors for years. Among the nine largest global investment banks, the top five in the U.S. generated 71 percent of fixed-income trading revenue in 2015, up from 66 percent in 2011, according to Bloomberg Intelligence.
For a Bloomberg Intelligence breakdown of market share, click here
JPMorgan's strong jump in fixed-income revenue helped the firm beat analysts' profit estimates, as it posted $6.29 billion of third-quarter net income. Citigroup's $3.84 billion profit also topped expectations. At Wells Fargo & Co., where institutional trading makes up a much smaller portion of its business and isn't disclosed in the same way, net income slid to $5.64 billion, the company said Friday.
Wells Fargo Chief Financial Officer John Shrewsberry said in a Bloomberg Television interview that his bank had a "similar experience to JPMorgan in fixed-income trading in particular." Trading revenue for both fixed income and equities was "strong in the quarter" and exhibited "about the same kind of period-to-period growth" JPMorgan had for the linked-quarter, he said in a separate telephone interview.
Lake said JPMorgan benefited from clients who had cashed in investments prior to the U.K. vote on whether to leave the European Union and had to reinvest once the decision was made.
"It was a situation where we were firing on all cylinders," Lake said. "There were a number of catalysts in the market, not just Brexit, but also central-bank actions, money-market reforms, and we had good conditions to monetize the flow and clients motivated to act."
Decline Predicted
Still, trading often slows in the year's final months, and the trend may play out again.
In Citigroup's broader division serving institutional clients, markets revenue will likely decline in the fourth quarter from the third, in line with normal seasonal trends, but revenue probably will still improve from a year earlier, Gerspach told analysts Friday. The past two years have seen roughly 20 percent drops in markets revenue, though it's too early to know if that will be the case this time, he said.
"December usually is a pretty light month," he said. "There's certainly nothing to indicate right now that that's going change."
In equity trading, Citigroup is aiming to climb global rankings to fifth or sixth place, up from eighth or ninth, gaining market share to potentially add about $1 billion in annual revenue, Chief Executive Officer Mike Corbat said. Investments in technology and people to support that are now largely complete, so it's up to the team to execute, he said. In May, Citigroup named Dan Keegan and Murray Roos co-heads of the unit.
— With assistance by Laura J Keller, Yalman Onaran, and Hugh Son
Before it's here, it's on the Bloomberg Terminal.
LEARN MORE