Culture Caucus Podcast
How Late-Night Comedy Is Handling the Trump Campaign
This week Will Leitch and John Heilemann are joined by Variety media critic Maureen Ryan to discuss how "Saturday Night Live" and the rest of late night comedy have faired during the campaign.
By and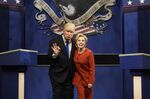 When "Saturday Night Live" announced that Alec Baldwin would be playing Donald Trump in its 41st season, the news made a splash even before Baldwin showed off his gargoyle-esque take on Trump. It demonstrated how "SNL," even in its 41st season, could still be the center of the political comedy universe, even with a myriad of competitors. And be sure: There are more competitors than ever.
In the 15th episode of the Culture Caucus podcast, we take a look at the world of political comedy in the 2016 election, an election like no other. When Jon Stewart retired from "The Daily Show" and Stephen Colbert moved to CBS, it created a void for your average political comedy connoisseur that felt even more empty once Donald Trump, of all people, became the Republican candidate. But some of Stewart's old colleagues filled the gap that Trevor Noah has struggled with from John Oliver to Samantha Bee, who may end up being the real breakout star of this election cycle.
In the second half of the podcast, we chat with Mo Ryan, television critic for Variety, about the late night landscape, how she sees it shaking out, what she thinks of Baldwin, whether or not "Weekend Update" has lost its zing and much, much more. She is a LOT smarter than we are.
So, enjoy! You can e-mail us about it at politics@bloomberg.net. Come say howdy!