markets
U.K. Bond Plunge Pushes 10-Year Yield to Highest Since Brexit
By
BOE's Carney says he's willing to allow inflation overshoot

Yields surge on investment, inflation and QE fears: UBS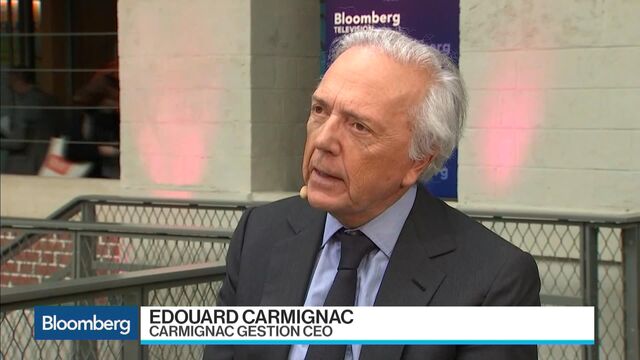 U.K. government bonds tumbled, pushing 10-year yields to the highest level since Britain's June 23 vote to leave the European Union.
Benchmark gilts fell for a third successive week on concern that a sliding currency will cause inflation to accelerate just as the economy is hit by the decision to leave the world's biggest trading bloc. Bank of England Governor Mark Carney said Friday he'd tolerate an overshoot of his inflation target to cushion the Brexit blow.
"People are getting nervous about a number of things," said John Wraith, head of U.K. rates strategy at UBS Group AG in London. "The possible drop in overseas investor demand, higher inflation ahead due to the fall in pound, question marks over the future of quantitative easing after the prime minister's comments last week."
The 10-year gilt yield climbed seven basis points, or 0.07 percentage point, to 1.10 percent as of the 5 p.m. London close, after reaching 1.15 percent. The 1.5 percent bond due in July 2026 dropped 0.69, or 6.90 pounds per 1,000-pound ($1,222) face amount, to 103.725. The yield has increased 13 basis points this week, after surging 22 basis points last week, the most since August 2015.
Inflation Outlook
U.K. inflation expectations reached their highest since 2014 earlier this week, according to 10-year break-even rates, which have been on an upward trend since the vote to leave the EU. The pace accelerated this month as the hard-line stance of Prime Minister Theresa May on Brexit led to fears the country is headed for an exit from the single market.
Ten-year inflation-linked gilts dropped for a third day, pushing the real yield to a three-week high. The real yield on the linker due in March 2026 climbed 11 basis points to minus 1.92 percent, after touching minus 1.88 percent.
"Other markets are lower, but nowhere near the degree seen in gilts," said Jason Simpson, a London-based fixed-income strategist at Societe Generale SA. "The fact that linker yields are up as well suggests this isn't just about" inflation.
Government bond yields have been rising globally from historic lows set earlier this year. U.S. Treasury 10-year note yields climbed two basis points to 1.76 percent on Friday, up five basis points this week, while those on similar-maturity German bunds added two basis points to 0.06 percent, from 0.02 percent a week ago. Gilts are leading the way, even after the Bank of England resumed asset purchases in August.
"The U.K. is massively underperforming," said Mike Riddell, a London-based money manager at Allianz Global Investors, which oversees about $520 billion. "If the Bank of England stops doing quantitative easing, and monetary stimulus is replaced by additional fiscal stimulus, then bear steepening of the gilt yield curve is entirely warranted," he said, referring to when yields on long-dated securities rise faster than those on shorter-dated debt.
Before it's here, it's on the Bloomberg Terminal.
LEARN MORE