Thais Unite to Mourn King's Death as Ceremonies Begin in Capital
Bloomberg News
International news channels back on air as of Saturday

Tens of thousands line the streets to honor fallen monarch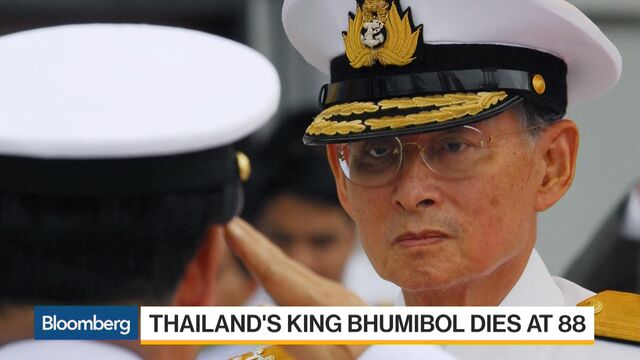 The streets of the Thai capital turned into rivers of black with tens of thousands of loyal subjects weeping and bowing as they paid respect to their king as his body was transported from the hospital where his reign ended to the palace where it began seven decades earlier.
King Bhumibol Adulyadej, 88, passed away Thursday at Bangkok's Siriraj Hospital, marking the end of a reign that saw Thailand transition from an agrarian backwater to Southeast Asia's second-biggest economy. His only son and heir apparent Crown Prince Maha Vajiralongkorn, 64, led the procession from the hospital, across the Chaophraya, or River of Kings, and into the golden-spired Grand Palace.
"We ask that all Thai people come together to bid farewell to his majesty by safeguarding the land of our father, with love and unity," Prime Minister Prayuth Chan-Ocha told the nation Thursday. "The best expression of our bereavement and loyalty to his majesty is to follow in his majesty's footsteps and live up to his majesty's aspirations."
Prayuth said Vajiralongkorn had requested a delay in taking the throne to mourn his father along with other Thais. The crown prince doesn't have the same adulation among the population as Bhumibol, a symbol of unity in a country rocked by 10 coups since he took the throne in 1946. In recent years, the deceased monarch had made limited public appearances while spending most of his time in the hospital.
To read more about Thailand's crown prince, click here.
Thailand's baht and equities recovered on Friday after falling earlier this week as Bhumibol's health deteriorated. The government declared Friday a public holiday and Prayuth called on the nation to avoid "joyful events" for 30 days, to dress in mourning for a year and pray for the king's soul to protect the nation.
The mood on the streets of Bangkok was somber Friday, as people dressed in black made their way to work before the government announced the public holiday. Commuters stood silently on a SkyTrain that runs through the city, with normally blaring TV advertisements turned off. Many later jammed train stations and piers as they made their way to the city's historic district for the afternoon procession.
Members of the armed forces -- soldiers in green and sailors in white -- knelt on one knee along the route, saluting as the silver van carrying the monarch's body passed. Thais who all their lives had been taught to shout "Long live the king" in honor of Bhumibol instead sat silently. Only occasional wails of grief could be heard.
Royal bathing rites also took place, as 100 days of prayers began.
While the crown prince waits until he is ready to assume the throne, Privy Council President Prem Tinsulanonda, 96, will serve as acting regent in line with the constitution, National Legislative Assembly Vice President Peerasak Projit told reporters on Friday. Prem is a former appointed prime minister and army chief who even after retirement retained broad influence over the military.
Thailand's broadcasting regulator banned entertainment programs for 30 days and warned television and radio to follow palace protocol in airing news about the king. International news channels were back on air again as of Saturday morning, though channels considered "entertainment" were still showing pool footage of royal documentaries.
Tourism Impact
Thailand's economic recovery had gained momentum in recent months, with consumer confidence rising to a seven-month high in September. Tourism accounts for about 10 percent of gross domestic product.
William Heinecke, chief executive officer of Minor International Pcl -- which owns the Four Seasons, St. Regis, Marriott and Anantara hotel chains in Thailand -- said he doesn't anticipate any impact on his business as the mourning period would be "one of the most incredible times" to visit the country. Bhumibol was a personal investor in the company.
"When you lose a leader such as this, a country is often seen as in crisis," Heinecke told Bloomberg Television. "Personally I believe like every crisis Thailand has faced in the last hundreds of years, that it will come out of this stronger than ever before."

Condolences poured in from around the globe. The king was a "close friend" of the U.S., President Barack Obama said in a statement. Singapore's foreign ministry called him an "outstanding and deeply revered monarch," while Indonesian President Joko Widodo said "the world has lost a leader who was close to the people, the bearer of peace and unity, and welfare to the people of Thailand."
Under Thailand's constitutional monarchy, the king is head of state while the prime minister and parliament govern. All legislation requires his seal of approval.

Public discussion of Bhumibol and his political role is curbed under lese majeste laws that can be invoked for defaming, insulting or threatening the king, queen, heir apparent or regent. Offenders face up to 15 years in prison, and the military-run government has recently stepped up arrests to curb posts about the royal family on social media.
Prayuth became leader following a May 2014 coup that deposed the government of Yingluck Shinawatra, whose brother Thaksin Shinawatra was ousted by the military in 2006 and now lives in exile. Thaksin and his allies have won the past five elections in Thailand dating back to 2001, with his opponents taking power periodically after interventions by the military or courts.
"I'm worried about our country," said Wasin Tiangtam, 18, a public administration student at Suan Dusit University in Bangkok who was among the thousands at Siriraj Hospital mourning the king's death. "Our country became so divisive with so many quarrels even when he was alive. What will happen now that he is no longer?"
— With assistance by Chris Blake
Before it's here, it's on the Bloomberg Terminal.
LEARN MORE