RNC Transfers $6.35 Million to Down Ballot Races
The move comes at a difficult moment for the Trump campaign.
By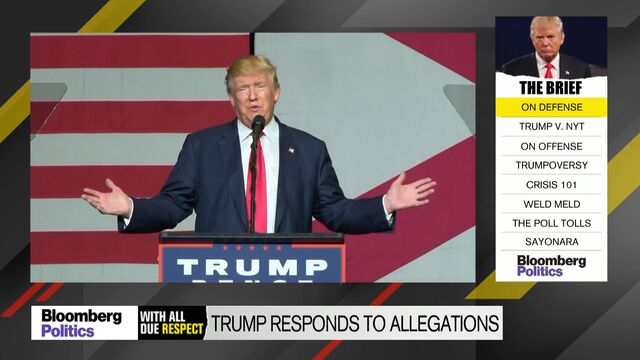 The Republican National Committee raised $39.4 million in September, and has promptly transferred $6.35 million of that amount to fund down ballot races, according to a September fundraising release provided to Bloomberg. 
The news comes with the party showing signs of division heading into the Nov. 8 elections, particularly after several top Republicans withdrew their support of Trump in light of remarks he made boasting of making unwanted sexual advances on women. Earlier this week, House Speaker Paul Ryan, a Wisconsin Republican,  said he would not campaign with Trump and was putting his energy into maintaining a House majority.
Trump and RNC officials are part of a Joint Fundraising Committee, which raises money for the party and his campaign. But unlike previous cycles, the party's fundraising committees for Senate and House races are separate accounts and the JFC is not required to allocate funds.
The reallocation of $6.35 million—$4.5 million of which went to the National Republican Senatorial Committee, and $1.85 million to the National Republican Congressional Committee—was made "with the encouragement of the Trump campaign," the RNC's press release stated. 
Trump campaign Chief Executive Officer Steve Bannon portrayed the transfer of funds in a positive light. 
"The Trump campaign is happy to see resources being directed to the NRSC and NRCC in order to keep Republican majorities in the House and the Senate this cycle," Bannon said. "Our commitment to making sure we will have a Republican Congress in place to work with a Trump Administration remains strong."
The GOP as a whole has raised $262.3 million this cycle alone, and has $56.6 million cash on hand. The Democratic National Committee has yet to release its fundraising numbers for September. 
RNC Chairman Reince Priebus said in a statement that "our supporters are enthusiastic about Donald Trump, and as a result this was one of the best months in RNC history for small dollar fundraising."
"With thousands of staffers and volunteers in the field right now, the amount we've raised this month will continue to help deliver Republican victories at every level," Priebus said.
Before it's here, it's on the Bloomberg Terminal.
LEARN MORE