Justice Ginsburg Says She Regrets Criticizing 49ers' Kaepernick
By
Remarks 'inappropriately dismissive and harsh,' justice says

Ginsburg says she should have declined to respond to question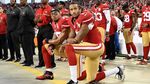 U.S. Supreme Court Justice Ruth Bader Ginsburg said she was wrong to criticize San Francisco 49ers quarterback Colin Kaepernick for not standing during the national anthem, calling her comments this week "inappropriately dismissive and harsh."
In a statement released by the court, Ginsburg she said knew little about the controversy over Kaepernick when she responded to a question during an interview with Yahoo News' Katie Couric published on Oct. 10.
"Barely aware of the incident or its purpose, my comments were inappropriately dismissive and harsh," Ginsburg said. "I should have declined to respond."
It's the second time in three months that the 83-year-old justice has said she regretted remarks she made during a media interview. In July, she apologized for criticizing Republican presidential candidate Donald Trump in three interviews, including one in which she called him a "faker."
Kaepernick, 28, who takes a knee during the national anthem before each game rather than standing with his hand over his heart, says he's protesting the treatment of racial minorities around the country. Other athletes have joined him since he began his protest in August.
Ginsburg told Couric that the athletes' actions were "dumb and disrespectful," though within their constitutional rights.
Kaepernick this week said Ginsburg's comment had been "disappointing," according to the San Jose Mercury News. "It is disappointing to hear a Supreme Court justice call a protest against injustices and oppression 'stupid, dumb' in reference to players doing that," he told reporters in a locker-room interview.
Most Outspoken
Ginsburg is easily the most outspoken of the eight current justices when she's off the bench. She regularly gives interviews, shedding light on the court's inner workings and occasionally discussing matters beyond the court's purview.
In an interview in July, Ginsburg told the New York Times that the Senate should take up the stalled nomination of Judge Merrick Garland to fill the vacancy on the Supreme Court.
Ginsburg also said that if Justice Elena Kagan had taken part in an affirmative action case in the court's most recent term, she would have voted with the majority to back race-based university admissions. Kagan disqualified herself from the case, presumably because she had been involved in the litigation as an Obama administration lawyer.