JPMorgan Earnings Beat Estimates on Bond-Trading Revenue
by
Brexit, rate bets fuel 48% gain in fixed-income business

Provision for credit loss in consumer bank jumps $905 million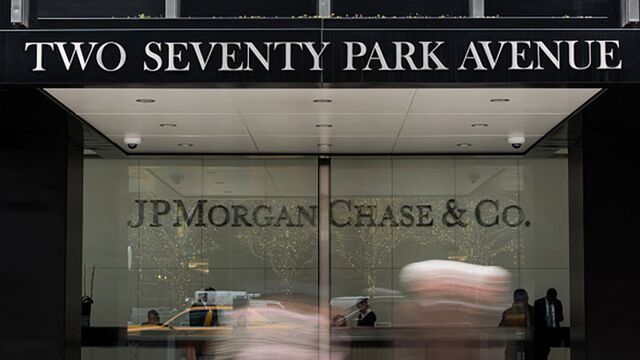 JPMorgan Chase & Co. posted profit that beat analysts' estimates on a 48 percent surge in fixed-income revenue, fueled by trading of government bonds after the U.K. voted to leave the European Union.
Third-quarter net income declined to $6.29 billion, or $1.58 a share, from $6.8 billion, or $1.68, a year earlier, when results got a boost from $2.2 billion in tax benefits, New York-based JPMorgan said Friday in a statement. Earnings excluding legal and accounting adjustments were $1.59 a share, topping the $1.39 average estimate.

JPMorgan, the biggest U.S. bank, kicks off earnings season for the industry, offering insight into how Wall Street's trading and advisory operations performed during the typically slow summer months. Beset by slow growth and low interest rates for years, banks suffered a weak start to 2016 as falling energy prices triggered an equity rout. Bond trading recovered in the second quarter, driven by interest-rate and currency desks, a trend that analysts expected to continue into the period ended Sept. 30.
Revenue rose to $25.5 billion, beating the $24.2 billion average estimate of 10 analysts surveyed by Bloomberg, while expenses fell 5.9 percent to $14.5 billion, compared with the $14.1 billion estimate. Fixed-income trading revenue jumped to $4.33 billion, more than $1 billion higher than the average estimate of seven analysts surveyed by Bloomberg. Equities-trading revenue advanced less than 1 percent to $1.41 billion, compared with analysts' $1.35 billion estimate.
Trading tied to government bonds and other assets linked to interest rates "was particularly strong with good client activity, as markets remained active throughout the quarter post the Brexit vote and in anticipation of central bank actions" and changes in money-market regulation, the firm said in the statement. Credit and securitized-products desks gained on "improving market sentiment" and robust issuance, the bank said.
JPMorgan climbed 1.4 percent to $68.66 at 9:46 a.m. in New York. The stock had gained 2.6 percent this year through Thursday, outpacing the 24-company KBW Bank Index, which fell 3 percent.
Investment Bank
Earnings at the corporate and investment bank, run by Daniel Pinto, doubled to $2.91 billion as revenue rose 16 percent from a year earlier to a $9.46 billion, exceeding the $8.2 billion estimate of David Konrad, an analyst at Macquarie Securities USA Inc. Expenses declined 20 percent. Compensation consumed 27 percent of the unit's revenue, compared with 30 percent a year earlier.
Profit from consumer and community banking, run by Gordon Smith, fell 16 percent to $2.2 billion. Revenue was $11.3 billion, up 4 percent from a year earlier. Provisions for credit losses rose to $1.29 billion from $389 million a year earlier and $1.2 billion in the second quarter.
Net income in asset management, run by Mary Callahan Erdoes, increased 17 percent to $557 million. Commercial banking, the unit run by Doug Petno, posted a 50 percent profit increase to $778 million.
Wells Fargo & Co. and Citigroup Inc., the third- and fourth-biggest U.S. banks by assets, released results Friday as well. Bank of America Corp., Goldman Sachs Group Inc. and Morgan Stanley report next week.
Before it's here, it's on the Bloomberg Terminal.
LEARN MORE