Is It Safe to Get Excited About Investing Again?
The Stash app targets young Uber drivers and soldiers, offering funds called Roll With Buffett, Delicious Dividends, and Aggressive Mix.
By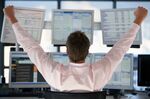 Investing used to be fun. There was that greedy voice in our heads saying: "Trust your gut! Take a risk!"