IHeart, Cumulus Creditors Broadcast Distress Signals
by
Radio chains are squeezed between debt costs and online rivals

Ad revenue and audiences erode as new business models evolve
Video killed the radio star. Now, a massive pile of debt is threatening to bury it.
Cumulus Media Inc. and iHeartMedia Inc., the two biggest U.S. radio station operators, are grappling with creditors while online music services poach away audiences, advertisers and revenue. Losses and leverage are climbing, putting pressure on the broadcasters to cut a deal with lenders now, before the clock runs out. If they don't, the two companies could slam headlong into a wall of debt coming due by 2019 that collectively tops $10 billion.
"They're going to need some help," said Avi Steiner, a JPMorgan Chase & Co. high-yield media credit analyst. "A better balance sheet would help deal with the secular changes in radio."
At Cumulus, creditors led by Franklin Resources Inc. have hired PJT Partners Inc. to advise them on talks with the company, said people familiar with the matter, who asked not to be identified discussing confidential information. Millstein & Co. and Kirkland & Ellis represent the company, Bloomberg previously reported. 
PJT is also working with a group of Franklin-led creditors at iHeart, which has been embroiled in lawsuits with some of its holders as it looks for ways to restructure its debt. Spokeswomen for PJT and Franklin declined to comment.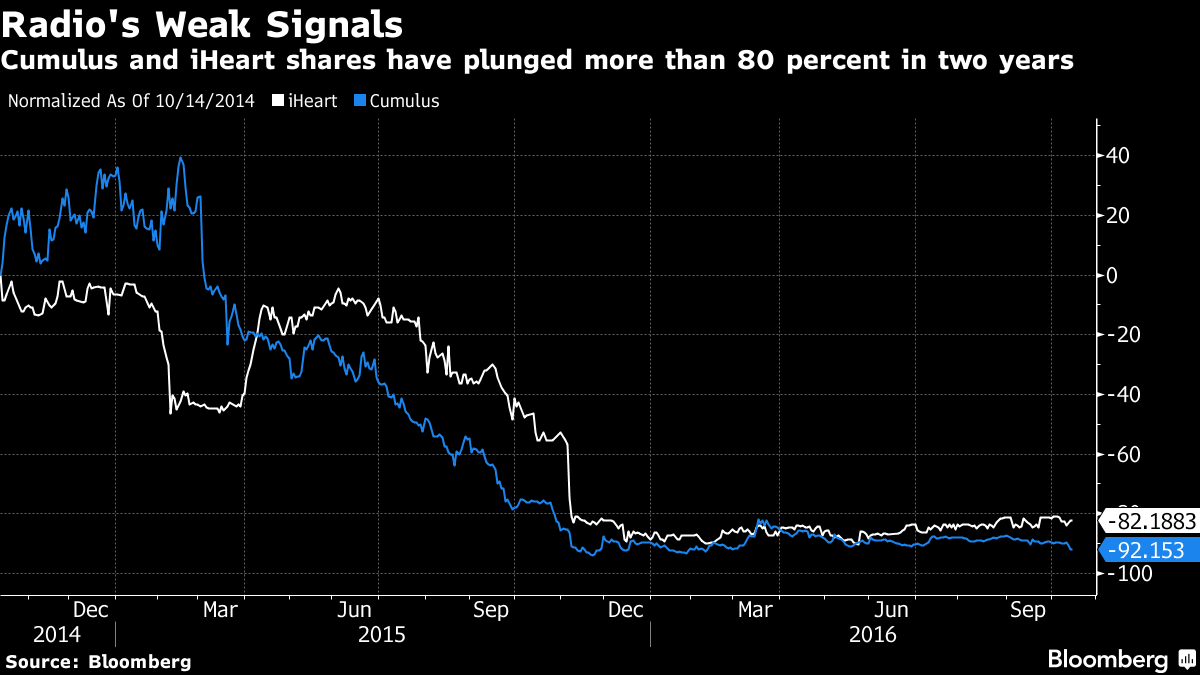 iHeart, whose total debt tops $21 billion, has posted eight years of losses, and Cumulus, which owes $2.4 billion, lost half a billion dollars last year, more than seven times its market capitalization. Shares of both have plunged more than 80 percent in two years and their debt, already junk-rated, may be downgraded again by S&P Global Ratings.
Media Specialists
One reason for the pressure is the 3 percent decline in advertising revenue for traditional radio stations in 2014 and 2015, while digital ad revenue grew 9 percent and 5 percent in those years, according to the Radio Advertising Bureau. Online rivals such as Pandora Media Inc., Spotify Ltd. and Apple Inc. are adding listeners rapidly, with Spotify climbing from 40 million active users in 2014 to more than 100 million as of June, the company said. Cumulus and iHeart are responding with their own versions.
"iHeartMedia is not threatened by digital , it is digital -- we have fully embraced it and have taken a leadership position," spokeswoman Wendy Goldberg, said by e-mail. San Antonio, Texas-based iHeart has the fastest-growing digital radio service in the U.S. and plans to launch an on-demand offering in January, she said.
Charlyn Lichter, an external spokeswoman for Cumulus, declined to comment.
Long-term debt at Cumulus has ballooned from less than $600 million in 2010. That year, the Atlanta-based company formed a partnership with Crestview Partners LLC, a New York-based private-equity firm that specializes in media. The goal was $1 billion of radio investments -- a number surpassed in 2011 when Cumulus acquired Citadel Broadcasting Corp.
The deal was funded with more than $2 billion of bank debt and a sale of shares to Crestview, which is now the biggest equity holder with a 28 percent stake. But in the years that followed, Citadel's core assets underperformed, as did those of Westwood One, acquired in 2013. The company named Mary Berner chief executive officer a year ago, and a shift in strategy led to higher costs, lower earnings and a spike in leverage.
Possible Swap
Outstanding debt includes $610 million of 7.75 percent notes due 2019, which were quoted at about 42 cents on the dollar on Oct. 13. One step toward a more manageable leverage ratio could include swapping those notes for stock, Moody's Investors Service analyst Scott Van den Bosch said.
One complication is a springing covenant that would make bank debt immediately payable if more than $200 million of those notes are outstanding after Dec. 23, 2018.
"Cumulus is still generating free cash flow, so there's no imminent trigger," said Steiner at JPMorgan, which serves as a lender and the administrative agent on Cumulus' term loan and revolver. "But they have to deal with the intermediate-term early spring of the bank debt, and that's their focus."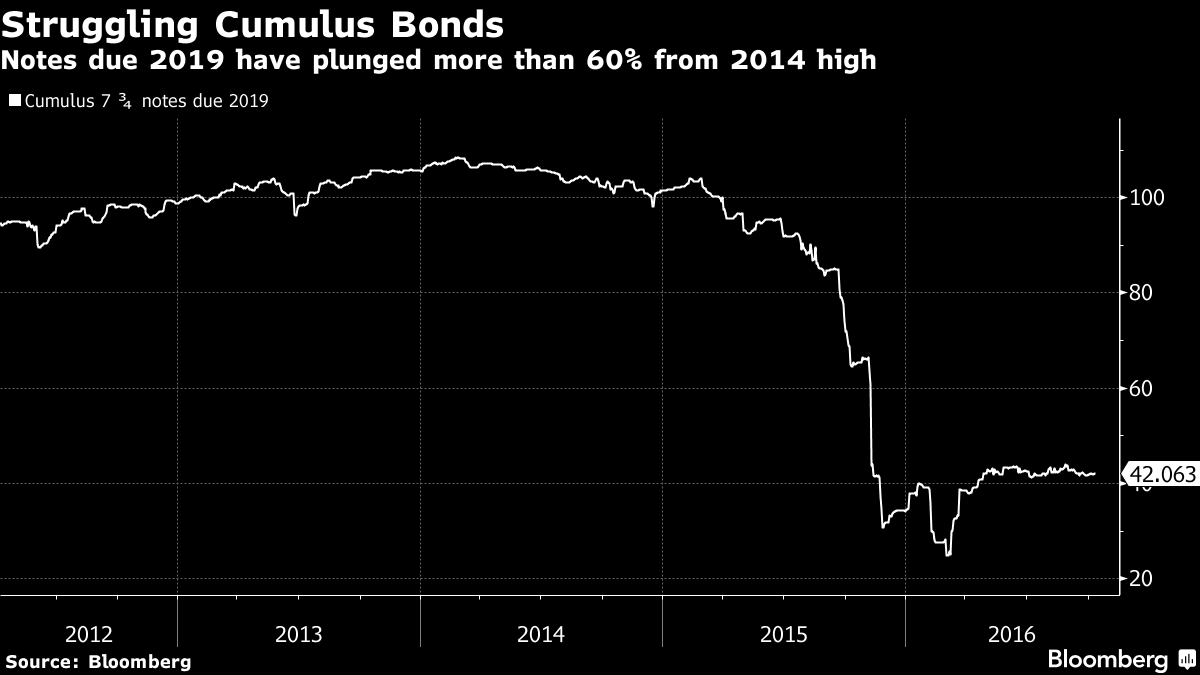 iHeart also is saddled with debt accumulated when Bain Capital and Thomas H. Lee bought the business in 2008. It has more than $8 billion of first-lien term loans and bonds due in 2019. Almost 60 percent of the $850 million of 10 percent notes due January 2018 have been repurchased, management said in an Aug. 4 earnings call. Those notes were quoted at 67 cents as of Oct. 13.
The company has still managed to outperform most of its radio peers, and near-term maturities should be manageable, according to Steiner. The debt due in 2019 "needs something more creative," he said.
Another consideration is iHeart's capital structure, which is larger and more complicated than Cumulus. Mario Gabelli's Gamco Asset Management Inc. owns almost 10 percent of Clear Channel Outdoor, iHeart's healthy advertising subsidiary. Gamco, based in Rye, New York, sued iHeart in May, arguing the parent company shouldn't be allowed to siphon funds from Clear Channel to repay its own debts.
"iHeart is the poster child for crazy 2008 LBOs," said Brett Harriss, a research analyst at Gabelli & Co. "It's tough to think of an LBO that was more over-levered."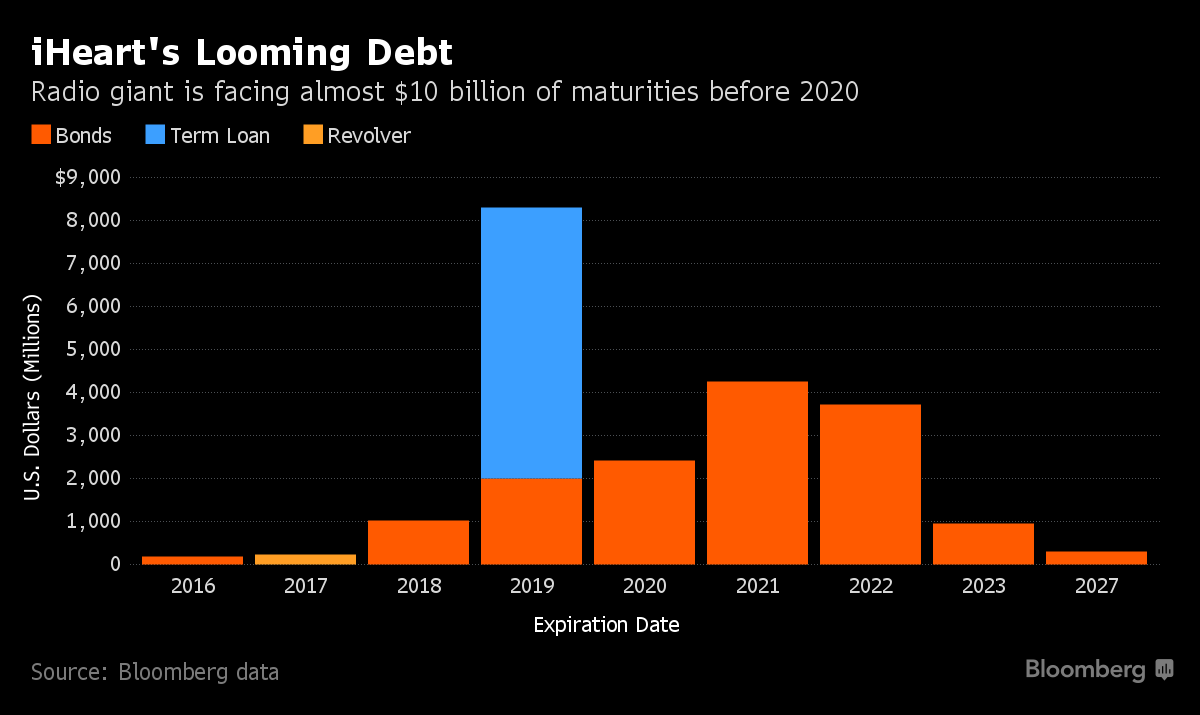 The radio industry is sustainable as long as it can manage its debt, analysts said. Radio still leads all other platforms in terms of weekly reach, including television and smartphones, with 93 percent of adults consuming radio content on a weekly basis, according to a February report from Nielsen.
"Radio businesses might not be particularly attractive or sexy in the world of Facebook and Twitter, but they're still decent businesses," said Gabelli's Harriss. "They still have very high margins and generate a ton of cash, so there's no reason to think that radio goes out of business tomorrow."
(
Corrects name of Bain Capital in 15th paragraph in a story originally published Oct. 14. Correction made on Oct. 24. An earlier version was corrected to update iHeart's outstanding debt.
)
Before it's here, it's on the Bloomberg Terminal.
LEARN MORE