German Utilities Get Long-Sought Deal on Nuclear Storage
by , , and
Reactor owners to complete payments into fund by 2026

Shares in RWE surge most since June 30, EON jumps 3.3 percent
Germany utilities from RWE AG and EON SE moved closer to finally fixing their financial obligations in dismantling the nation's nuclear reactors and making safe equipment and fuel that may be radioactive for 100,000 years.
Owners of reactors, which also include Vattenfall AB and Energie Baden-Wuerttemberg AG, have to pay 23.6 billion euros ($26 billion) into a fund to free them from their atomic waste storage liabilities, according to a draft law that includes an option to make installments until 2026. RWE and EON soared, and were the best performers in Germany's benchmark DAX index. 
Chancellor Angela Merkel decided to pull the plug on Germany's 60-year-old nuclear industry in 2011 after the Fukushima disaster in Japan, spurring an unprecedented shift to renewable energy that sent wholesale market prices to decade lows and hurt profit at traditional utilities. The deal ends the lengthy talks on who funds the country's exit from atomic power, particularly the cost of storing the radioactive fuel, which has weighed on the companies' shares.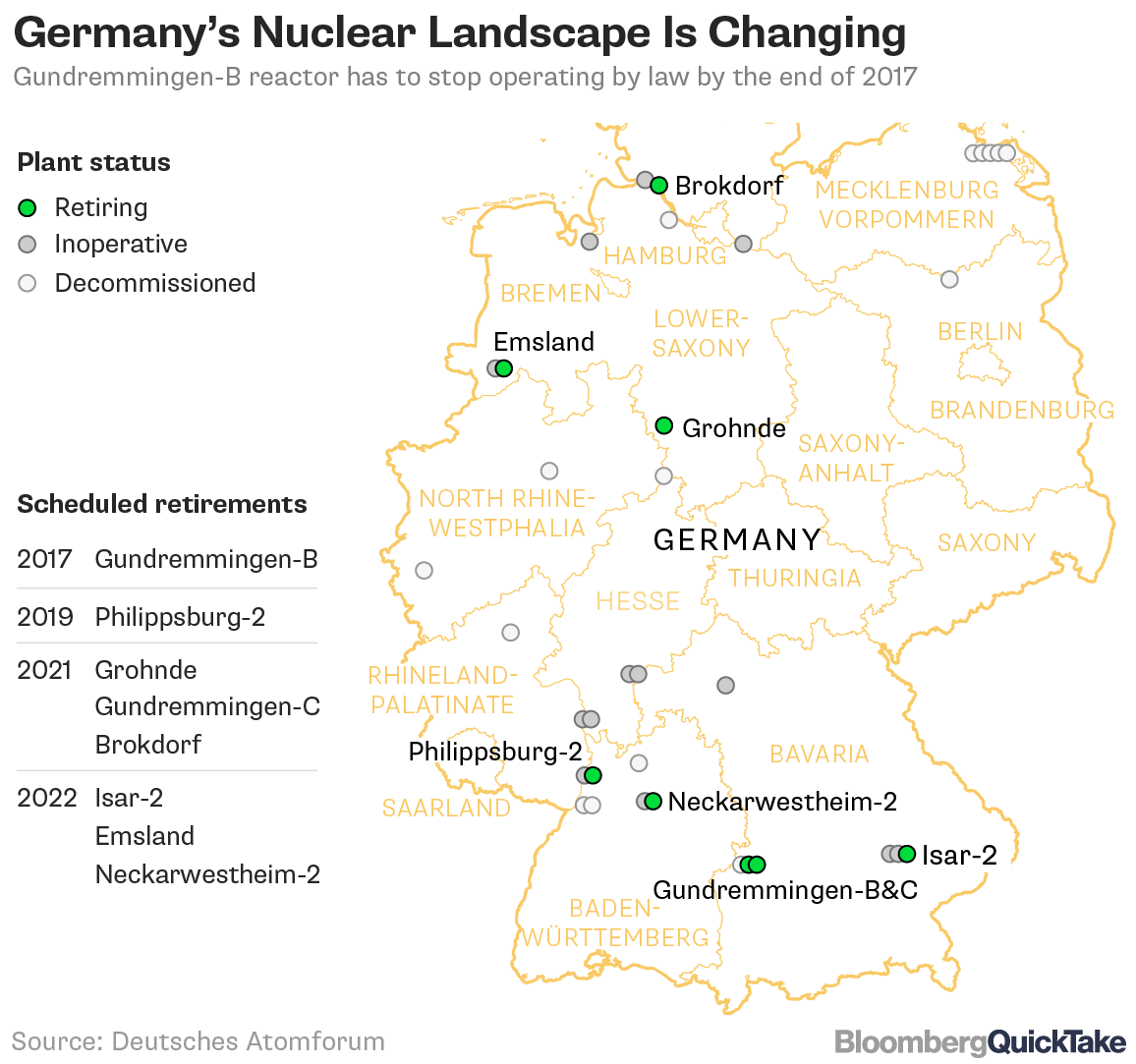 "The figure is positive and also that we finally have a deal," Lueder Schumacher, an analyst at Societe Generale SA, said by phone from London. "It's good when these totally unlimited obligations for the utilities are gone."
Under the draft agreement with the government, the utilities can choose to pay in installments after a first payment of 20 percent in January. The bill doesn't specify the individual liabilities. The reactors are run by subsidiaries, and individual reactor costs will be added to the bill when it goes to Cabinet on Oct. 19.
The total includes 17.4 billion euros that utilities have already set aside for nuclear waste storage plus a 6.2 billion-euro "risk premium," or insurance payment, against unexpected costs.
RWE rose as much as 6.4 percent to 14.245 euros, before trading at 13.995 euros at 5 p.m. in Berlin. EON rose 3.5 percent to 6.837 euros.
EON, RWE, EnBW and Vattenfall declined to comment.
How utilities can pay their part:
Paying overall amount in cash on Jan. 1, 2017
Paying risk premium at latest until Dec. 31, 2022, with annual interest of 4.58%

Paying in installments until Dec. 31, 2026, with annual interest of 4.58%; first installment rate 20% of overall amount due Jan. 2017

"Utilities can cope with a first payment of 20 percent and it's good that they have the flexibility to pay in installments," Schumacher said. The high interest rate should act as an incentive for the utilities to make the payments earlier, he said.
The reactor owners have already set aside almost 40 billion euros to decommission reactors, restore the land they're built on and to dispose of nuclear waste.
Nuclear power accounts for about 14 percent of Germany's electricity production, down from as much as 31 percent in 1999.
Before it's here, it's on the Bloomberg Terminal.
LEARN MORE