Deutsche Bank Stress Signal Eases as Bond Sale Bolsters Finances
By
Credit-default swaps on senior debt normalize as concerns ebb

Lender re-enters capital markets with $4.5 billion issuance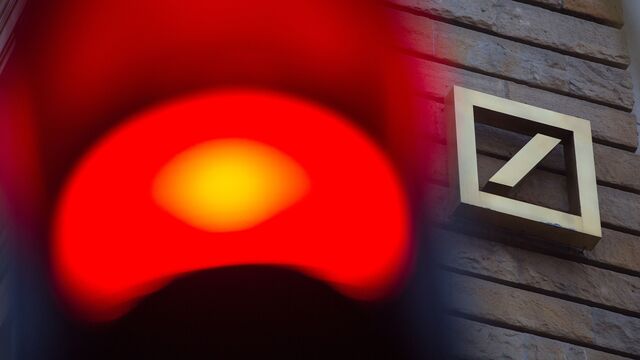 A sign of credit stress at Deutsche Bank AG eased after a $4.5 billion bond sale boosted confidence in Germany's largest lender.
The cost of insuring against losses on the bank's debt for one year has dropped back below the price for five years of protection, according to data compiled by CMA. That ended about two weeks of a so-called inverted curve, a market distortion that typically happens when investors are concerned they may not get their money back in the near term.
Prices for credit-default swaps fell after the bank completed the two-part bond sale, its first since the U.S. Department of Justice requested $14 billion last month to end a probe related to mortgage-backed securities. The size of the potential settlement sparked a surge in swaps as it fanned concerns about the lender's capital levels.
"The recent bond sales showed that the bank has plenty of access to liquidity," said Roger Francis, an analyst at Mizuho International Plc in London. There has also been "an absence of fresh negative news" about the bank, he said.
Chief Executive Officer John Cryan is seeking to reassure investors about the Frankfurt-based lender's capital levels, and he has introduced a hiring freeze to help lower costs, according to people with knowledge of the matter. The bank has also said it expects to reach a smaller settlement with the U.S. prosecutors.
Swap Curve
A one-year swap tied to Deutsche Bank's senior debt costs 19 basis points less than a five-year swap, based on CMA prices. That reverses a premium that reached as high as 66 basis points on Sept. 30. The only other times that the curve has been inverted since the 2009 financial crisis were in February and March, according to CMA data.
The one-year price fell 13 basis points to 207 basis points on Friday, outpacing a decline of two basis points to 226 basis points for five-year contracts. Credit swaps on the bank's junior debt continue to show stress, with a one-year contract costing 465 basis points or 10 basis point more than five years of protection, CMA data show.
The lender priced the recently sold bonds at a yield premium of about 300 basis points, according to data compiled by Bloomberg. That's more than twice the 143 basis points it paid for similar notes in August 2015, the data show.
"The recent considerable private placements demonstrate that Deutsche Bank continues to have access to the markets although at rather high spread levels," said Suvi Platerink, a senior credit analyst at ING Bank NV. "The worst of the stress seems to have calmed down for now."
Before it's here, it's on the Bloomberg Terminal.
LEARN MORE