Carney Faces Fallout From World's Worst Performing Currency
By and
Nation consumed by pound's rapid drop after Brexit vote

Sterling may be central to the BOE's November forecasts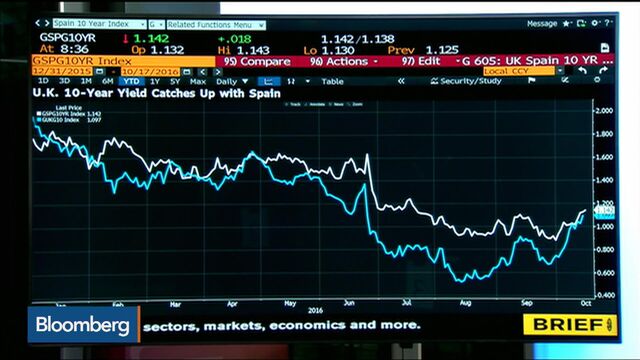 For a central bank that doesn't target the exchange rate, the Bank of England is spending a lot of time talking about it.
A 6 percent drop this month alone has forced Governor Mark Carney and fellow policy makers to acknowledge they may be looking at a much faster pickup in inflation than anticipated. With at least one official, Kristin Forbes, warning of a potentially "sharp" overshoot of the bank's goal, the issue will weigh on their discussions about adding further stimulus in response to Brexit.
The currency is also turning into a national obsession. A dispute between Unilever and Tesco Plc prompted the retailer to briefly pull jars of Marmite, a treasured part of Britons' breakfast, from its online store. Some analysts have referred to the hysteria as "poundemonium" and newspapers splashed pictures of airport currency exchanges offering less than a euro for a pound.
"This may be the first sign of long-term damage to confidence in policy-making and the prospects for the U.K. economy," Julian Jessop, an economist at Capital Economics in London, said in a note to clients on Friday. "The fall in the pound seems to inspire the same extreme emotions as food spread Marmite -- many either love it for the potential boost to exports, or loathe it for the upward pressure on inflation and gilt yields."

Carney has previously said the weaker pound will help bolster sales abroad, and also that it will push up "notably" on inflation. While members of the government tend to avoid commenting on the currency, Brexit Secretary David Davis, who campaigned for an exit from the EU, broke with convention this week to say it might have a positive effect: "while it has some downsides, it certainly has a very large number of upsides too."
The pound has fallen 18 percent since the June 23 vote to leave the European Union and is the worst performer this year in a basket of major currencies. It's also down about 18 percent versus the euro, at about 90 pence against the single currency.
Carney said Friday that he's not "indifferent to the level of sterling" and it influences his economic assessment. "It does matter ultimately to where inflation is and over the course of two or three years out, it matters to the conduct of monetary policy," he said. 
Deputy Governor Ben Broadbent said the pound's decline may reflect concerns about the economy and Forbes said it was one of the factors that prompted her to oppose some of the BOE's stimulus in August. Deputy Governor Minouche Shafik told the Leicester Mercury newspaper that a flexible exchange rate is a "very helpful shock absorber," but the weaker pound will put "upward pressure on inflation."
Hard Brexit
Some of the commentary may be inadvertently contributing to sterling's volatility. 
The pound extended a decline on Tuesday after Monetary Policy Committee member Michael Saunders said in written testimony that he would not be surprised if the pound falls further, and Financial Policy Committee member Anil Kashyap said that a so-called hard Brexit, where the U.K. gives up membership of the single market, could lead to a further drop.
"There has been an undercurrent of concern that the BOE is not doing very much when the pound is falling," said Peter Frank, global head of Group-of-10 and Asian currency strategy at BBVA SA in London. "They do care about sterling, it is a factor they watch, but they are not an interventionist central bank."
With the economy performing better than anticipated since the June vote, there's question marks over whether the BOE should loosen policy again after its actions in August. Carney says he'll accept an overshoot of the bank's target if policy makers need to act to support growth. The bank, which predicted in August that inflation would rise above its goal in 2018, will publish new projections on Nov. 3.
"It's by far the biggest influence on their forecasts as they start building up for the November Super Thursday," said Alan Clarke, an economist at Scotiabank in London. "The weaker pound puts upward pressure on inflation and could potential make it harder for them to loosen in the near term. It certainly doesn't make life any easier for them."
Watch Next: China's FX Quandary Deepens as Yuan Falls Against the Dollar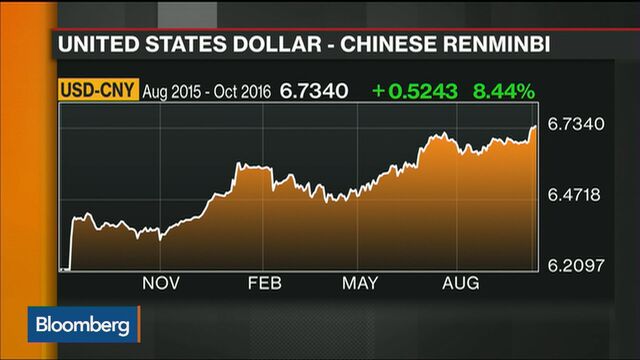 Before it's here, it's on the Bloomberg Terminal.
LEARN MORE